Program Description
The annual Outstanding Student Researcher Award was created in 2013 in connection with the annual "Meeting of the Minds" Student Research Symposium. The award is designed to acknowledge one graduate and undergraduate student who has demonstrated exemplary scholastic work in both their academics and research within any field. 
The Outstanding Student Researcher for graduate and undergraduate scholars are selected based on their research or creative activities (e.g., paper, equivalent presentation, exhibit, etc.), letter of recommendation, academic achievement, and participation in extracurricular activities. Awardees will receive a recognition certification award and will present their research during the Academic Research Week.
---
Award Details 
The Outstanding Student Researcher Awardees are selected on the basis of their research or creative activities (e.g., paper, equivalent presentation, exhibit, etc.), letter of recommendation, academic achievement, and participation in extracurricular activities. Awardees will receive funds in coyote cash and will present their research during the "Meeting of the Minds". Students are not permitted to self-nominate and must request support from their faculty mentor. 
Eligibility 
1. The student must have been enrolled as a student during the academic year of their nomination.
2. The research or creative activities must be conducted by the student.
3. The student must have a GPA of a 3.5 or higher
4. The student must have participated in extracurricular activities outside of the classroom.
5. The student must be nominated by a faculty member.
Submission Guidelines
The following submission guidelines should be followed:
NOMINATIONS:
Submission of nominations must be online through InfoReady and must be submitted no later than 11:59pm on the deadline date.
Nominations are due by January 22, 2024
The nomination should include a statement of nomination written by a faculty member.
The statement must be uploaded in PDF format.
The nominator should address the following questions in their statement:
How long have you known the nominee and in what capacity?
What has the student accomplished within the area of research and creative activities?
What is the student's short and long-term academic/career goals?
Describe the student's involvement in extracurricular activities on campus or within the community.
Tell us why you believe your mentee deserves this award over other candidates.
NOMINEE DOCUMENTATION: 
Following nominations, the OSR will contact the nominees to solicit the following supporting materials in order to be considered for the Outstanding Undergraduate Student Research or Creative Activities Award:
A statement of purpose (not to exceed 2 pages) outlining the nominee's goals, research or creative interests, and their academic achievements
A resume/curriculum vitae
A sample of their research or creative activities (e.g., a research paper, publication, poster, photographs and description of performance or exhibit, etc.)
All materials must be submitted online through InfoReady and must be submitted no later than 5:00pm on the deadline date.
Late or incomplete nominee packets will be evaluated at the discretion of the awards committee.
---
Award Obligations
All awardees agree to the following terms:
Nominees are asked to attend the Office of Student Research Recognition Gala on Thursday, April 18th, 2024.
Awardees will be expected to give a talk about their research during Research Week (April 8th-11th 2024).
---
Submit an Application
Deadline to submit an application is January 22nd, 2024

Students are not permitted to self-nominate; student must be nominated by a faculty member.
Call for Nominations (Coming Soon)
---
2023 Outstanding Student Researcher Awardees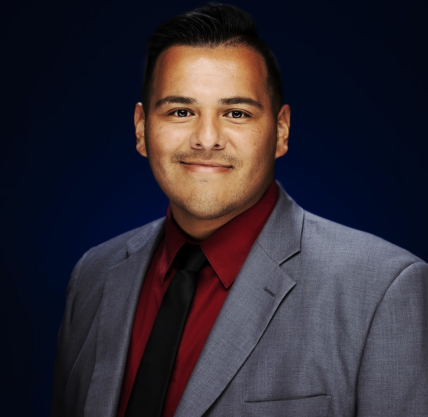 Alejandro Garcia, Graduate, Psychology
As I prepare to leave CSUSB and transition into my doctoral studies, I plan to investigate how social identities and mindsets such as state violence and historic exclusion influence prosocial behaviors in culturally diverse communities. My long-term goal is to pursue a research career in academia and actively engage with Latino, Indigenous and Black communities to address social issues affecting marginalized groups. My interest in understanding the social psychological factors that continue to obstruct social equality and disparities among these communities is deeply motivated by my need to help change the social systems that are not working. My determination to create change and belief that it is possible are grounded in personal experiences and these experiences have been instrumental in propelling me towards my pursuit of my academic achievements and research interests.
Time and again, I have experienced the way that complex, overlapping factors combine to impede equity and maintain existing disparities. It is rarely just one challenge. My earliest recollection of this was at age 10, when my family experienced a traumatic event. This event would have such a significant impact that it would cross generations. A combination of living in poverty, not having access to resources, being undocumented and cultural beliefs coupled with fear of challenging the justice system had a considerable influence on my family never seeking help. This led to a lifetime of coping in unhealthy ways for many of my family members, which included a cycle of substance abuse, incarceration, deportation, and other untreated mental health issues.
As I got older and began having conversations with my classmates in South Central Los Angeles, I recognized analogous stories of similar social issues affecting their respective families and our communities (e.g., South Los Angeles, Compton, and Watts). Their stories showed me that my experiences with my family epitomizes an intricate interaction among social issues that deeply affect disenfranchised communities, such as racial inequities, lacking access to resources, health beliefs, barriers to education, self-medicating behaviors, moral exclusion, and lack of trust in the judicial system, and how this all has shaped the culture and social identities among these communities. The realization that these issues could be best understood through rigorous research served as a driving force for me to pursue several research opportunities during my time at CSUSB. As I transition into my doctoral program, I am determined to maintain this research-driven approach.
Currently, I am completing my master's degree in Psychological Science at CSUSB under the direction of Dr. Brittany Bloodhart. Throughout my graduate studies, I continue to benefit from mentors in my department but have also found ways to become a mentor as well by teaching lab courses for Research Methods, working at the campus Writing Lab, being a supplemental instructor for statistics and creating community on campus. During my time at CSUSB, I have helped mentor ten undergraduate research assistants, the majority coming from underserved and diverse backgrounds. Involvement in a lab has allowed me to become more adept at designing social psychological experiments and has provided me with an opportunity to gain experience and use this knowledge to apply it to real-world problems through systematic and creative research designs: knowledge that has helped inform my own research examining issues affecting my community and communities like mine. For my master's thesis, I drew on the research skills I gained as a research assistant and designed a project that reflects my ultimate interest in understanding why people stay engaged in social movements. The project focuses on the Black Lives Matter Movement (BLM) and aims to better understand continued engagement in social actions by evaluating the interaction between group membership identity and the influence that risks and benefits assessment may have on developing a larger collective identity centered on social activism. I completed an original research pilot study in which I developed and validated new measures examining perceived risks and benefits of participating in BLM protest utilizing exploratory and confirmatory factor analyses. Through this process, as I searched for relevant literature, created materials, and drafted a research proposal, I learned the importance of being strategic and resourceful when designing studies on an underrepresented population. I plan to defend my thesis by the end of the Spring 2023 semester
---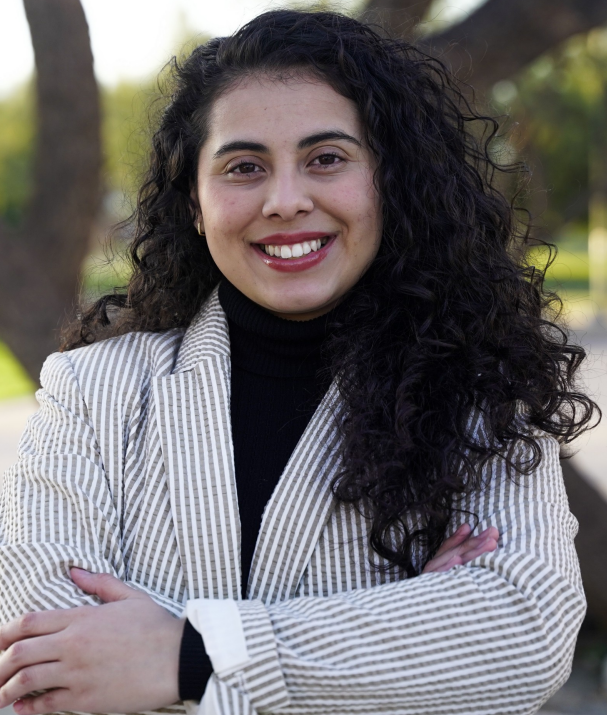 Guadalupe Romero, Undergraduate, Psychology
I'm currently in my last semester at California State University, San Bernardino where I'm majoring in Biological Psychology. After I obtain my bachelors degree, I will be applying to Ph. D. programs in translational neuroscience. My goal is to conduct research in neurodegenerative disorders ( Alzheimer's disease, Huntington disease ). Learning more about treatments for patients who have a neurodegenerative disorder and how the research I'm doing can be applied to develop into clinical applications and novel therapies is why I'm deciding to go into the field of translational neuroscience. I want my research to make an impact in people's lives. I've taken many different behavioral neuroscience classes where I have learned about different disorders and how they affect one's quality of life. Certain disorders affect memory, motor movement, and how people feel on an everyday basis. These disorders completely change one's life and make simple everyday tasks very difficult. My goal is to find new treatments for these disorders and help people live better lives with their disorders. My career goal is to continue to work in research and work for a government agency ( Centers for Disease and Control, or National Health Institution).
My research experience began with the Undergraduate Research Training Initiative for Student Enhancement (U-RISE) program. Through this program, I began working with Dr. Jason Reimer's cognitive psychology laboratory. I started working in this lab in September of 2021. Working in this lab has helped become familiar with conducting research in a laboratory setting. I have worked on a total of four projects in the lab. The first project is titled "Modes of Cognitive Control". In this study we are using the Tobii eye tracker to investigate if eye movements predict the use of reactive or proactive modes of control during the AX- Continuous Performance Task Romero, Guadalupe - #3466 3 of 22 (AX-CPT). The second study I am working and leading is titled "Inhibitory Control". This is an online study that my lab is collaborating with University of California Riverside and University of Irvine. This online study is examining the relationship between different types of cognitive inhibition tasks. The third study I worked on was my honors thesis project that is titled " The Relationship Between Modes of Cognitive Control and the Behavioral Inhibition System". The purpose of this is to test the direct relationship between AX-CPT and BIS scores. We wanted to see if people who are more proactive also have a higher BIS score. I'm currently assisting a graduate student in my lab on her master's thesis project, titled "Aces Effects on Hot & Cool Executive Function". We are investigating if repeated stress affects brain development. All of these projects have helped me in different ways to better understand the underlying mechanisms of neurodegenerative disorders.
Academic achievements I have obtained throughout my undergraduate journey are, I have been on the dean's list since my freshman year. I was accepted into the psychology honors program my junior year. I won an outstanding undergraduate service award for the college of social and behavioral sciences, for the work I did as the student representative of the college. I worked closely with the deans of the college to ensure we are providing students in the college with the best resources to help them succeed. I won the ASI elections for the 2023 school year and I'm currently serving my second term as the college representative of the social and behavioral science department. Last spring I applied to a summer internship at Dartmouth college, an Ivy league school in New Hampshire, where I was accepted and worked in an autism and perception lab. In this lab I learned how to code, I worked with virtual reality technology, I was trained to use FMRI. During the course of the summer I worked on a study titled "Examining conversational Alignment in Adults with and without Autism" Where I looked at the Romero, Guadalupe - #3466 4 of 22 conversation patterns of adults with and without autism. I presented this research in a poster presentation at the Leadership Alliance National Symposium in Connecticut. I have also presented my work at the Annual Biomedical Research conference for Minoritized Scienisist ( ABRCMS). I presented in a symposium at Dartmouth college, the 2022 meeting of the minds, and the 2023 csusb student research conference. All of these experiences have sharpened my skills and prepared me for future presentations. I am extremely passionate about the research work I do. Being a part of research has helped me have a fulfilling undergraduate journey. I thank CSUSB for all the opportunities this campus has provided me. Thank you for your consideration, and I look forward to hearing your decision.