The Mellon Mays Undergraduate Fellowship (MMUF) is a 2-year program at CSUSB that provides financial support, research mentorship, and assistance with graduate school applications. 
The program is the centerpiece of The Andrew W. Mellon Foundation's initiatives to increase diversity in the faculty ranks of institutions of higher learning. Established in 1988 by William G. Bowen, then the president of the Foundation, and Mellon program associate Henry Drewry, the MMUF program began with an initial cohort of eight member institutions.  Since then, the program has grown to include forty-eight member schools and three consortia, including three South African universities and a consortium of historically black colleges and universities within the membership of the UNCF. As of 2017, over 5000 students have been selected as fellows, more than 700 of whom have earned their Ph.D., and over 100 are now tenured faculty members. The great majority of those who have completed the Ph.D. hold or have held an appointment in the academy.
The fundamental objective of MMUF is to address, over time, the problem of underrepresentation in the academy at the level of college and university faculties. This goal can be achieved by increasing the number of students from underrepresented minority groups (URM) who pursue PhDs and by supporting the pursuit of PhDs by students who may not come from traditional minority groups but have otherwise demonstrated a commitment to the goals of MMUF. The MMUF program is designed to encourage fellows to enter Ph.D. programs that prepare students for professorial careers; it is not intended to support students who intend to go on to medical school, law school or other professional schools.
Please keep in mind that the program is designed for students who intend to pursue (or are strongly considering) graduate study in one of the areas of study listed below:
Anthropology & Archaeology

Area/Cultural/Ethnic/Gender Studies

Art History

Classics

Geography & Population Studies

English

Film, Cinema & Media Studies (theoretical focus)

Musicology & Ethnomusicology

Foreign Languages & Literatures

History

Linguistics

Literature

Performance Studies (theoretical focus)

Philosophy & Political Theory

Religion & Theology

Sociology

Theater (theoretical focus)
---
Application Today!
Visit the MMUF webpage for more information or to apply!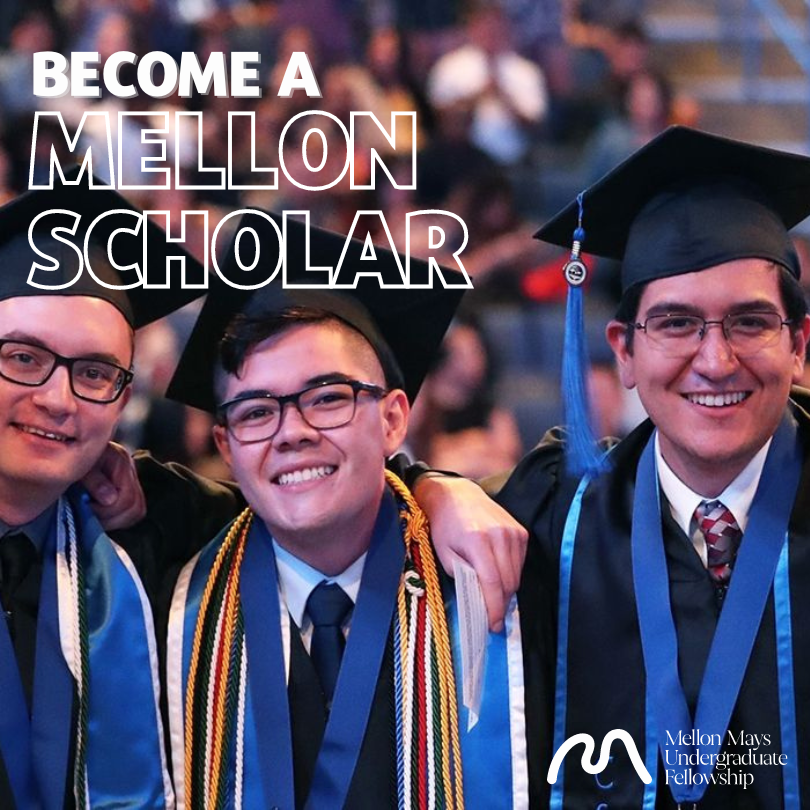 For more information, to attend information session please visit The Mellon Mays Undergraduate Fellowship website or contact Dr. José A. Muñoz (munoz@csusb.edu).
Deadline to Apply: December 18th, 2023 via InfoReady at 11:59pm.