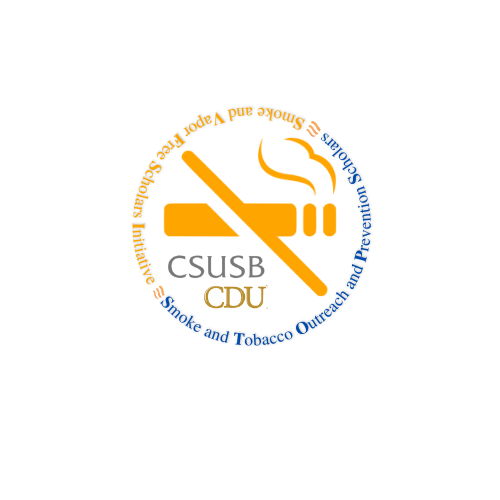 Smoke and Tobacco Outreach And Prevention Scholars Program
CSUSB's Smoke and Tobacco Outreach and Prevention Scholars (STOPS) is a grant-funded program designed to help develop a pipeline of dedicated tobacco control researchers and advocates. The STOPS program, a partnership between CSUSB and Charles R. Drew University, as well as the USC Keck School of Medicine, provides state-of-the-art smoking and vaping-cessation research sites.
STOPS provides support, mentorship, and training for undergraduate, post-baccalaureate, and master's students from tobacco priority populations to conduct mentored tobacco-related research, while also participating in local tobacco control projects and other educational activities. The goal of this initiative is to stimulate student enthusiasm for tobacco-related research and foster engagement and persistence of the next generation of researchers that represent the diversity of tobacco priority populations.
---
Program Components
Research training with a faculty mentor
Internship placement
Didactic Training

Monthly tobacco studies seminar
Monthly journal club
Responsible conduct and research ethics course
USC-TCORS center-wide monthly meetings
---
Eligibility Criteria:
3.0+ GPA (lower GPAs will be considered if other selection criteria are strong)
24 units in major (undergrad) or admission into a graduate program at CSUSB 
Interest in pursuing a degree related to tobacco-related disease
Member of a tobacco priority population (i.e. underrepresented minority, low socio-economic status, or recently incarcerated)
Faculty recommendations
Commitment to complete a one-year training program
---
STOPS Info Session
October 24th, 2023
12:00pm-1:00pm via zoom
If you were unable to attend the info session please see recording below
---
Coyote Research Talk - A Conversation with current STOPS Fellows
Enjoy recording below 'Coyote Research Talk' between OSR Director, Dr. Ryan Keating and current STOPS fellows: Emmanuel Javed, Gisselle Quiroz, and Parker Morrow. Listen in as they speak to their personal journey including insights and anecdotes as current STOPS fellows at CSUSB.
---
How to Apply:
Applications are due by November 29th and should include:
A two-page statement of career goals
Two letters of recommendation from a faculty member
A copy of your unofficial transcript
Application Deadline: November 29th, 2023 at 11:59pm via InfoReady
Interested students should contact Dr. Cynthia Crawford (Program Director) at ccrawfor@csusb.edu.