CSUSB Symphony Orchestra
The Symphony Orchestra is the core ensemble of the orchestral program at California State University, San Bernardino. Membership is comprised primarily of music majors, in addition to select instrumentalists from the CSUSB and greater San Bernardino communities. This ensemble provides the opportunity for string, woodwind, brass, percussion, and keyboard musicians to become well versed with masterworks of the symphonic orchestral repertory, in addition to occasional works for chamber and string orchestra.  Each season features vibrant and diverse programming that includes interdisciplinary partnerships, featured artists, new music commissions, a young artist competition, community engagement and educational outreach opportunities, a tour, and collaborations with the San Bernardino Symphony Orchestra.  Learn more about the history of the CSUSB Symphony Orchestra.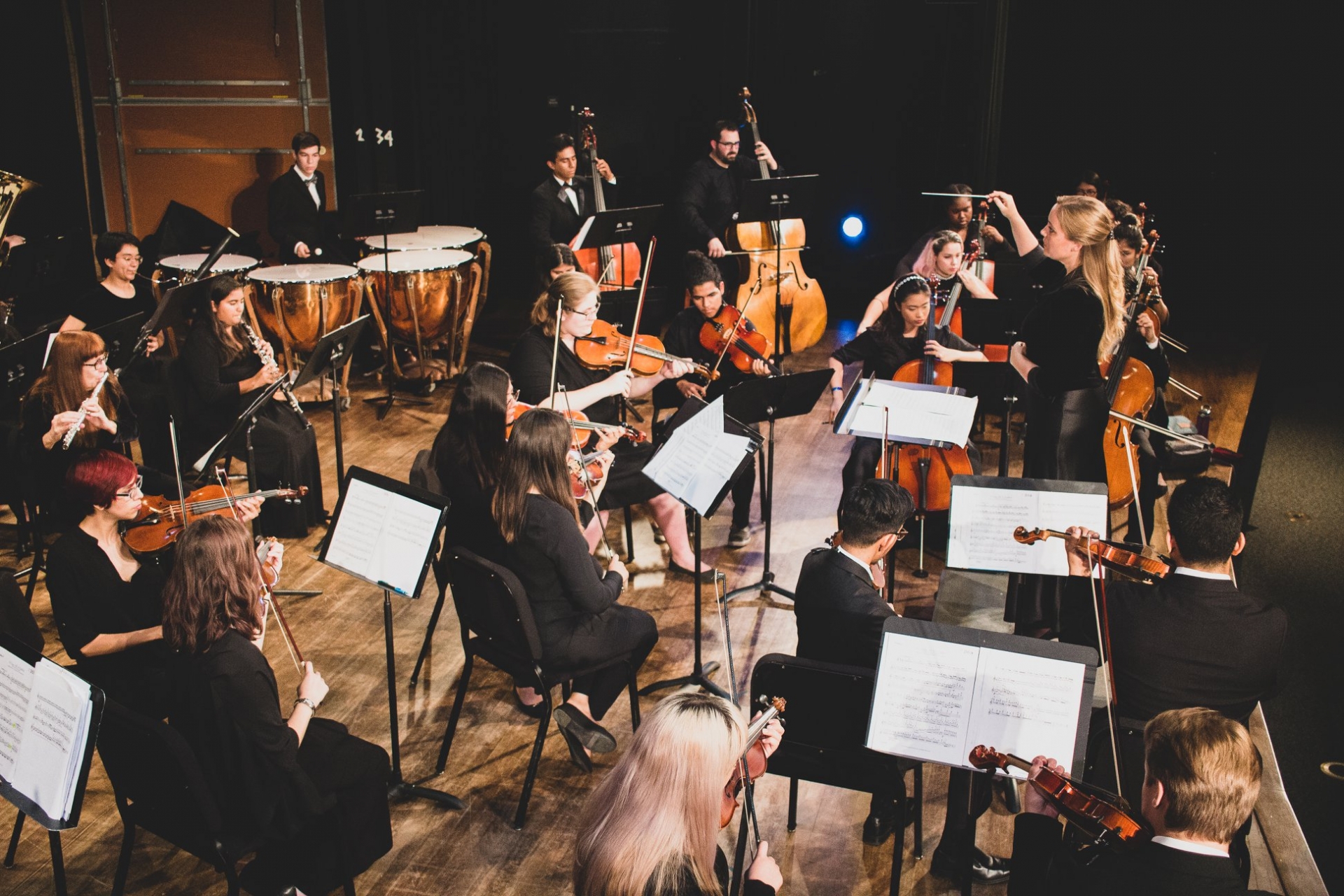 CSUSB Symphony Orchestra Mission, Vision & Values
Mission
The mission of the CSUSB Symphony Orchestra is to holistically develop the talent of instrumental students in the Inland Empire and actively contribute to the artistic vibrancy of our region.
Vision
The vision of the CSUSB Symphony Orchestra for it's student members is to give them the opportunity to learn and perform a diverse range of symphonic orchestral repertoire, engage with living composers and guest artists, premiere new music commissions, appear as guest artists and composers-in-residence with the symphony, participate in interdisciplinary collaborations, and contribute their ideas to season programming, all while developing the highest levels of musicianship, professionalism, and audience engagement skills.  This program seeks to empower every student to further their self-exploration and growth so that they may actively work toward achieving their dreams, and becoming artist citizens who make unique and meaningful contributions to both their local and globally-connected communities.
The vision of the CSUSB Symphony Orchestra for our San Bernardino, Inland Empire, and greater Southern California communities, is to provide a hub for our communities to come and enjoy orchestral performances of the highest calibre.  We value audience engagement and feedback, we seek to be relevant to our communities, and we actively engage in the mutually shared goals of education, community development, and celebration of the arts in the Inland Empire.
Values
The CSUSB Orchestral Program is contextualized by the core values of the university, which are:
Inclusivity that honors diverse perspectives and beliefs
Respect for every individual
Equitable treatment of and opportunities for every individual
Celebration of diversity
An innovative learning environment that prioritizes high standards of excellence in teaching, research, and scholarship
Integrity in character, conduct, and communications
Transparency in leadership, governance, and instruction
Sustainable program goals, recruitment practices, and stewardship of resources
Wellness and safety of everyone
The Director
Dr. Lucy Lewis
Associate Professor of Orchestral Music Education; Conductor, Symphony Orchestra
Office Location: Performing Arts Building 217
E-mail: lucy.lewis@csusb.edu
Phone: (909) 537-5085
Dr. Lewis conducts the CSUSB Symphony Orchestra, is the applied violin and viola professor, coaches string chamber music, and teaches string methods and pedagogy. View full bio for Dr. Lucy Lewis.
Ensemble Rehearsal Times
Tuesday and Thursday, 4:00 – 5:50 p.m., Room 127, Performing Arts Building. 
CSUSB Symphony Orchestra Membership
Students, CSUSB faculty members, and community artists are all invited to participate in the California State University, San Bernardino Symphony Orchestra. Membership in the CSUSB Symphony Orchestra is open to all students regardless of major; you do not have to be a music major to participate.  High school students are eligible to participate through Open University (freshman and sophomores) and CSUSB's High School University Program (juniors and seniors), with their instructor's permission.  Transferable university/college credit is available through both Open University and the High School University Program, and so please email Dr. Lewis to receive the registration forms and information.  Membership is by audition only and auditions are held the first week of each semester.  Click on the link to view the audition requirements and sign up for an audition time for Fall Semester 2020.
Prospective Students
Please speak with us about joining the CSUSB String and Orchestral Studies area programs. Interested students must first apply to California State University San Bernardino, send official test scores and other materials to the CSUSB Office of Admissions, and schedule an audition.
Detailed information regarding the CSUSB admissions process may be found here:
CSUSB's string faculty members are active performers and pedagogues with extensive professional experience. We would be delighted to speak with you about the possibility of joining our program and so please contact us with any questions you may have.
Lucy Lewis, Violin, Viola, Chamber Music, Orchestra
Esther Back, Cello, Cello Ensemble
Spencer Baldwin, String Bass
Stuart Green, Guitar, Guitar Ensemble
Kristopher Sveen, Guitar, Jazz Combo
Prospective students are also encouraged to contact the CSUSB Music Department by email at musicadmissions@csusb.edu with specific questions about music courses, programs, and degree tracks.
CSUSB Symphony Orchestra Highlights
On September 30, 2019, the CSUSB Orchestra traveled to South Korea upon the invitation of Dr. Se-Ung Lee, honorary chairman of the Shin-Il Cultural Foundation Board of Directors, and the administration of Seoul Cyber University.  This trip was the culmination of months of collaboration between the Shin-Il Cultural Foundation, Seoul Cyber University, and California State University, San Bernardino, and was made possible through an endowment and a grant worth $498,000 created by the Korea Foundation.  Students from the CSUSB Orchestra were accompanied by CSUSB administrators, faculty, and staff that included:
Tomás & Evy Morales, CSUSB President and First Lady
Tatiana Karmanova, CSUSB Associate Vice Provost and Dean of the College of Extended and Global Education
Hyunkyoung Oh, CSUSB Faculty Director of International Education
Rueyling Chuang, CSUSB Dean of the College of Arts & Letters
Dong Man Kim, CSUSB Professor of Accounting & Finance
Crystal Wymer-Lucero, CSUSB Director of Alumni Relations
Esther Back, CSUSB Applied Cello Faculty
Brian Hollett, CSUSB Applied French Horn Faculty
Lisa DeMarco Ryden, CSUSB Administrative Support Coordinator for the Department of Music
During their visit CSUSB students, faculty, staff, and administrators had the opportunity to tour Seoul Cyber University, attend the CSUSB Asian Alumni reunion, and visit cultural sites such as Gyeongbokgung Palace and the National Palace Museum of Korea.  The highlight of this trip however, was the remarkable opportunity to perform in the Seoul Arts Center IBK Chamber Hall on Tuesday, October 2.  This concert was curated to celebrate the growing relationship between CSUSB and Seoul Cyber University and repertoire spanned the gamut from works by Hispanic composers, to Korean art songs, to works from the heart of the canon of Western classical music.  It was an honor to feature Seoul Cyber University faculty soprano Minhyung Kim and tenor Dong Man Kim, and the night ended with a standing ovation.  Click to view a gallery of photos from the CSUSB Orchestra's trip to South Korea.
The CSUSB Orchestra's tour to Korea was covered by the CSUSB Magazine, the CSUniverse, and the Korea Times.  CSUSB also produced a documentary film, the first of it's kind for the university, covering this experience, entitled "Flight to Harmony."  
CSUSB Symphony Orchestra Opportunities
Members of the CSUSB Symphony Orchestra have access to a variety of special opportunities that include a collaborative relationship with the San Bernardino Symphony Orchestra, and access to participation in the CSUSB American String Teachers Association Student Chapter: Yotie Edition.  

California State University San Bernardino Student Opportunities:
San Bernardino Symphony Orchestra Internship: Administrative Intern to the Executive Director
San Bernardino Symphony Orchestra Internship: Administrative Intern for the Guthrie Music Library
Docent Training for the San Bernardino Symphony Orchestra's Outreach Program, 'Music in the Schools'
Access to reduced ticket prices for the San Bernardino Symphony Orchestra's Season Concerts
During the 2018-2019 Concert Season, eleven string players from the CSUSB Orchestral Program were also selected to perform The Planets by Gustav Holst alongisde the San Bernardino Symphony Orchestra for their "Celestial Sounds" concert, the final performance of the San Bernardino Symphony Orchestra's historic 90th season.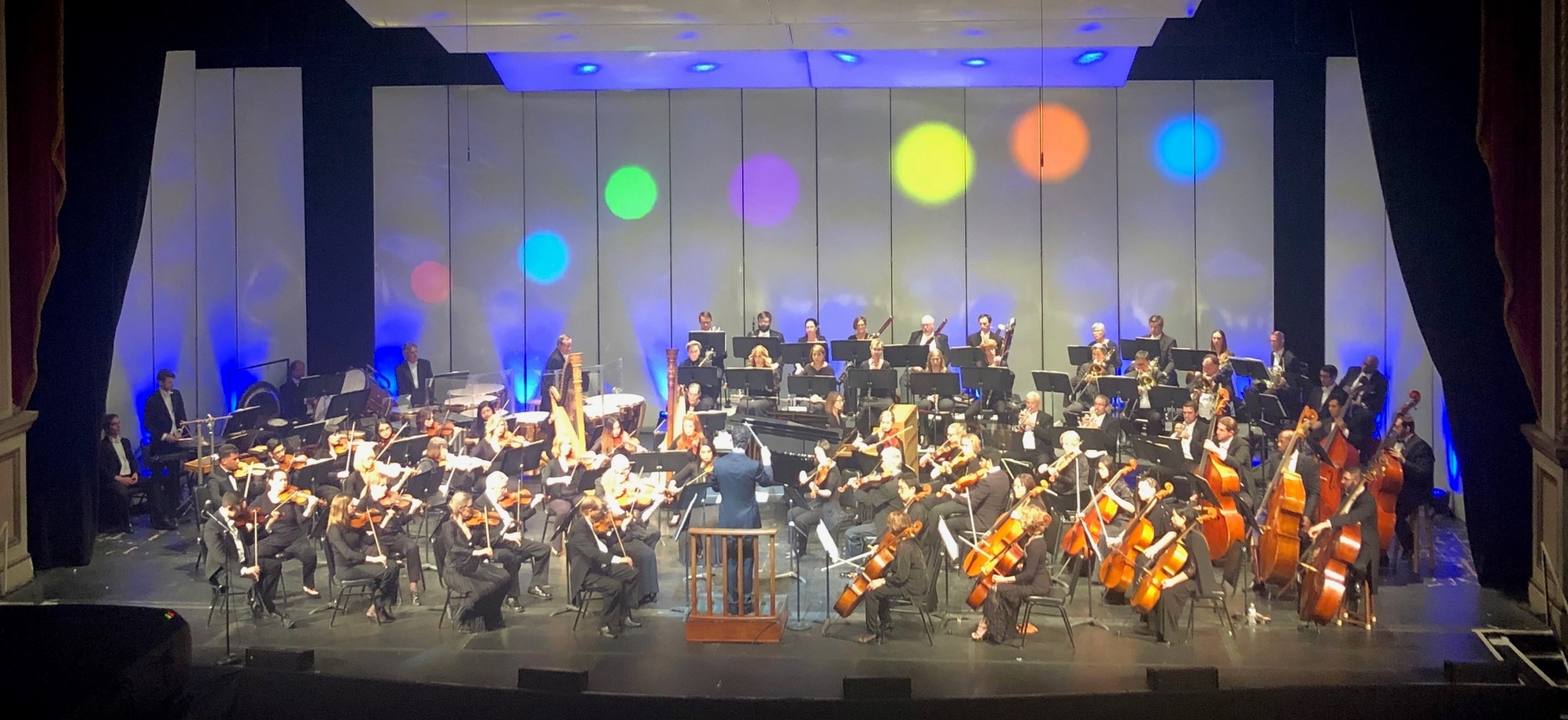 Special thanks to Dr. Anne Viricel (San Bernardino Symphony Orchestra Executive Director), Dean McVay (San Bernardino Symphony Orchestra Board Chair), and AFM Local 47 for supporting this opportunity for our students!

California State University, San Bernardino Student Chapter: Yotie Edition Opportunities:
Membership for any student musician (string, woodwind, brass, percussion, keyboard, voice), in the largest national association for string and orchestral performance, pedagogy, and advocacy
Professional development opportunities
California State University, San Bernardino Summer Orchestra, Piano, Guitar & Chamber Music Camp Student Internships
Access to reduced registration prices for the American String Teachers Association National Conference