Welcome to the Transfer Student Success Center! 
The Transfer Student Success Center (TSSC) serves as the heart of CSUSB's transfer student community. The TSSC supports prospective and current transfer students as they navigate the transition to and through CSUSB. The center provides programs, events, resources and support services created specifically for transfer students. We also offer peer-to-peer support through our team of Transfer Peer Mentors. The TSSC seeks to ensure that all transfer students find a sense of belonging at CSUSB and are successful in achieving their personal, professional, and educational goals.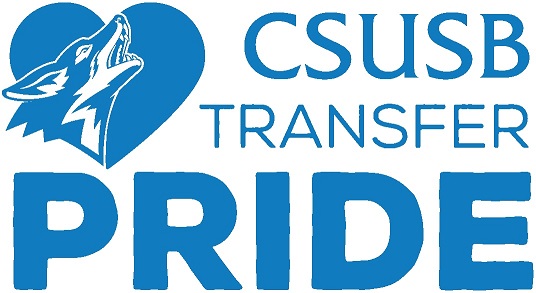 Meet the Transfer Student Success Team
Transfer Peer Mentors 
Transfer Peer Mentors are current CSUSB transfer students who work to provide support to their fellow prospective, incoming, and current transfer students. They have all been through the transfer process themselves, so they can give you information and advice from their firsthand experiences. Transfer Peer Mentors help plan and coordinate the Transfer Student Success Center's programs and events and are also available to hold virtual meeting with students one-one-one.
Transfer Peer Mentors can provide the following types of support through one-on-one meetings:
General guidance regarding the transfer process.
Advice regarding navigating your transition to CSUSB.
Assistance with navigating your MyCoyote Portal.
Answers to general questions about CSUSB resources and services.
General information about their individual majors and their experiences as CSUSB students. 
Advice for getting involved as a transfer student and making the most of your time at CSUSB.
To schedule a meeting with a Transfer Peer Mentor, click the "Schedule a Meeting" button under their bios below.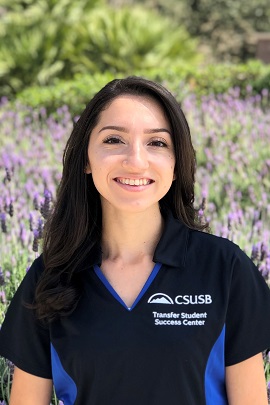 Clarissa Perez, Transfer Peer Mentor 
Hello Coyote transfers! My name is Clarissa Pérez and I am one of your Transfer Peer Mentors. I am a first generation college student born in Modesto, California. I grew up in San Bernardino and ended up moving during my fifth grade year to the Coachella Valley where I currently live. I am a Liberal Studies Major with a Spanish Concentration working towards getting Bilingual Authorization to teach students in bilingual classrooms. I transferred to the CSUSB Palm Desert Campus from College of the Desert in Fall of 2020 and experienced first hand the obstacles that transfer students encounter. It has become a major goal of mine to make sure that prospective transfer students have the resources and guidance needed to have an easy transition into and through university life. I look forward to meeting with you and assisting you through your transfer journey!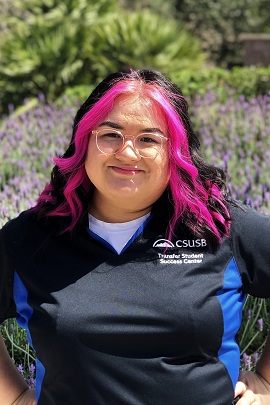 Mia Mendoza, Transfer Peer Mentor 
Hello! My name is Mia Mendoza. As a Transfer Peer Mentor, I am here to assist and guide you as a new transfer student! I am from San Francisco and originally attended City College of San Francisco and then transferred to San Francisco State University(SFSU) during the Spring of 2018. After realizing SFSU was not for me, I took some time off and applied to transfer again and now we're here! I began my journey at CSUSB during the Fall 2020 semester and am currently a third-year student majoring in Communication Studies with a concentration in human and organizational communication and minoring in sociology.  I'm always looking for opportunities to get involved with the organizations available on campus, so outside of working for the Transfer Student Success Center, I am also part of Lubos Paso, Transfer Student Success Club (I plan many of the events that we have!) and am in the sorority Alpha Delta Pi! After undergrad I hope to attend graduate school and earn my M.S. in Counseling. I hold a special place in my heart for high schoolers, especially high school seniors, and transfer students and would like to work with either population afterwards.
I currently live on campus, so feel free to ask me questions about campus housing!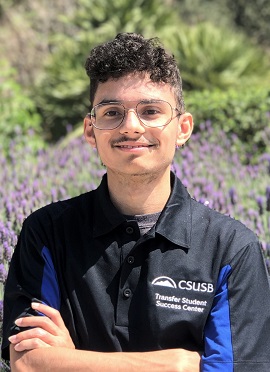 Simeone "Simi" Miller, Transfer Peer Mentor 
Hello, my name is Simeone Miller and I am one of your Transfer Peer Mentors! As a TPM, my job is to assist you on your way to becoming part of our CSUSB Transfer Pack and advocate for you during your time here at the university. As the child of a CSUSB Class of 2009 alum, I am honored to be able to give back to a school and student body that helped my mom become the successful person that she is today. I was originally born in Kansas but moved to the Inland Empire when I was six years old. I am a proud member of the Chaffey College Class of 2020, where I received my A.A. degrees in Political Science and University Studies with an emphasis on the Social and Behavioral Sciences before transferring. My current major is Political Science with a minor in Islamic and Middle Eastern Studies, which I believe will prepare me for a career as an attorney. I am also the President of the Coyote Transfer Alliance, and a part-time researcher for the university's world-renowned Center for the Study of Hate and Extremism. When I am not supporting my fellow transfers, I am probably playing a few missions on DC Universe Online, studying, or providing leadership training to middle schoolers and high schoolers in my community as an Assistant Advisor for the Military Explorers of the Inland Empire Post III.