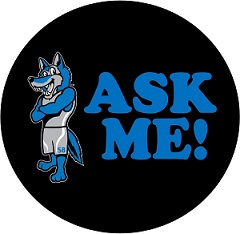 Visit Ask Me!, a one-stop resource site for students to gain quick answers. We have a team of staff ready and available to assist. You can use the chat, or link to one of our helpful team members during our virtual office hours. Welcome to the Pack!
Ask Me! Drive Thru
We are excited to transform our annual Ask Me! campaign to a drive thru for the Fall 2020 semester! 
Lost? Confused? Do you still have questions as you prepare to begin your first semester at CSUSB?
Join us on Monday, August 24th through Wednesday, August 26th from 10:00 am - 2:00 pm to grab your FYE swag bag, snack pack and ask any remaining questions you have as you start your first semester of college. 
Spaces are limited, so sign up today!
Here's how it works in 3 easy steps:
1) Visit our event SignUp page on SignUp.com
2) Review the options listed and choose the spot(s) you like.
3) Sign up! It's easy - you will NOT need to register an account or keep a password on SignUp.com.
If you have any questions, please email ofye@csusb.edu. This event is not mandatory and spaces are limited. 
Do you still have a class or two on campus? Check out our campus map and building maps to find where your classroom is. 
Classroom Maps 
Don't want to be late to your first day of class? Click on the building name and it will direct you to a map of the building!
Campus Map
Are you still trying to find your way around campus? Check out the campus map.