2020-2021 Events 
2nd Annual First-Generation New Student Welcome Celebration
On behalf of First Year Experience and the Transfer Student Success Center, it is our pleasure to invite you to the 2nd Annual First-Generation New Student Welcome Celebration. Over 80% of students at CSUSB are first-generation, meaning their parents have not completed a four-year degree. We are proud to serve this population and excited to welcome you into the CSUSB community of first-gen students and first-gen allies. Please see below for more details on the event and a link to register.  

Tuesday, September 1 (12 - 1 PM) via Zoom

At this virtual event, you will meet and hear from other first-generation students, faculty, and staff. This event celebrates the power and strength of the CSUSB first-generation student  community.  Click here to see a recording of the celebration!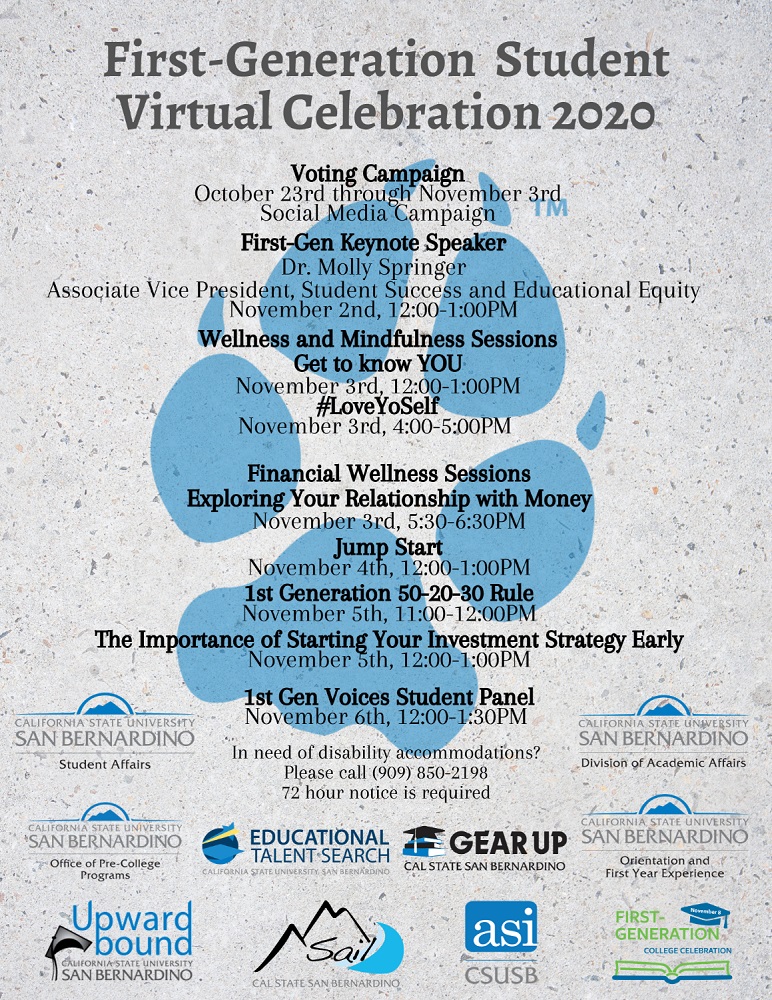 First-Gen Week flyer with event information
First-Generation College Celebration Events 
Register for the events here! (Please note the event #LoveYoSelf on Thursday, November 5th from 12-1 has a separate registration link.) 
Motivational/Keynote Speaker
November 2nd from 12:00-1:00PM via Zoom
Dr. Molly Springer, Associate Vice President for Student Success and Education Equity will be sharing her journey as a First-Gen student/professional and addressing all related intersectional identities while empowering our First-Gen students to continue thriving as members of the CSUSB community.
Special Guest: President Tomas Morales 
YOU at CSUSB
November 3rd from 12:00-1:00PM via Zoom
Get to know YOU is an interactive workshop where you will be able to self-assess your wellness by learning what wellness is and taking the appropriate steps to enhance it. Join us to explore new ways to enhance your wellness!
Facilitator: Sonia Martinez, Recreation and Wellness
#LoveYoSelf
November 5th from 12:00-1:00PM via Zoom
Ever notice that you're hard on yourself? You're not alone. Come join us as we learn how to understand and challenge our inner-critic by practicing self-compassion and encouragement.
Facilitator: Sara Sawaf, CAPS
To register: #LoveYoSelf 
You must sign up with a CSUSB email address.
Exploring Your Relationship with Money: Unlocking your strategy forward as a money manager
November 3rd from 5:30-6:30PM via Zoom
How you view money determines how you can best manage it to reach your financial goals.  Come explore different money personalities and gain a deeper awareness of the lens you use when making financial decisions.
Facilitator: Kristen Stutz, SAIL
Jump Start
November 4th from 12:00-1:00PM via Zoom
Financial success requires the ability to control your money.  Learn techniques to improve your money management, develop a working budget, and become a millionaire.
Facilitator: Bill Stevenson, Department of Finance 
1st Generation 50-20-30 Rule Workshop
November 5th from 11:00-12:00PM via Zoom
This is a simple budget plan to help you reach your financial goals.  The basic rule is to divide up after-tax income and allocate it to spend 50% on needs, 30% on wants, and putting away 20% to savings.
Facilitator: Veronica Medina, Office of Financial Aid and Scholarship 
The Importance of Starting your Investment Strategy Early
November 5th from 12:00-1:00PM via Zoom
How does money grow? It doesn't take a rocket scientist to understand some basic principles of "How money grows". 
Facilitator: Alfonso Anaya, Department of Accounting and Finance
1st Gen Voices Student Panel
November 6th from 12:00-1:30PM via Zoom
Join us for a celebration of the strength and resiliency of CSUSB's First-Generation Student Population! In this session, current undergraduate and graduate first-generation students will talk about their challenges, successes, and tips for making the most of your college experience.
Facilitator: Victoria Argot, SAIL and student panelists 
Download the First-Generation Voter Campaign Zoom Backgrounds