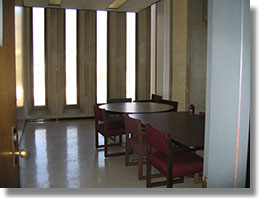 Twenty-two group study rooms on 3rd-5th floors and ten individual study carrels on 4th floor may be reserved in advance. For room locations and details, check the Map of Group Study Rooms (PDF)
Follow these steps:
Select a room type from the list below.
Select a day from the calendar and up to four half-hour slots (for a total of 2 hours), consecutive or not.
Login with your MyCoyote username and password.
Submit your booking information.
Your reservation is now complete! Keep your final confirmation email as proof and bring it with you.
So, what kind of room do you need?
Reserve a Group Study Room (groups of 2 or more)

Six VETI-funded Smart Group Study Rooms have a 65-inch flat screen monitor and AirServer unit to transmit from your device to the monitor. A remote control for the monitor can be borrowed from the Check-Out Desk.

Reserve an Individual Study Carrel (only 1 person)
If a group has not occupied the room within 10 minutes after their start time, the reservation is forfeited, and other groups may use the room. A single individual cannot "hold" a study room for a group arriving later.
Reservations may be made up to one week in advance.
One additional room, PL-503, is a "Multi-Group Study Room" with several tables to accommodate more than one group. The Multi-Group Study Room cannot be reserved in advance, and you must be willing to share this room as long as a table is unoccupied.