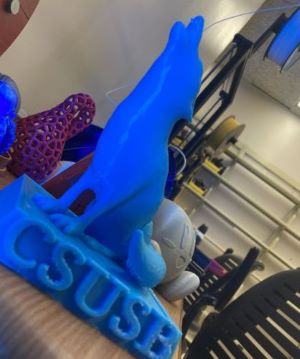 Purpose 
John M. Pfau Library offers 3D printing to provide students access to an emerging technology that inspires creativity, innovation and academic excellence.
Statement of Values 
The John M. Pfau Library strongly believes in and is committed to the inherent right of free expression in all of its forms and manifestations. We affirm and endorse the principles and values set forth in the American Library Association Library Bill of Rights and Code of Ethics. 
Availability 
Current CSUSB students may use Innovation Lab 3D printers for class or student projects. Print jobs must be submitted from the Innovation Lab computer connected to the 3D printer.
Students are limited to one print job per person per week to maximize the availability of the printers. Multiple objects printed on the same build plate count as a single submission.
Submitted jobs must be smaller than the printer's maximum build volume of 25 cm wide x 21 cm long x 21 cm high (9.84" wide x 8.3" long x 8.3" high).
Please submit print jobs at least a week in advance of when you need them, to allow time to revise and resubmit your print job if necessary. We reserve the right to prioritize requests submitted by students related to academic assignments, and we cannot guarantee to meet deadlines due to limited availability, but we will do our best to help you complete your request promptly.
Please feel free to visit the lab during open hours, make an appointment, or contact the Innovation Lab at  innov.lab.education@gmail.com for recommendations on how to format and submit your prints.  
Safety and Copyright 
To protect the safety and well-being of the campus community, the library's 3D printers shall not be used to produce objects or materials that are: 
Prohibited by local, state or federal law 
Dangerous, such as knives, guns, or weapon facsimiles and accessories 
Subject to patent, trademark, copyright or license protection 
Disclaimer 
By submitting 3D prints, students agree to assume all responsibility for, and will hold the library harmless in, all matters related to patented, trademarked, regulated, licensed or copyrighted materials. 
The library is not responsible for the functionality or quality of content produced on its 3D printers. 
The library is not responsible for objects created with its 3D printers, including harm or injury incurred from the use of those objects. 
The library reserves the right to approve and deny 3D printing requests. Current equipment capacity limits the size and scope of printing requests.