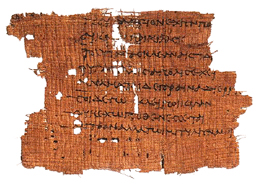 The Pfau Library is striving to become one of the premier academic libraries in Southern California. Through its substantial collections, numerous digital resources, and excellent interlibrary loan service, it makes the world's knowledge easily accessible.
It plays a key role in supporting the University's curriculum and mission. It provides vital library services to students, faculty, and staff as well as community members throughout the Inland Empire. CSUSB and its Pfau Library are essential to the educational and economic growth of this region.
Imagine for a moment where civilization would be now if the Royal Library at Alexandria had been able to afford enough scribes to make copies of all the scrolls in the library and a place to keep them safe no matter what before it was completely destroyed. What would we have been able to accomplish with access to a complete record of the best ancient wisdom?
Libraries supply the seeds that sprout into rich harvests of knowledge which nourish minds. Please help preserve our intellectual diversity and make those harvests happen!
Gifts may be either monetary or material in nature. Both are tax deductible and eligible for the commemorative bookplate option.
Ways to make a monetary gift:
By mail. Please make your check payable to the Foundation for California State University, San Bernardino. In the memo section of your check, please note that the gift is to be used to support the Library. 
Mail to:
Library Administration
John M. Pfau Library
5500 University Parkway
San Bernardino, CA 92407-2393
Make a Gift Online. In the section labeled "I want my gift to support:" select: "A Specific College, Program, Department, or Select Multiple Funds", please designate your CSUSB Foundation gift to the Pfau Library.
Please contact Dean Rebeccas Lubas at 909-537-5102 or Rebecca.lubas@csusb.edu if you have any questions.
Material Gifts
We accept material gifts such as books, periodicals, software, audio CDs, DVDs, audio cassettes, LPs, and VHS tapes. You may drop off the materials at the library or contact Catrina Mancha at 909-537-5096 or cmancha@csusb.edu to schedule an on-campus pick up at your office or vehicle.
You will receive a letter for tax purposes stating the number of items donated to the library. You determine the value of the donation. We are unable to provide a list of items or appraise the value of items donated. Donated materials are evaluated by librarians for inclusion in the collection. Please note that donation does not guarantee inclusion into the collection. However, materials not selected for our collection are, in turn, donated to local libraries, so everything goes to a good cause.
If you wish to donate expensive items or items of particular interest (for example, current textbooks), or if you have any questions, please contact Lisa Bartle, Coordinator of Collection Development, at 909-537-7552 or lbartle@csusb.edu.
Bookplate Option
Personalized bookplates are an elegant way for you to commemorate a special person, program, department, organization, or company with your gift of materials.
Should you choose this option, any printed books you donate that we add to our collections will have a personalized bookplate affixed inside their covers. There also will be a note added to the electronic record in our online catalog with the name from the personalized bookplate.
Contact Catrina Mancha, 909-537-5096 or cmancha@csusb.edu for further details.
Other Ways to Give
Planned giving: Plan in advance bequests, gifts of life insurance and retirement plans, and other contributions made through a donor's estate by contacting Terri Carlos at 909-537-7576 or TCarlos@csusb.edu. Make a gift of cash, stocks, mutual funds, real estate, or personal property such as art, fine furnishings, and rare books. For more information contact Dean Caballero at 909-537-5102.
Thank you for your generosity!