Student Safety Training Procedure
EH&S has partnered with Academic Technologies and Innovation (ATI) to develop a solution in PeopleSoft that will allow instructors to electronically certify which students have completed their safety training before assigning a grade for a particular course. This amazing new tool will help to support automated reporting processes but is not intended to serve as the sole documentation of safety training. 
In an effort to further support departments as well as student success, we have defined the Student Safety Training Procedure which outlines the expectations, and requirements of this new process while allowing instructors the much-needed flexibility to conduct training in a format that best meets the needs of their course. To this end, the procedure outlines several options for facilitating safety training so instructors can choose the option that compliments their course structure. Once training has been completed and documented, instructors can electronically certify training completion by following the steps outlined in this instructional video developed by ATI.
Departments must ensure that all training records meet the minimum reporting requirements outlined in the procedure and are available upon request for audit purposes.
EH&S will periodically audit training records to help ensure the campus remains in compliance with regulatory requirements.
Leveling Up Student Safety Training Article
Training How-To's for Students
Heat Illness Prevention Training in CSU Learning Bridge
CSU Learning Bridge (AKA Skillport) 
The CSU Student Learning Bridge is a learning management system used to deliver safety training to students in preparation for academic or research-related courses or lab sessions.  Anyone with a Coyote ID can access the system, then search for and complete online safety training modules. 
Log in using Coyote ID and password 

Can be accessed through EHS website Training page using the Student Training System tile 
What you can do in Student Learning Bridge 
Access required or recommended training modules designated to you by EH&S or your Principal Investigator (PI) or Lab Manager or browse through all available training courses (Search) 

See all training previously completed in Student Learning Bridge including certificates of completion (Learning History) 
Required or Recommended Trainings 
Before beginning any activities in an environment that contains safety hazards (classroom, research lab, field studies, etc) your PI or Lab Manager will provide you with a list of required and/or recommended training modules 
Ex. Title- "Laboratory Safety - Cal/OSHA" Course ID: ehs_cal_a39_sh_enus 
Search for the appropriate course code or training title by using the search feature (magnifying glass) and selecting Courses or Custom (depending on the module) 

When you locate the desired training, click on "Launch" and you can start the training module
Learning History & Certificates 
To find previously completed courses and completion certificates, go to Learning History from your homepage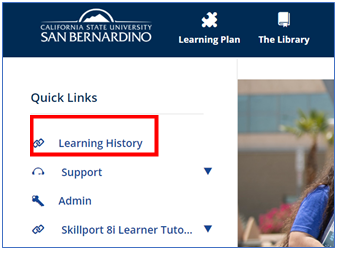 See your complete Learning Transcript including the Start and Completion Dates of each module 

Print your entire Learning Transcript if needed 

Obtain your completion certificate by clicking on the menu button for the desired training then clicking on View Certificate

If you have general questions or are having any technical difficulties with Student Learning Bridge you can email csulearn@csusb.edu 
For questions or concerns regarding EH&S or safety training on Student Learning Bridge you can contact ehs@csusb.edu.
Student Safety Training Matrix (coming soon)