Flood Remediation FAQs
Questions related to CSUSB's flood remediation may be answered in the below frequently asked questions document.
Welcome to the Environmental Health & Safety Department! 
The CSU San Bernardino Environmental Health and Safety Department (EH&S) is dedicated to serving the university by providing technical expertise, consulting assistance, training, and other services to assure compliance with legal requirements. Our primary efforts are focused on identifying and eliminating hazards to provide a safe and secure environment on campus. In so doing, EH&S is able to help create a supportive and welcoming social and physical setting for all students, faculty, staff, and visitors to the university. 
About UsSafety CommitteesCampus EmergenciesCOVID-19 Prevention & Planning
Upcoming Events
There are no scheduled upcoming events at this time.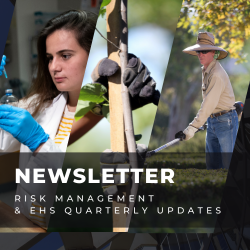 Newsletters 
Read our newsletter to find the latest information about health and safety for Faculty, Staff and Students on campus.
Calling all Safety Champions!  
Who are "Safety Champions?" Safety Champions are voluntary liaisons within campus departments who work closely with EH&S and Risk Management to assess safety in the worksite and to stay abreast of changes that may impact their department with respect to COVID-19 safety. Regulations and local guidance evolve rapidly and EH&S is able to work closely with our Safety Champions to provide updates on these changes.

What do Safety Champions do? Safety Champions help foster a safe work environment by supporting pandemic health and safety protocols and checks in their areas.  We would like to expand this program so champions will be able to assist in incident investigations, participate in periodic safety checks, and report concerns up to the appropriate EH&S safety subcommittee or Campus-Wide Safety Committee. Risk and EH&S would also like to develop an employee recognition program in collaboration with Safety Champions to recognize fellow safe Coyotes and their contributions to workplace safety at CSUSB. Please send your thoughts and ideas about the Safety Champion program to ehs@csusb.edu.
Safety Champion Newsletter Oct 4, 2021