Regulatory Authority 
Title 8, California Code of Regulations, Section 5194. 
Administering Agency 
California Occupational Safety and Health Agency (CAL/OSHA) 
Environmental Health and Safety Policy 
It is the policy of California State University, San Bernardino to maintain, insofar as it is reasonably within the control of the University to do so, a campus environment for students, faculty, staff and visitors that will not adversely affect their health, safety, and surrounding environment or subject them to available risks of accidental injury or illness.   
All employees who use or may be exposed to potentially hazardous chemicals  shall be informed about the hazard of those substances or physical agents. These employees shall be trained in the precautions to prevent exposure and what to do if they are accidentally exposed.   
Purpose 
Hazardous chemicals in the workplace, in some forms and concentrations, might pose potential health hazards to employees who are exposed to these chemicals. Employees have a right and a need to understand the properties and potential hazards of chemicals to which they may be exposed.  Such knowledge is essential in reducing the incidence of occupational disease. This program will improve the detection, treatment, and prevention of occupational illness and disease and support workers' right to understand.   
This program is also intended to ensure that departments provide their employees with training on how to avoid exposure to hazardous chemicals and what to do if they are accidentally exposed to such substances.   
Scope 
This program shall apply to all departments that use, handle, or store hazardous chemicals. 
This program shall apply to any hazardous chemicals, which is known to be present in the workplace in such a manner that employees may be exposed under normal conditions of use or in a foreseeable emergency. 
This program does not apply to:  
Any hazardous waste regulated by the Solid Waste Disposal Act, amended by the Resource Conservation and Recovery Act of 1976;  
Tobacco or tobacco products;  
Wood or wood products; 
Articles;  
Food, drugs, or cosmetics intended for personal consumption by employees while in the workplace;  
Any consumer product packaged for distribution, to, and used by the general public, provided the exposure to university employees is significantly greater than that of the general public. 
Responsibilities 
Environmental Health and Safety Department 
​​​​​​​Develop, implement, and monitor the Hazard Communication Program (HCP). 

Provide consultation to all levels of CSUSB staff and faculty regarding program compliance. 

Assist Departments in complying with HCP requirements including labeling, Safety Data Sheet (SDS), employee information and training, and record keeping. 

EHS will monitor the Risk and Safety Solutions Software to ensure compliance.  

EHS will conduct periodic program review at least once every three years.  
Departments 
Develop and maintain written departmental procedures to ensure effective compliance with the HCP. 

Ensure that all requirements of the HCP have been met before employees are exposed to hazardous chemicals under normal conditions of use or in a foreseeable emergency. 

Develop and maintain an inventory of hazardous chemicals present in all work areas within departments. 

Complete a chemical hazard Risk Hazard Analysis using the Risk and Safety Solutions (RSS) Software as needed.  

Maintain a chemical inventory for each space that stores/ uses chemicals in the RSS.  

Provide employees with information and training on hazardous chemicals in their work area at the time of their initial assignment, and whenever a new hazard is introduced in their work area. 
Employee 
Each employee assigned to work with a hazardous substance shall read and comply with all HCP procedures (written or oral) while performing assigned duties. 

Each employee will attend established training sessions and be expected to understand and comply with all applicable HCP requirements.  Failure to comply with established HCP guidelines may be reflected in performance evaluations and may lead to disciplinary action. 

Every employee is responsible for asking questions of their supervisors when there is concern about an unknown or potentially hazardous substance. 

Employees are responsible in conducting themselves in a manner, which promotes safety and avoids safe or unhealthful conditions. 
Chemical Inventory 
General Requirements 
All departments that use, handle or store hazardous chemicals must maintain an inventory of the hazardous chemicals present in their work areas at all times and regularly updated. This can be done with in the Risk and Safety Software that was purchased by the CSU System.   
Consumer Products 
Consumer products must be included in the chemical inventory if the employee exposure to the product is significantly greater than the consumer exposure occurring during the principal consumer use of the product. However, certain minimal inventory thresholds are required for other reporting agencies such as Certified Unified Program Agency (CUPA). 
Labeling 
Every container of a hazardous chemical, except containers that will contain chemicals for immediate use, must be labeled, tagged, or marked to identify the substance and appropriate hazard warnings. 
Each department shall ensure that each container of hazardous chemicals in the workplace is labeled, tagged or marked with the following information:  
Identification of the hazardous substance(s) contained therein;  

Pictogram(s) (see Appendix A for details); 

Signal word; 

Appropriate hazard warnings;  

Precautionary statement(s); and  
Name and address of manufacturer, importer or other responsible party.  
All secondary containers of hazardous materials shall be labeled with the approved secondary container labeling method identified in Appendix B. 
Employees shall not remove or deface existing labels on incoming containers of hazardous chemicals.  
Hazardous waste container must be labeled with and approved hazardous waste label with the following information: 
The date upon which each period of accumulation begins must be clearly marked and visible for inspection on each accumulation unit.  
While being accumulated on site, each generator tank or container must be labeled or clearly marked with the words, "Hazardous Waste". (see Appendix C for details) 

Each container and portable tank in which hazardous waste is accumulated must be labeled with the following information:  
Composition and physical state of the waste; 

Statement or statements that call attention to the particular hazardous properties of the waste (e.g. flammable, reactive etc.) 

Name and address of the generator. 
Each hazardous waste container must be stored in a secondary container.  
Labeled/Unlabeled Pipes (if applicable)   
Above ground pipes transporting hazardous chemicals (gases, vapors, liquids, semi-liquids, or plastics) are identified in accordance with 8 CCR, Section 3321, "Identification of Piping." Other above ground pipes that do not contain hazardous chemicals but may have associated hazards if disturbed or cut (e.g., steam lines, oxygen lines) are addressed as follows:   
Before employees enter the area and initiate work, their supervisor will inform them of:   
The location of the pipe or piping system or other known safety hazard  
The substance in the pipe  

Potential hazards  

Safety precautions   
Hazardous Non-Routine Task   
Periodically, employees are required to perform hazardous non-routine tasks. Prior to starting work on such projects, affected employees will be given information by their Manager or Supervisor on hazards to which they may be exposed during such an activity.   
This information will cover:   
Specific hazards  

Measures the department has taken to reduce the risk of these hazards, such as providing ventilation, ensuring the presence of another employee, providing a respiratory protection program, and establishing emergency procedures. 

Required protective/safety measures. 
Safety Data Sheets (SDS's) 
Each SDS shall be in English and shall contain specific information: 

Section 1: Identification of chemical and common name(s) of all ingredients that present health hazards  

Section 2: Hazard identification  

Section 3: Composition/Information on ingredients  

Section 4: First aid measures  

Section 5: Firefighting measures  

Section 6: Accidental release measures  

Section 7: Handling and storage  

Section 8: Exposure controls/ person protection  

Section 9: Physical and chemical properties  

Section 10: Stability and reactivity  

Section 11: Toxicological information  

Section 12: Ecological information  

Section 13: Disposal considerations  

Section 14: Transport information  

Section 15: Regulatory information  

Section 16: Other information, including date of preparation or last revision 

Departments shall use MSDSOnline subscription to maintain a current SDS list of all chemicals available.  

Departments shall ensure that this information is readily accessible during each work shift to employees when they are in their work areas. 
If an SDS is not provided by the manufacturer, the ordering department will contact EH&S office who shall:  

Send a written request to the manufacturer,  

In the event one is still not received from the manufacturer, EH&S shall notify the Director of Industrial Relations. 
Employee Information and Training 
Departments shall provide employees with information and training on hazardous chemicals in their work area at the time of their initial assignment and whenever a new hazard is introduced in their work area. 
Departments shall furnish employees with an explanation of what the SDS is and of the contents of the SDS for any hazardous substance to which the employees are exposed, either in written form or through training programs.   
When training employees who may be exposed to hazardous chemicals, the department shall ensure that each of the following hazard communication training requirements are covered.  
When training employees who may be exposed to hazardous chemicals, each department shall ensure the following information is explained as outlined in the SDS: 
Any health hazards associated with the use of this substance or mixture,  

Proper precautions for handling, necessary personal protective equipment or other safety precautions necessary to prevent or minimize exposure to the hazardous substance, 
Emergency procedures for spills, fire, disposal, and first aid.  The information may relate to an entire class of hazardous chemicals to the extent appropriate and related to the job. 

Significant revisions in the SDS shall be provided to all employees. 
Each department shall inform employees of their right: 
To personally receive information regarding hazardous chemicals to which they may be exposed. 

For their physician or collective bargaining agent to receive such information. 
Against dismissal or other discrimination due to the employee's exercise of their rights afforded by this law. 
Departments shall ensure employees are informed of: 
Requirements of the HCP. 

Any operations in their work area where hazardous chemicals are present. 

Location and availability of the written HCP. 
Departments shall ensure that employees are trained in: 
Methods and observations that may be used to detect the presence or release of hazardous substances in the work area. 

Physical and health hazards of the substances in the work area and the measures they can take to protect themselves from these hazards. These measures shall include specific procedures the department has implemented to protect employees from exposure to hazardous chemicals. 

Details of the HCP including an explanation of the labeling system, the SDS, and how employees can obtain and use the appropriate hazard information. 
Trade Secrets 
Under certain circumstances, the manufacturer may withhold the specific chemical identity, including the chemical name and other specific identification of a hazardous substance, from the SDS. However, when a treating physician determines that a medical emergency exists and the chemical identity is required for first-aid treatment, the manufacturer must disclose the trade secret information to the physician. 
Access to Hazardous Areas 
Due to the potential for exposure to hazardous chemicals, designated areas on campus shall have limited access to University employees, students and/or outside personnel.   
Hazardous areas shall be identified by signage on the location door. A contact person(s) shall be identified along with their phone number.   
Work orders shall indicate any work that is scheduled for any hazardous location. 
 During normal business hours, and as appropriate for the hazard level of the work area, Facilities Management/Responsible Party will notify the contact person that work has been scheduled in a room under their supervision. The work area (drains, fume hoods, cabinets, etc.) must be cleared of all hazardous chemicals. 
 Work will not begin until the area is clear of hazardous materials. If there is any doubt regarding the safety of the area, EHS or the appropriate knowledgeable party shall be notified.   
If the area cannot be cleared of hazardous material, appropriate personal protection shall be worn to avoid whatever hazard is involved. 
Informing Contractors 
Facilities Planning, Design and Construction is responsible for informing any contractors and sub-contractors with employees working on campus of the hazardous chemicals to which their employees may be exposed while performing their work, as well as the hazardous labeling system used on campus.  
This information shall be provided to the contractor in the bid documents and during the pre-construction meeting.  The SDS for any hazardous material that may be encountered will be provided to the contractor at that time.  
EHS is responsible for providing this information to Facilities Planning, Design and Constriction upon request.  
EHS will investigate options to minimize possible exposure to hazardous materials by the contractor and shall inform construction management of these measures.   
Facilities Management is also responsible for obtaining copies of the SDS for any hazardous substance that the contractor is bringing into the workplace.  The contractor shall provide this information to Construction Management prior to the start of work. 
Recordkeeping 
Training must be documented and records must be retained for at least three years. The Illness & Injury Prevention Program Safety Training Attendance Record or its equal may be used to document instructor-led training. At a minimum, the following information must be documented: 
Name of individual(s) trained; 

Name of individual(s) providing training for instructor-led courses; 

Date of training; and 

Brief description of training topics covered. 
Computer-based training provided in the campus Learning Management System will be documented electronically. 
Emergency Procedures 
Employees shall follow emergency procedures covered in their department-specific Emergency Action Plan and Injury and Illness Prevention Program. Emergency response procedures are also covered in the SDSs, labels, and CSUSB Emergency Management and Business Continuity Preparedness Reference Guide. 
Appendix A: GHS Pictograms and Labeling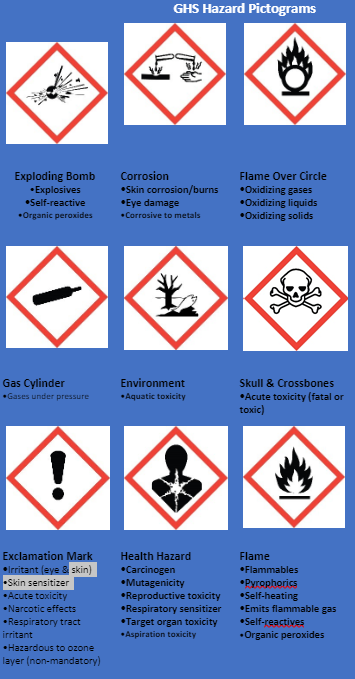 Components of a GHS Label
1.Product identifier
2.Signal word
3.Hazard Statement
4.Precautionary Statement
5.Supplier Information
6.Pictograms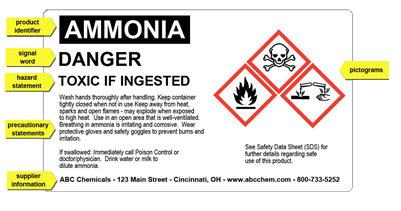 Appendix B: Secondary Container Labeling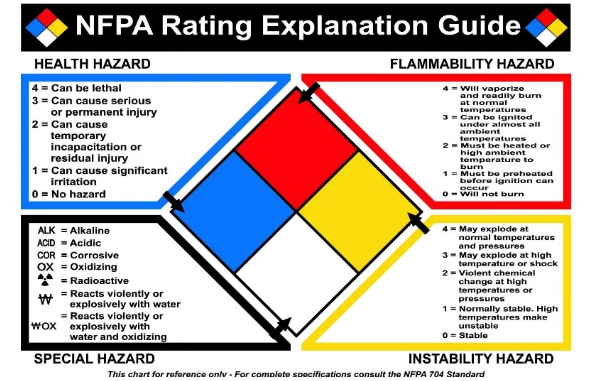 Appendix C: Hazardous Waste label