Training How-To's for Employees
Heat Illness Prevention Training in CSULearn
Respiratory Protection Training in CSULearn
CSULearn 
CSULearn is the learning management system for all employee training across the CSU organization.  Anyone who is active in CSUSB's HR system, PeopleSoft, will automatically have an active account in CSULearn. 
Logging in to CSULearn 
Log in using Coyote ID and password 
Can be accessed through MyCoyote webpage under "My Employment" using "CSULearn" tile 

OR Go to the EH&S Training webpage and click on the Employee Training System (CSULearn) link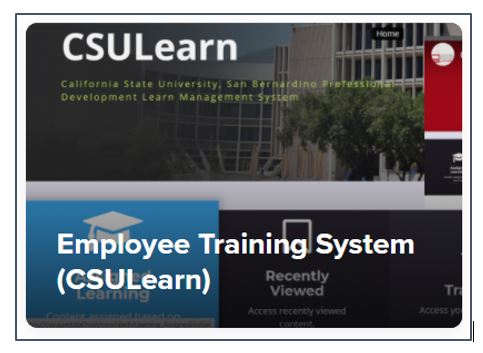 What you can do in CSULearn 
Access training assigned specifically to you by EH&S or the University (Assigned Learning) 

Register for Instructor Led Training sessions 
See all training previously completed in CSULearn including certificates of completion (Transcript) 

Browse through all training courses available or search by course code (Search) 
Assigned Learning 
CSULearn Assigned Learning Job Aid
Assigned trainings can be found in the "Assigned Learning" folder from your home page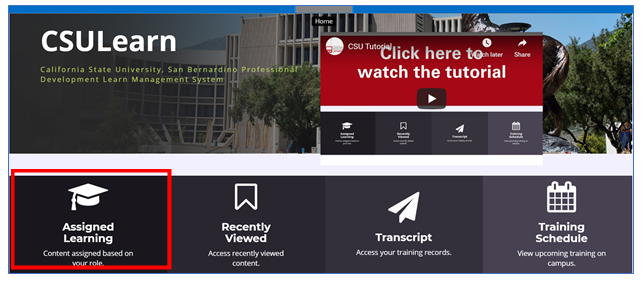 When you locate the assigned training, click on "Register" and then you can Launch the training module 

NOTE: If your department is requiring you to complete a training, check here first! 
Locating an assigned training by another means other than the "Assigned Learning" folder will not allow you to register and your completion may not be acknowledged as satisfying the assignment Watch Assigned Learning Folder in CSULearn YouTube Video
Registering for Instructor Led Training Sessions 
Locate the training session by conducting a Search using the magnifying glass in the top right corner 

Click on Select and choose "Register" from the drop-down menu 
Training Transcript 
Accessing Training Records in CSULearn Job Aid 
Go to the Transcript folder from your homepage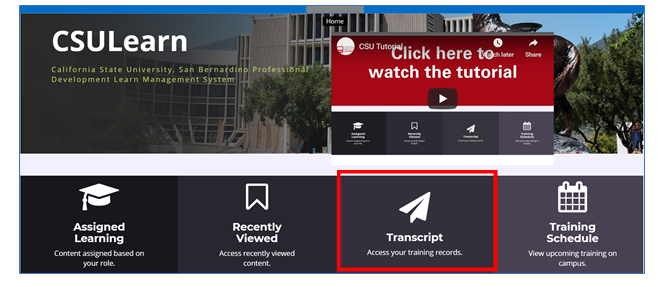 See your complete training record including the Start and Completion Dates 

Find completion certificates from previous trainings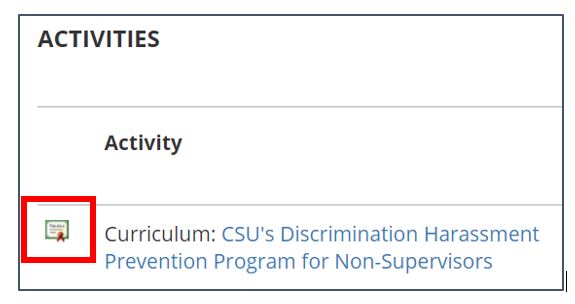 For more general information about the CSULearn system, visit the Human Resources webpage.   
If you are having any technical difficulties with CSULearn you can email csulearn@csusb.edu 
For questions or concerns regarding EH&S or safety training on CSULearn you can contact Melisa Morrow melisa.morrow@csusb.edu 
Employee Safety Training Matrices (coming soon)