Campus-Wide Safety Committees (CWSC)
---
Environmental Health and Safety (EH&S) is dedicated to the safety and health of the campus community. We are proud supporters and members of committees that address safety procedures and policies applicable to the entire campus.  
Our campus safety committees strive to make the campus a better place by promoting open communication by monitoring and improving safety performance in a proactive manner. Become a campus safety committee member, help us create a safer campus community.  
Interested in becoming a campus committee member? Contact us. 
Science Safety Committee (SSC)
Palm Desert Campus Safety Committee (PDC SC)
EH&S Sub-Safety Committees Charter
Upcoming Meetings 
Palm Desert Safety Committee
CWSC Structure  
Under the enhanced CWSC structure every employee at the University is represented on one of these committees. Each committee meets at least three times annually to discuss health and safety-related topics and concerns within their represented departments. Employees are encouraged to run for committee membership, vote for representatives, and communicate health and safety concerns to the committees. 
Those programs housed and co-chaired by Environmental Health and Safety (EH&S) are under the Campus-Wide Safety Committee (CWSC) program. The CWSC program is managed by EH&S in collaboration with Risk Management (RM). Each committee under the CWSC program is supported by executive leadership and elections for members of these committees are held every year.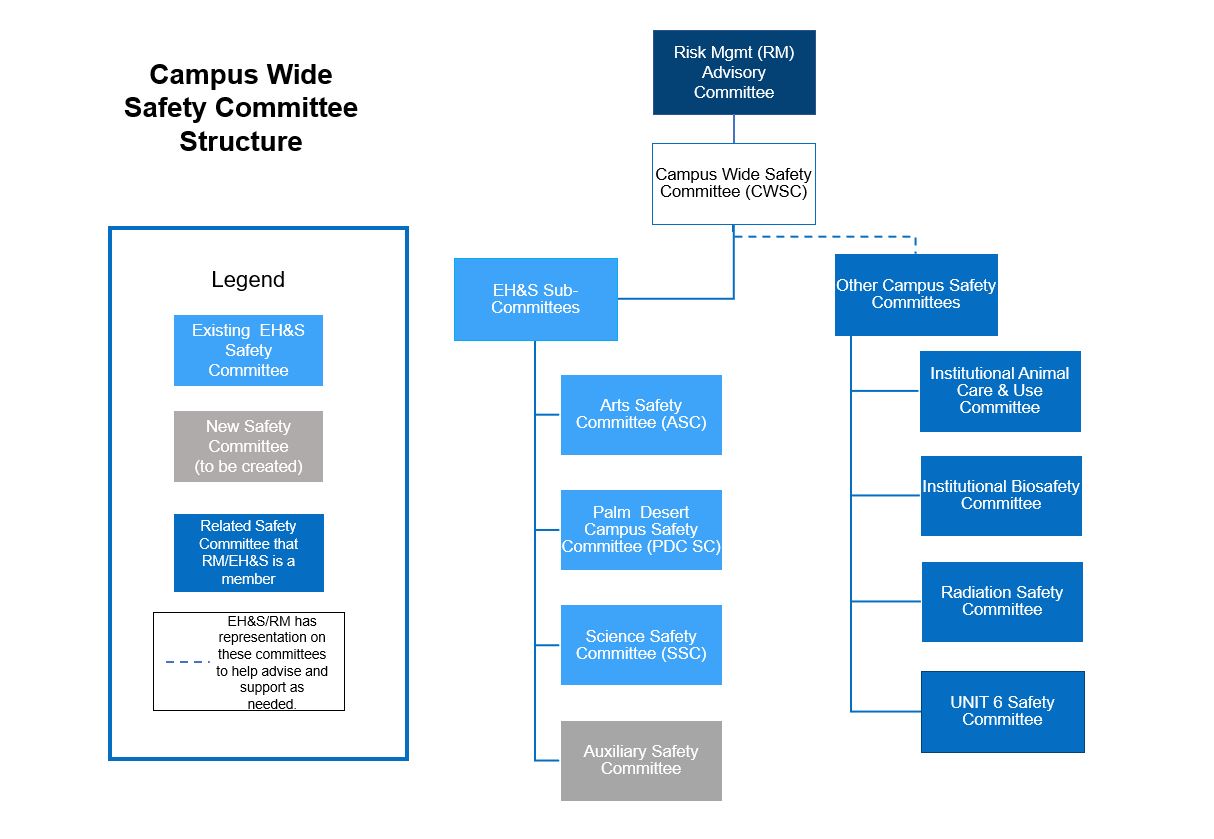 Responsibilities of the CWSC 
Responsibilities of the campus-wide safety committees include: 
Review and evaluate accident investigations and/or near-miss reports 

Review and evaluate departmental health and safety plans for compliance

Review and discuss health and safety suggestions and/or concerns from employees 
Provide feedback on safety-related material provided by EH&S 

Recommend actions to resolve health and safety concerns or a collaborative process to achieve resolution
Committee chairs of the CWSC program are automatic members of the Risk Management (RM) Advisory Committee (RMAC), managed by the RM department. Information regarding the RMAC can be found on the RM department website 
Other affiliated campus committees may have their own rules and regulations they must adhere to. EH&S and RM has representation on affiliated campus committees to help advise and support campus programs and policies as needed. The CSC encourage feedback and open lines of communication between all campus safety committees to ensure the safety of the campus. More information about EH&S affiliated committees can be found under the Affiliated Safety Committees section below.
Affiliated Safety Committees 
---
Environmental Health and Safety (EH&S) is a proud supporter of campus safety. We are honored to be affiliated with the safety committees listed below who have made safety a fundamental part of their committee.