Battery Recycling
---
Battery Collection
Environmental Health and Safety (EH&S) collects and manages all spent state-purchased batteries, using designated containers located in all department offices. Please DO NOT deposit batteries that are generated off-campus (e.g., from home or other businesses), or send batteries through intra-campus mail.  
To request a battery pickup,  please submit an EH&S Service Request.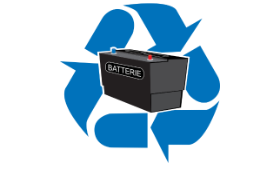 Additional Precautions and Measures 
Depending on the type, there are some additional precautions and measures to ensure the safety of those transporting the batteries. Containers provided for battery collection MUST be properly closed before pick up. If you require a larger container, please request one using the EH&S Service Request form.
All Lithium (Li-ion) and 9V alkaline batteries MUST have the terminal ends taped with clear tape.  
Anything leaking MUST be placed in a secondary container to prevent exposure. 
If you have a large number of batteries that need to be disposed of, please provide detailed information on the EH&S Service Request form. 
Battery disposal containers SHOULD NOT be stored in extreme heat, near flammable materials, or in locations where there is moisture or humidity. 
How do I clean up a small alkaline battery leak? 
Leakage from an alkaline battery is caustic and handling should be avoided to prevent chemical burns. Only personnel trained to handle hazardous materials should clean up battery leaks. Please contact EH&S ext.75179 for assistance or additional guidance. 
To help mitigate a small battery leakage from a device, proper safety equipment is advised (i.e., protective eyewear, gloves, etc.). The leaking batteries should be removed from the device and placed in a plastic bag or supplied battery container for proper disposal. Contact EH&S for additional assistance. 
What types of batteries can go into the Battery Collection Containers?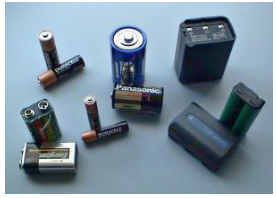 Small consumer size batteries (button type batteries) 

Alkaline batteries such as AA , AAA, AAAA, C, D 

nickel-cadmium 

nickel-iron 

carbon-zinc 

magnesium  

mercury 

lithium batteries  
For all other types of batteries such as lead-acid or "brick" batteries, similar to these used in power backups, please submit an EH&S Service Request.  
If you have computer server batteries that have a CSUSB property tag, please contact the Property Management Department for disposal.