Indoor Air Quality Program (IAQ)
---
IAQ refers to the air quality within and around buildings and structures, especially as it relates to the health and comfort of building occupants. These areas have ventilation from openable windows or mechanical ventilation from heating, ventilation, and air-conditioning (HVAC) systems. Although the most common causes of air quality complaints are due to the mechanical failures of HVAC systems, understanding and controlling common pollutants indoors can help reduce your risk of indoor health concerns. Health effects from indoor air pollutants may be experienced soon after exposure or, possibly, years later.  
CSUSB endeavors to protect and improve human health and air quality for everyone attending, working and living near CSUSB. The EHS office will assist faculty, staff, and students with designing facilities and obtaining equipment that meets requirements of South Coast Air Quality Management District (SCAQMD) and California Air Resources Board (CARB). 
What is important to control indoor air quality? 
Identification 

Awareness of Criteria Air Pollutants 

Control of sources 
Filtration and ventilation 
Nuisance Odors 
Smells and odors not associated with any health effects. Most moderate odors typically dissipate within 30 minutes to 1 hour, depending on air changes per hour in the building. Nuisance odors including but not limited to things such as: 
Please contact the CSUSB Facilities Service Center at (909)537-5175 to request to address the area. 
Non-nuisance Odors
Characterized by odors that cause health-related issues such as:  
Burning eyes 

Burning nasal passages 

Burning/scratchy throat  

General eye, nasal, & throat irritation 
These can also cause discomfort and other health-related symptoms. EHS should be contacted to address these concerns. 
 

Who to contact?

In case of a complaint regarding the IAQ in a work environment, the EHS will respond and do an evaluation of the concern to see if there is an immediate emergency or an evacuation is needed. If it is not an emergency and the issue is related to thermal comfort, water intrusion, mold or natural gas odors contact CSUSB facilities. If you have an IAQ concern use the table below to identify the right department to contact to address your concern. If you are unsure of the problem, contact EH&S for assistance.  
Who to Contact (Emergency)

Issue 

Responsible Party 

Contact 

Visible smoke 

Strong odor 

Hazardous material 

 Fire Department 

 Dial 9-1-1  
Who to Contact (Non-Emergency)
Issue
Responsible Party 
Contact

Hazardous material 

Minor spill cleanup 

CSUSB Environmental Health & Safety
(909) 537-5179 

Temperature, humidity 

Light noise 

Lack of air ("stuffy") 

Too much air ("drafty") 

Known odors 

Sewer, natural gas, paint, burning smell

CSUSB Facilities Service Center
(909) 537-5175 

Exhaust odors 

Construction dust 

Roofing or construction odors 

CSUSB Facilities Service Center  

-OR- 

CSUSB Planning, Design and Construction 

(909) 537-5175 

  

 

(909) 537-5136 

Unknown odors 

Chemical odors 

Symptoms of illness associated with the office environment

CSUSB Environmental Health & Safety
(909) 537-5179  
Identification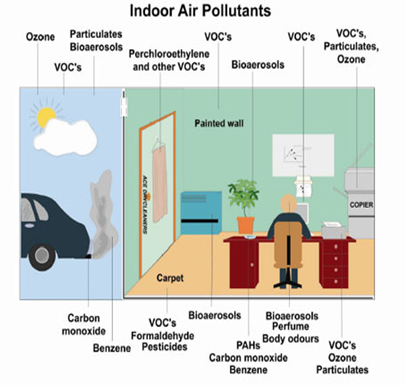 Indoor Air Pollutants:
Ozone
VOC's
Particulates Bioaerosols
Perchloroethylene and other VOC's
Particulates, Ozone
Examples of indoor air pollutants: 
Cigarette smoke  

Formaldehyde 
Radon 

Wood smoke 

Pesticide 

Carbon monoxide 

Mold odors 
Natural gas odor 

Odor from pest 

Sewer gas odor 

Food odors 

Cleaning Chemicals odors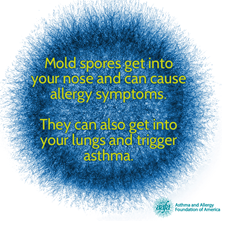 Mold spores get into your nose and can cause allergy symptoms.  They can also get into your lungs and trigger asthma.
Construction activities 
Common Symptoms 
Irritation of the eyes, nose, and throat 
Headaches 
Dizziness 
Fatigue 
Symptoms can often be mistaken for another illness, but the usual clue is that people feel ill while inside the building, and the symptoms go away shortly after leaving the building, or when away from the building for a period of time. 
Criteria Pollutants & Health Effects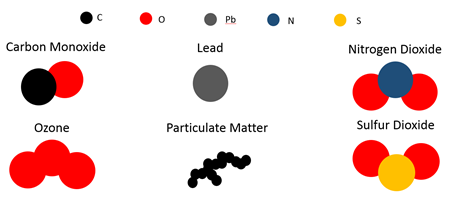 The EPA regulates 6 common pollutants as Criteria Pollutants: Carbon Monoxide, Particulate Matter, Lead, Nitrogen Dioxide, Sulfur Dioxide, and Ozone. These pollutants are regulated according to a human health-based and/or environmentally-based criteria for setting permissible levels. California's most common air pollutants are  
Nitrogen Dioxide, Particulate Matter, and Sulfur Dioxide.  
Criteria Pollutants Effects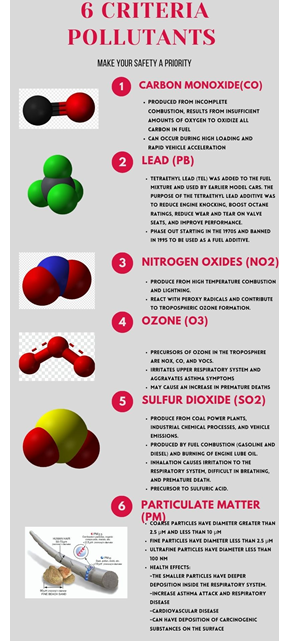 6 Criteria Pollutants
Make Your Safety A Priority
Carbon Monoxide (CO)

Produced from incomplete combustion, results from insufficient amounts of oxygen to oxidize all carbon in fuel.
Can occur during high loading and rapid vehicle acceleration

LEAD (PB)

Tetratyle Lead (TEL) was added to the fuel mixture and used by earlier model cars.  The purpose of the tetraethyl lead additive was to reduce engine knocking, boost octane ratings, reduce wear and tear on valve seats, and improve performance.
Phase out starting in the 1970s and banned in 1995 to be used as a fuel additive.

Nitrogen Oxides (NO2)

Produce from high temperature combustion and lightning.
React with peroxy radicals and contribute to tropospheric ozone formation.

Ozone (O3)

Precursors of ozone in the troposphere are NOX, CO, and VOCs.
Irritates upper respiratory system and aggravates asthma symptoms
May cause an increase in premature deaths.

Sulfur Dioxide (SO2)

Produce from coal power plans, industrial chemical processes and vehicle emissions.
Produced by fuel combustion (gasoline and diesel) and burning of engine lube oil.
Inhalation causes irritation to the respiratory system, difficulty in breathing, and premature death.
Precursor to sulfuric acid.

Particulate Matter (PM)

Coarse particles have diameter greater than 2.5 and less than 3.0
Fine particles may have diameter less than 2.5
Ultrafine particles have diameter less and 100mm.
Health effects:

The smaller particles have deeper deposition inside respiratory system.
Increase asthma attack and respiratory disease.
Cardiovascular disease
Can has deposition of carcinogenic substances on the surface.
Standards and Exposure Limits for Criteria Air Pollutants 

Pollutant 

 

Primary/ 

Secondary pollutant 

Average Exposure Time 

Exposure Level 

Form 

Carbon Monoxide (CO) 

Primary 

8 hours 

9 ppm 

Not to be exceeded more than once per year 

1 hour 

35 ppm 

Lead (Pb) 

Primary and 

Secondary 

Rolling 3 month average 

0.15 μg/m3  

Not to be exceeded 

Nitrogen Dioxide (

NO2

) 

Primary 

1 hour 

100 ppb 

98th percentile of 1-hour daily maximum concentrations averaged over 3 years 

Primary and 

Secondary 

1 year 

53 ppb  

Annual Mean 

Ozone (

O3

) 

Primary and 

Secondary 

8 hours 

0.070 ppm 

Annual fourth-highest daily maximum 8-hour concentration averaged over 3 years 

Particle Pollution (PM) 

 

PM 2.5 (Particles of  2.5 microns and below) 

 

PM 10 (Particles of 10 microns and below) 

PM2.5 

Primary 

1 year 

12.0 μg/m3 

annual mean, averaged over 3 years 

Secondary 

1 year 

15.0 μg/m3 

annual mean, averaged over 3 years 

Primary and 

Secondary 

24 hours 

35 μg/m3 

98th percentile, averaged over 3 years 

PM10 

Primary and 

Secondary 

24 hours 

150 μg/m3 

Not to be exceeded more than once per year on average over 3 years 

Sulfur Dioxide  

(

SO2

) 

Primary 

1 hour 

75 ppb  

99th percentile of 1-hour daily maximum concentrations averaged over 3 years 

Secondary 

3 hours 

0.5 ppm 

Not to be exceeded more than once per year 

 
Control 
Tips for Better Indoor Air Quality 
Do not block air vents or grilles 
Water and maintain office plants properly 
Dispose of garbage promptly and properly 
Store food properly 
Avoid bringing products into the building that could release harmful or bothersome odors or contaminants 
Notify the EHS immediately if you suspect an IAQ problem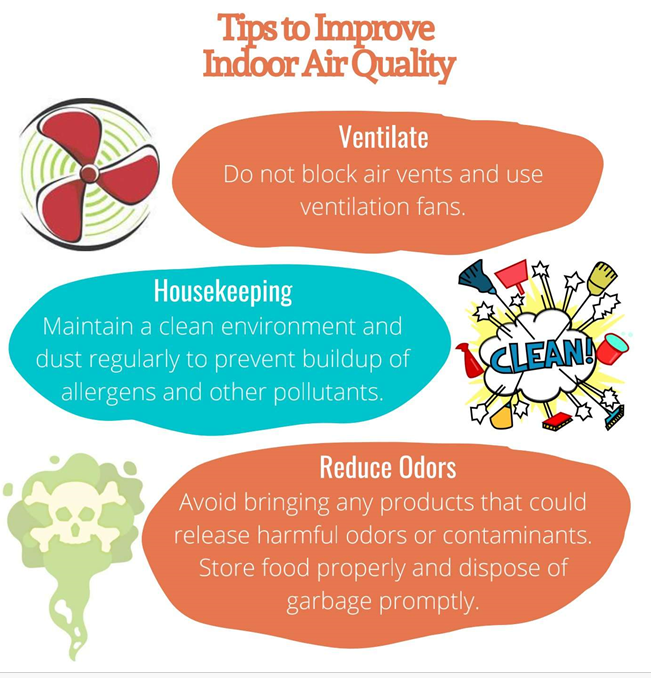 Tips to Improve Air Quality
Ventilate - Do not block air vents and use ventilation fans.
Housekeeping - Maintain a clean environment and dust regularly to prevent buildup of allergens and other pollutants.
Reduce Odors - Avoid bringing any products that could release harmful odors or contaminants.  Store food properly and dispose of garbage promptly.
 
Report IAQ Concern 
To Report an indoor air quality complaint please complete a Service Request Form 
Resources
IAQ Fact Poster 
Improve Indoor Air Quality Poster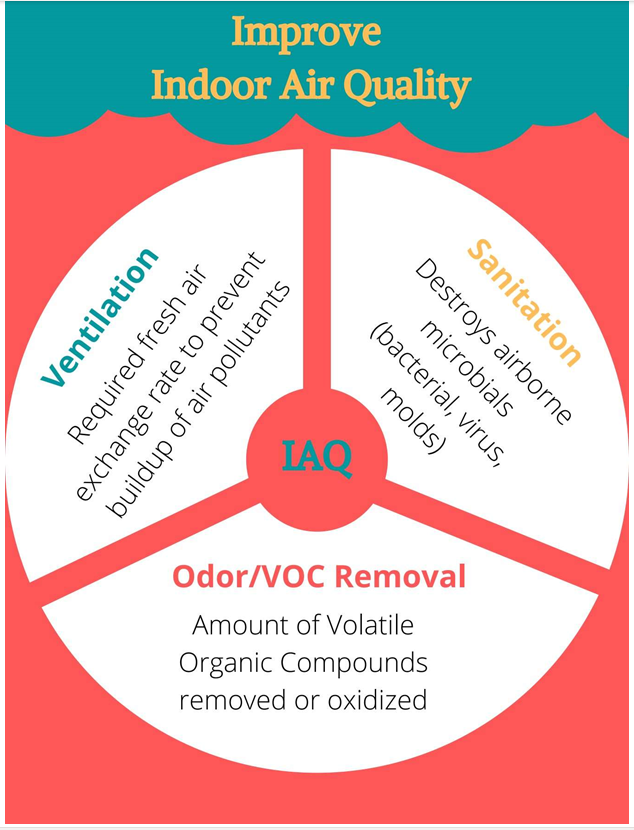 Improve Indoor Air Quality
Ventilation

Required fresh air exchange rate to prevent buildup of air pollutants

Sanitation

Destroys airborne microbials (bacterial, virus, molds)

Odor/VOC Removal

Amount of Volatile Organic Compounds removed or oxidized