Student Life
California State University, San Bernardino offers a variety of activities, programs, events, clubs, and organizations for students to become involved with when they step on campus.  From musical performances, guest lectures, festivals, and social activities, there is something for everyone to become involved with at CSUSB.
Visit our Virtual Viewbook for more information on Campus Life and much much more.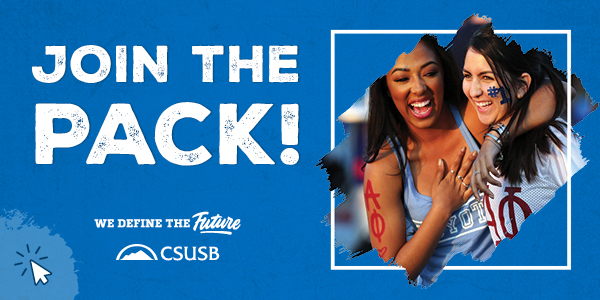 Clubs and Organizations
California State University, San Bernardino is home to more than 100 student clubs and organizations that allow students to explore their many interests.  From academic to cultural to religious to service to political organizations, there is something for you to connect with at CSUSB.
The Office of Student Engagement and the Associated Students, Inc. (ASI) helps students to become connected to find their place at CSUSB.  By becoming involved, you can learn leadership skills, participate in traditions, give back to CSUSB and the Inland Empire Community and gain the practical experience you can take with you to the job market or graduate school once you've completed your degree program.
Coyote Athletics
The intercollegiate athletics program at California State University, San Bernardino is an NCAA Division II program with seven women's sports – basketball, soccer, cross-country, softball, cheer and dance, volleyball, and tennis – and four men's sports – basketball, soccer, golf, and baseball.
If you are interested in becoming a Coyote athlete, please complete the prospective athlete form. Athletics will reach out to you with information on your next steps to become eligible to play for CSUSB.
Student Recreation & Wellness Center
Our 37,000-square-foot complex houses a 34-foot climbing wall, 8,800-square-foot fitness room, multi-purpose athletic court, locker rooms, and two group activity rooms for aerobics, dance and martial arts classes. One-on-one personal training, beginning weight training classes, nutritional evaluation and fitness assessments complement our state-of-the-art fitness room, which includes treadmills, elliptical trainers, bicycles, free weights, plate loaded equipment, weight machines and functional training equipment. The group exercise program offers more than 15 classes per week, including yoga, hip hop, kickboxing and martial arts.
The Department of Recreational Sports provides a variety of safe and enjoyable programs and facilities to meet the diverse needs of the CSUSB community by creating a healthy social environment, enriching the quality of life and enhancing the educational experience. All enrolled CSUSB students, staff, faculty and Alumni Association members are welcome to use the center.
Visit CSUSB Recreational Sports for more information.
ROTC Programs
The Air Force Reserve Officer Training Corps is an educational program designed to give men and women the opportunity to become an Air Force officer while completing a bachelor's or graduate degree. The Air Force ROTC program is designed to prepare students to assume positions for increasing responsibility and importance while on active duty in the Air Force. Multi-year scholarships are available for books, tuition and fees associated with various major fields of study. Students may attend ROTC classes on campus while enrolled in any of the area's two- or four-year colleges. For more information, contact the CSUSB Aerospace Studies Department at (909) 537-5440.
The Army ROTC is a two- or four-year program which leads to a commission in the U.S. Army and trains students for positions of responsibility in the active Army, Army Reserve or National Guard. Cal State San Bernardino has the only ROTC program in San Bernardino and Riverside counties. Scholarships, simultaneous enrollment in the National Guard or Army Reserve, specialized summer training and other challenging activities are some of the benefits of the program. Students may attend ROTC classes at CSUSB while attending any of the other local two- or four-year institutions. Find out more about Leadership, Scholarships, and Officership at CSUSB Army ROTC or call (909) 537-5533.
Student Housing
Live with the Pack in on-campus student housing!  Coyote Village and Serrano Village provide traditional residence hall living for first-year students.  Arrowhead Village and University Village are on-campus apartments for upper-division and transfer students.  We offer numerous Living and Learning Communities, opportunities to engage with Faculty In Residence, and lots of ways to connect with your fellow Yotes on-campus!  
See the Department of Housing and Residential Education for more information, housing costs, and the housing application process.  Home is Where the Pack Lives!
Meal Plan Information
All first-year students living on campus are required to purchase a meal plan and voluntary plans are available to upper-division and transfer students. Meal plans offer students the option to eat together in the Coyote Commons or at our retail locations such as Starbucks, Einstein Bros. Bagels, and Coyote Grounds. Dining Dollars are funds set up in a student's meal plan account that can be used like cash for purchases in any dining services location. For more information, email coyotedining@csusb.edu or visit www.csusb.edu/dining.