David Chavez, Ph.D., Professor
My research utilizes the Community-Based Participatory Research (CBPR) paradigm to work with communities that have historically been marginalized in society due to a number of factors including but not limited to ethnicity, social class, and sexual orientation. CBPR seeks to work collaboratively with community members in a manner that is truly participatory thereby sharing power and resources. CBPR takes a perspective of recognizing community expertise in addition to academic expertise. Ideally, this work demonstrates co-learning, ensuring that all members learn from each other. Finally, CBPR is typically action oriented. It is my belief that research should lead to work that makes differences in the community.
The following settings are where my students are currently working. The partnerships are in various stages of development. They are:
Boys & Girls Club of Valencia Vista: The club serves a public housing complex and provides diversified activities that meet the interests of all young people. Core programs encourage activities with adults, peers, and family members that enable kids to enhance self-esteem and fulfill their potential. The Club offers diversified, developmentally appropriate program activities focusing on the physical, emotional, cultural, and social needs and interest of boys and girls. Currently our research centers around the provision of Social Emotional Learning (SEL) activities. For more information see:
https://form.jotform.com/232881077275059 
Rainbow Pride Youth Alliance: The mission of Rainbow Pride Youth Alliance is to provide a safe, healthy, and enriching environment for gay, lesbian, bisexual, transgender, queer, questioning, and intersex (LGBTQ+) youth of the Inland Empire. Their primary program is the provision of both online and in person services where LGBTQ youth can meet, participate in group activities, learn about and seek community resources, and give back to the community. Currently our work focuses on the provision of game nights that build a sense of community and enhance mental health to a community of young adult LGBTQ+ community members.
Foster Youth Advisory Board: In conjunction with two community partners, Magdalena's Daughters and the San Bernardino County Superintendent of Schools, this group is developing a foster youth advisory board as a participatory method of investigating and taking action on the key concerns and tools that are identified by foster youth members in the Inland Empire. 
For application information see the embedded flyer: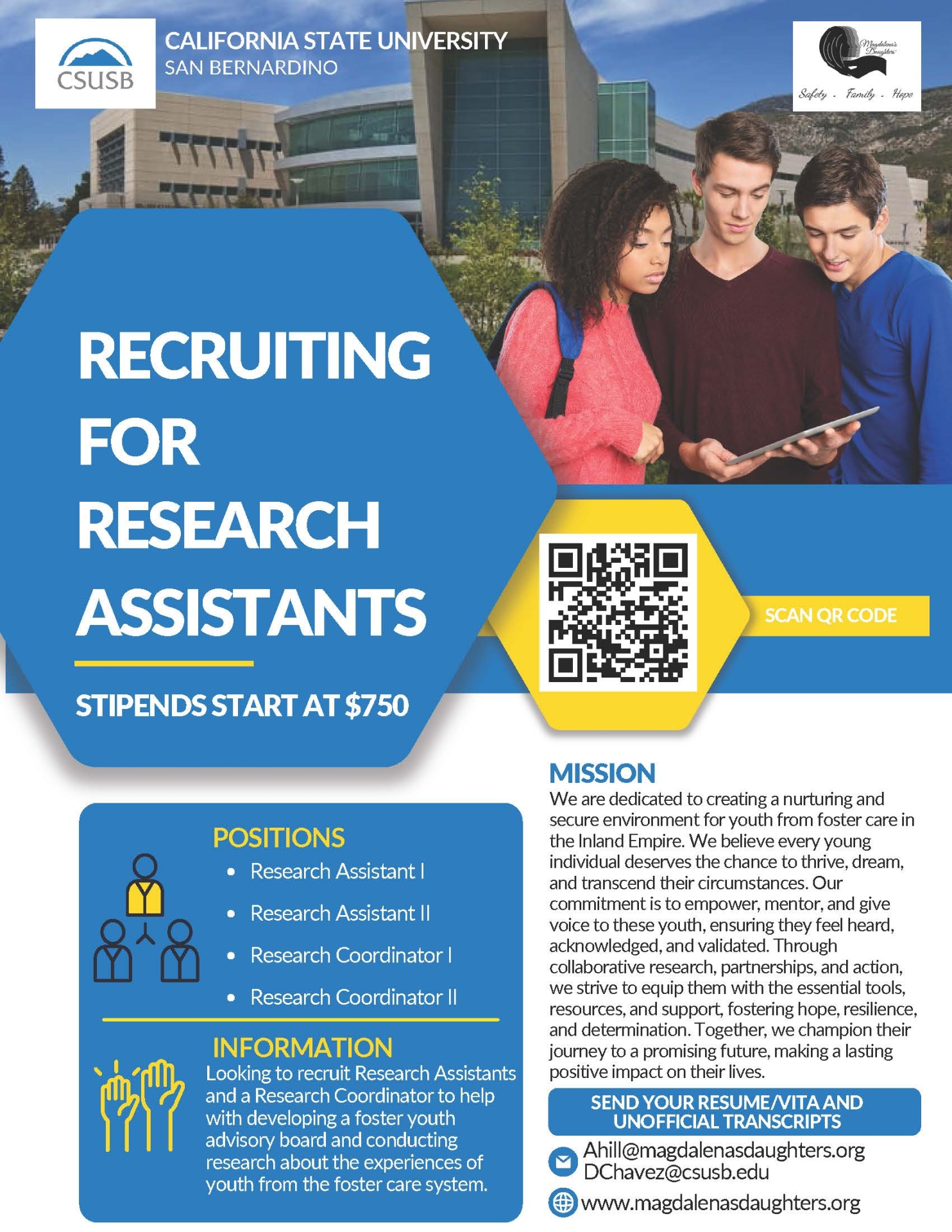 For more information on any of the settings, please email David Chavez at dchavez@csusb.edu.