Covid - 19 Update: 
The Psychology Department is open and ready to support you! As we continue to monitor and meet established safety guidelines in response to the novel coronavirus (COVID-19) outbreak, our offices are still open and operating in a virtual format. You can reach us by phone at (909) 537-5570 or via email at psychology@csusb.edu. We will respond as quickly as possible. Please keep a close watch for new announcements. Many of them, as well as several resources, can be found on CSUSB's dedicated COVID-19/Coronavirus Information web page.
Thank you and stay safe!
CSUSB Psychology Department Ranks Third Nationally in Conferring Degrees to Hispanic Students
The publication Diverse: Issues in Higher Education, in its annual rankings, has listed Cal State San Bernardino as one of the nation's leading universities in awarding degrees to minority students, specifically Hispanics.
 
In awarding bachelor's degrees, CSUSB was listed among the top 10 colleges and universities conferring degrees to Hispanics in the fields of psychology (third); liberal arts and sciences (fourth); physical sciences (fourth); business administration, management and operations (fifth); mathematics and statistics (sixth); family and consumer sciences/human sciences (eighth); parks, recreation, leisure and fitness studies (eighth); and history (ninth). CSUSB was also listed as 13th in all disciplines combined.
The Psychology Department conferred 376 B.A. degrees to Hispanic students in 2016-2017, an increase of 31% from the previous academic year (2015-2016).
 
CSUSB was also ranked eighth in conferring bachelor's degrees in psychology in the total minority category, which consists of African-Americans, Native Americans, Asian/Pacific Islanders, Latinos, LGBT, military and women.
 
In conferring master's degrees, CSUSB was ranked ninth in awarding degrees to African-Americans in English language and literature/letters, and 12th in awarding degrees to Hispanics in public administration and social service professions.
 
"The rankings reflect the dedicated efforts of our faculty, staff and administrators. Designated as a Hispanic-Serving Institution and a Minority Serving Institution, we are committed to ensuring a quality education for our diverse communities as well as making sure our students successfully complete their studies and graduate," said CSUSB President Tomás D. Morales. "It's especially rewarding to be listed with these outstanding institutions because many of our students are the first in their families to be awarded college degrees."
 
The rankings are based on an analysis of U.S. Department of Education reports submitted by the U.S. postsecondary institutions.
 
For more information on Cal State San Bernardino, contact the university's Office of Strategic Communication at (909) 537-5007 and visit inside.csusb.edu.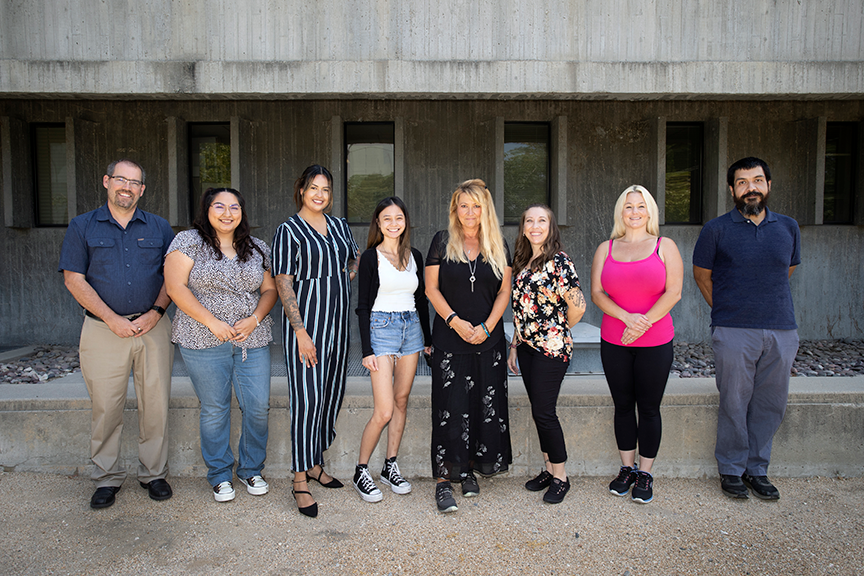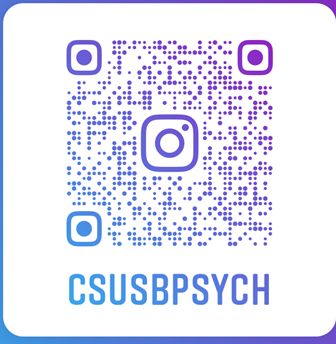 Psychology Instagram Scanable QR Code
CSUSB Spring 2023 Psychology Colloquium Series
Dear Psychology colleagues and students,
We hope the Spring term is off to a great start! 
Please see below for information on our speaker series for the term! We encourage you to attend.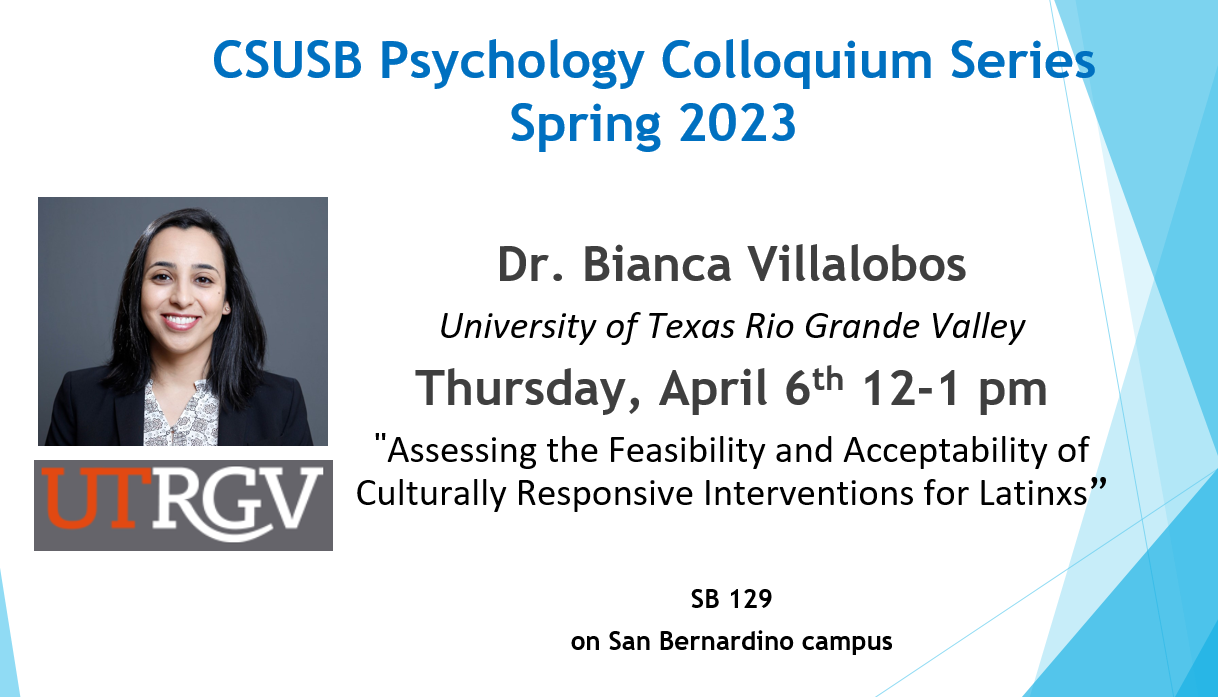 Bio:
Dr. Villalobos is an Assistant Professor in the Department of Psychological Science at The University of Texas Rio Grande Valley (UTRGV) and co-director of the Research Enhancing Access to Culturally Informed Mental Health Services (REACH) Lab. She received her PhD from the University of Arkansas and completed her clinical internship at a postdoctoral position in the Mental Health Disparities and Diversity Program at the Medical University of South Carolina.
Dr. Villalobos's research aims to increase access to evidence-based and culturally competent mental health services for Latinx populations through novel service delivery models. She has used a mixed-methods and community-based participatory approaches to examine the use of trained interpreters to facilitate mental health visits and the implementation of learning collaboratives to train psychologists in providing Trauma-Focused Cognitive Behavioral Therapy. More recently, Dr. Villalobos has investigated mental health service utilization and symptoms among Latinxs in the Rio Grande Valley during the coronavirus pandemic.
Dr. Villalobos is also a bilingual (English and Spanish) Licensed Psychologist and has experience providing mental health services in primary care behavioral health settings and via telehealth. She provides clinical supervision to doctoral students and delivers trainings to providers in the community on the appropriate use of telehealth, trauma-focused CBT, culturally adapted services for Latinxs, secondary traumatic stress, and self-care.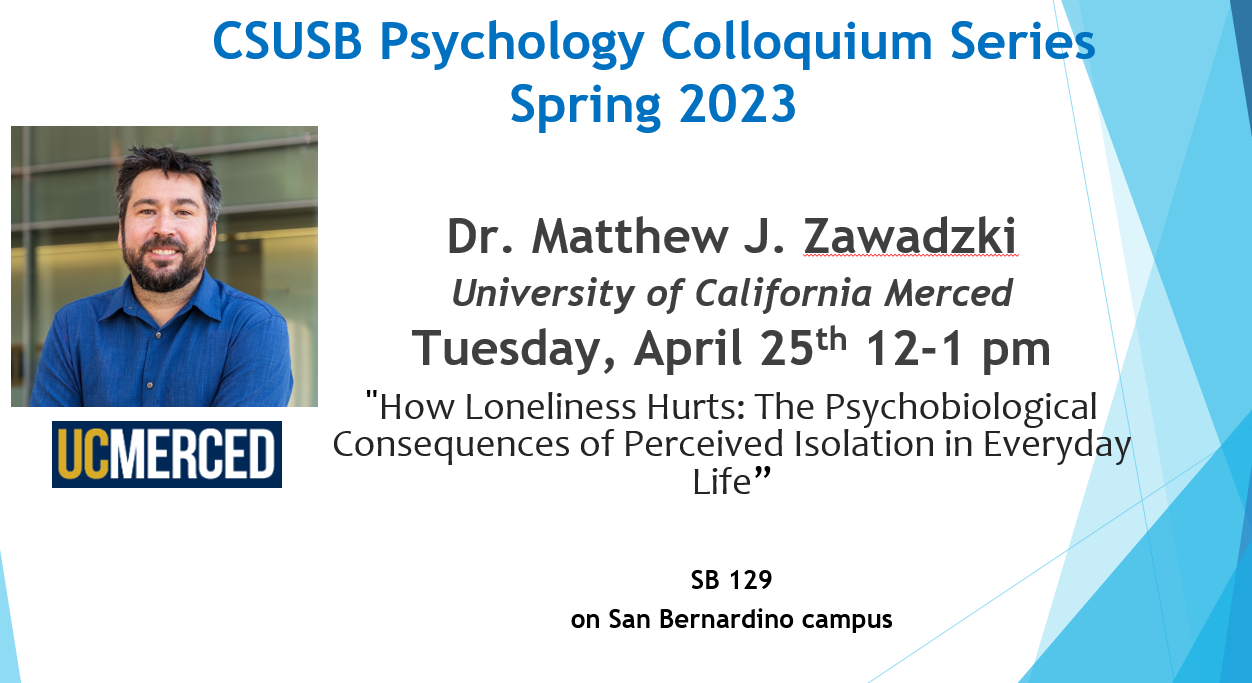 Dr. Matthew Zawadzki is an Associate Professor at the University of California, Merced. He received his undergraduate degree in Psychology and Philosophy from Iona College (New Rochelle, NY), his Masters degree in Quantitative Methods from Columbia University (New York, NY), and his PhD in Social Psychology and Women's Studies from The Pennsylvania State University (University Park, PA). His research examines what stress is, why it is bad for you, and what we can do about it. Although we all experience stress in our lives, what we mean by stress can range from bad things happening in the world to negative thoughts we carry in our minds. His lab looks to develop ways to measure these components of stress and to test whether they differentially predict one's health. The lab is also interested in ways we can reduce stress in our lives and improve health and well-being. He grew up in New York City, and has some pretty strong opinions on pizza, including how it should be eaten, the proper crust thickness, and cheese to sauce ratio.