Mark Agars wins the 2021-2022 Outstanding Professor Award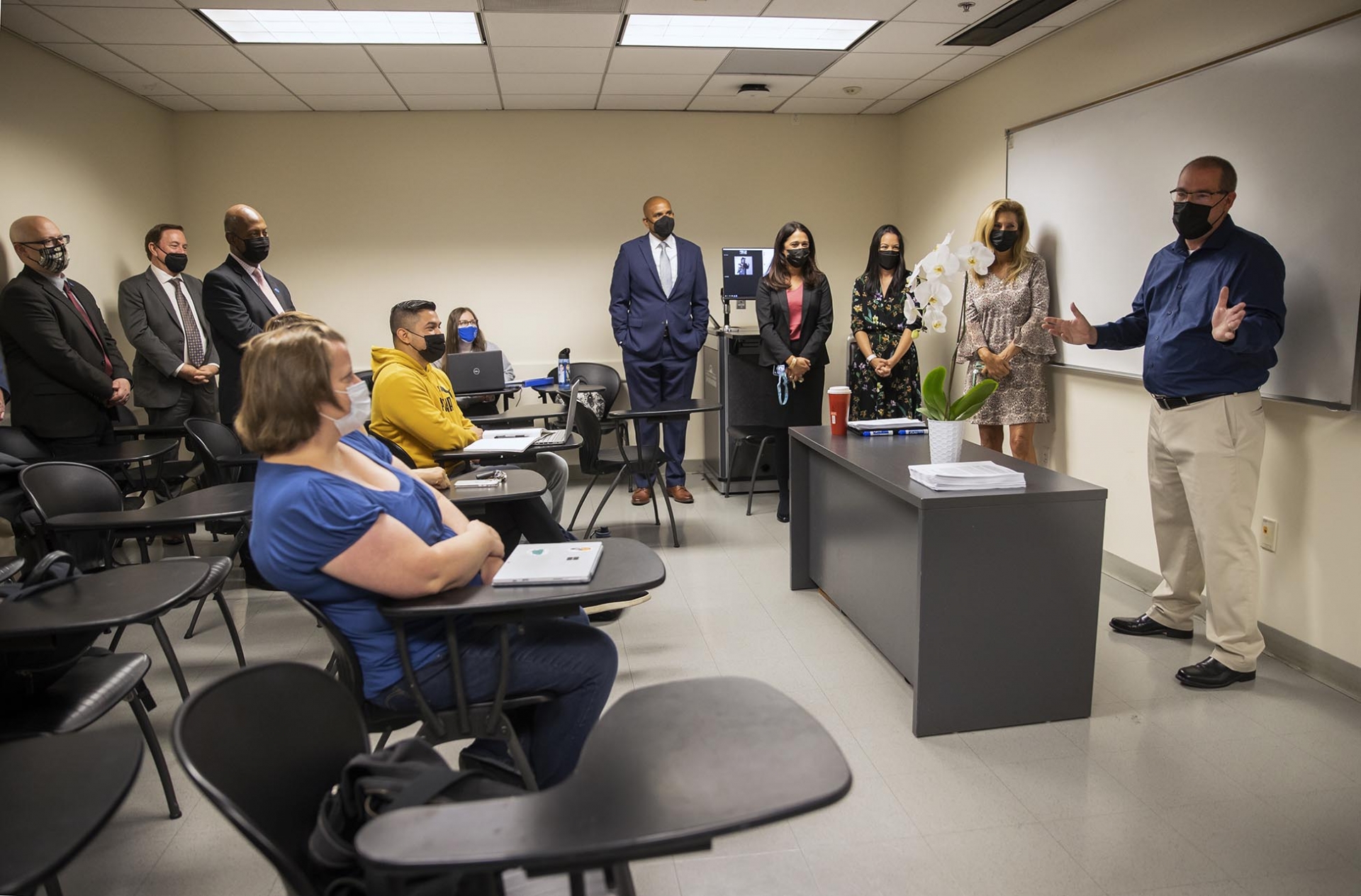 Dr. Mark Agars was awarded the 2021-22 Outstanding Professor Award for his enduring excellence in teaching, scholarly activities and service to our students, the university and the community.
Dr. Agars has served in numerous leadership roles including the associate director of the Learning Research Institute, the assistant dean of the College of Social and Behavioral Sciences, the interim chair of the sociology department, the program coordinator for the Industrial Organizational Psychology Master's Program, and currently serves as the director of the Institute for Child Development and Family Relations.
"Professor Agars is a prime example of stellar educator, researcher and leader in the CSUSB community who embodies the qualities that help all of us to excel and be better at our calling as scholars and creatives, educators and leaders," said CSUSB President Morales. CSUSB Provost Shari McMahan praised Agars for his research and the difference he makes within the community.
President Morales added "The Outstanding Professor Award, which is the very highest honor for all our faculty because we not only look at research, which you are amazing at with all your grant writing, publications and your work with students, but his teachings and service obligations … And his work in the community – what a difference it makes with foster kids, with children in general. This is our future, everything about our future, and when we look at sense of purpose – this is your purpose"
College of Social and Behavioral Sciences Dean A. Rafik Mohamed said he is fond of Agars and told him that he recognizes his deep dedication to students, research and community. Dean Mohamed stated "I can't think of any faculty member who readily embodies the outstanding professor criteria than you," Mohamed told Agars.
Upon receiving the award, Dr. Agars said happily "This is overwhelming… This is a great place with amazing colleagues and amazing students. When I came from the East Coast 23 years ago, I never expected I would stay. I always expected to go home. But Cal State kept me here and I never wanted to be anywhere else."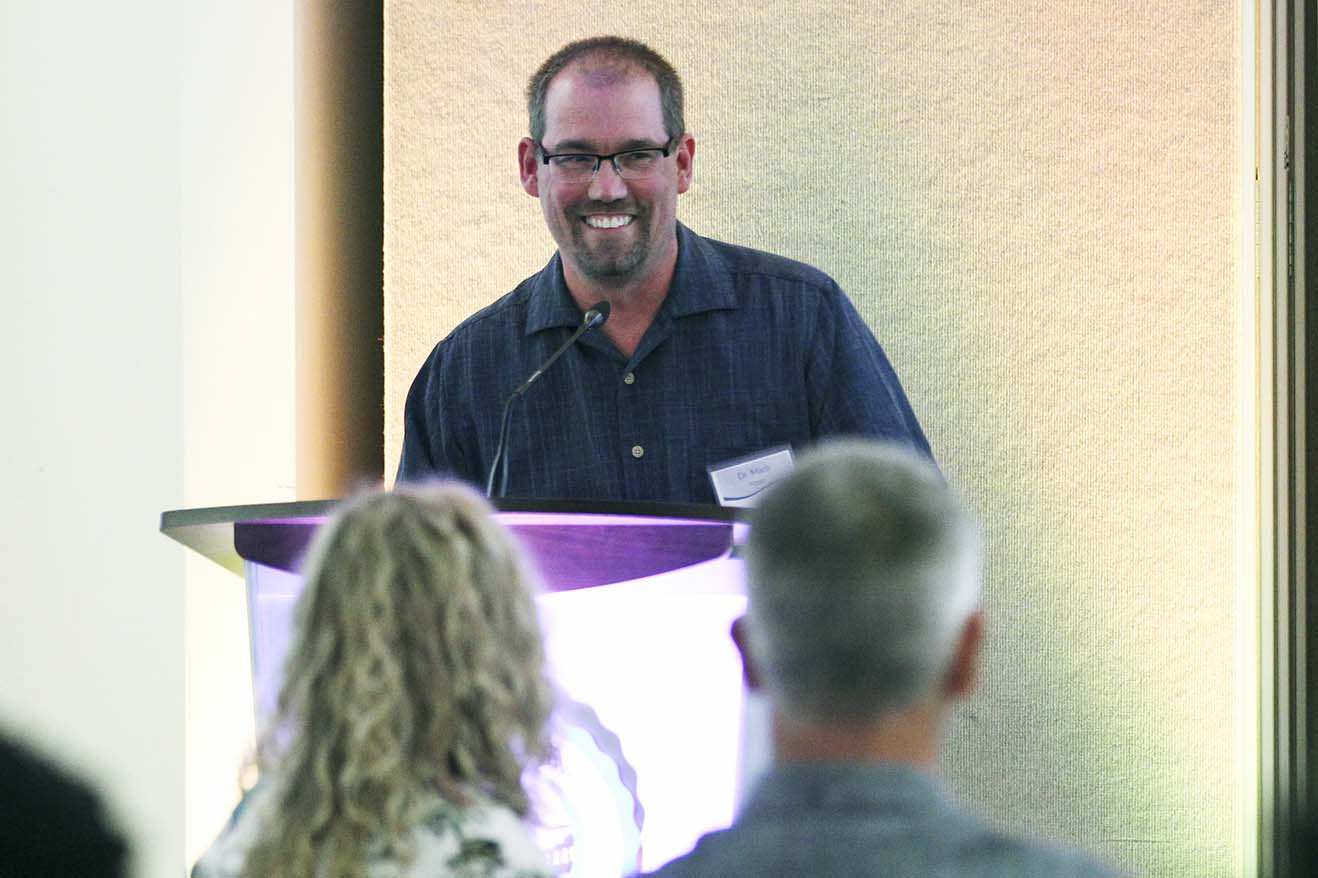 Eugene Wong 2017 Outstanding Professor Award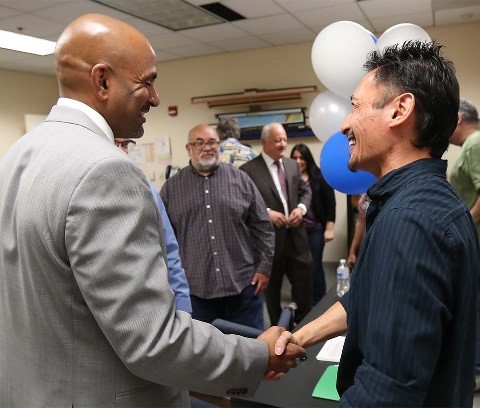 Dr. Eugene Wong has been a stellar member of our faculty for 23 years. He is an essential contributor to our human development and psychology undergraduate programs, as well as the masters programs in clinical counseling (MSCC) and child development (MACD). A winner of the 2004-2005 Golden Apple Award for Excellence in Teaching, and the Western Psychological Association Teaching Award for 2014-2015, Dr. Wong provides classroom instruction of the highest quality. Students uniformly describe Dr. Wong as extremely knowledgeable and skilled at explaining complex concepts in ways that are both understandable and compelling. Students invariably find him to be clear, responsive, relevant, accessible, organized, thorough, supportive, and kind. They praise his interactive teaching style and his commitment to student understanding. They applaud his use of real life examples and the ingenious ways he brings clinical practice into the classroom as a teaching tool. Dr. Wong's teaching prowess extends well beyond the classroom to include his very labor-intensive work as a mentor. Over the years, he has mentored over 35 thesis students in our honor's program as well as our child development and clinical/counseling psychology masters programs. He has also mentored our MARC students and McNair Scholars. Dr. Wong's desire to engage students in the process of research is evident in the fact that he has consistently published and presented with students throughout his career. His contributions as a mentor were recognized in 2016 by the Western Psychological Association (WPA) whose membership granted Dr. Wong Fellow status in this organization.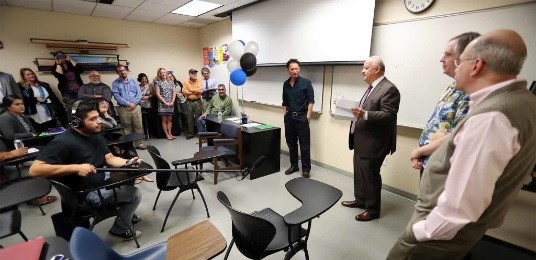 Dr. Wong's professional activity is extensive and, in all respects, blends seamlessly with his teaching. He is very active in research and scholarship, having published 24 papers in top professional journals and handbooks. His work on targeted cognitive training (primarily with K-12 students) and teaching effectiveness (both at the collegiate and early childhood levels) is of high scientific value and holds significant promise for rich applications to both K-12 education and higher education. His cognitive training research, in particular, demonstrates that deficits in working memory and cognitive control processes can be remediated through appropriately designed computer-based training. Such deficits impair learning in the classroom and are widespread in student populations at all levels of the educational system. His work stands to make a significant difference for children and adolescents in the IE and beyond. In addition to his scholarly work, Dr. Wong has been consistently active as a school and clinical psychologist. These experiences are a rich source of material for his teaching and for his mentoring of our clinical/counseling psychology graduate students. Dr. Wong's involvements are even more extensive. Most recently he and his students have been working with San Bernardino adolescent boys and girls who have experienced behavioral and academic problems in high school, helping them to achieve academic and vocational success. Finally, Dr. Wong has served for years as Coordinator of the human development undergraduate program. In this capacity he individually advises over 150 students.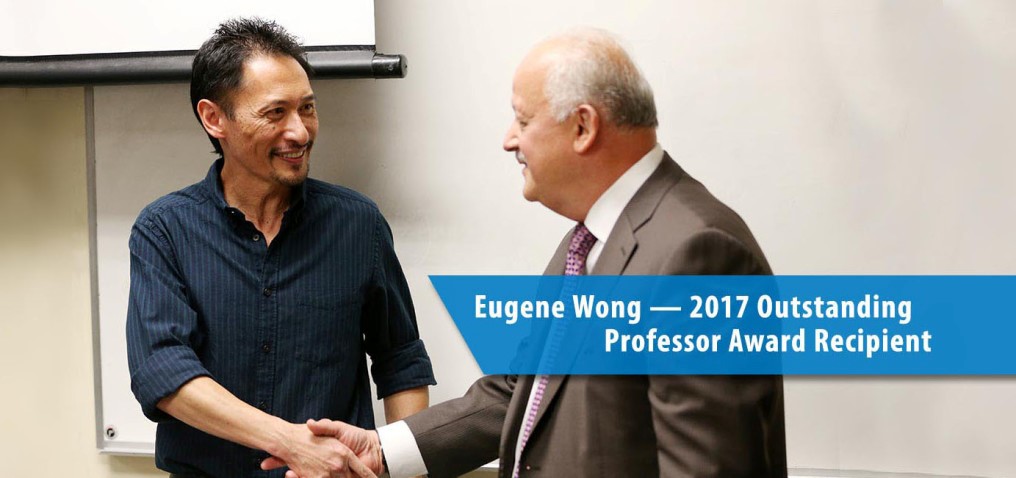 Dr. Eugene Wong is a highly valuable asset to this university. He is a first-rate instructor, an active researcher, a talented school and clinical psychologist, and a professional who strives to make a real difference in the lives of our students. We could not be prouder of the work he has done at CSUSB for over two decades.
Ken Shultz wins the 2014-2015 Outstanding Professor Award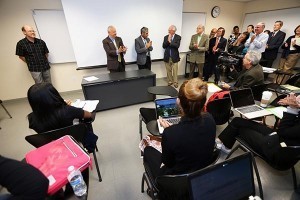 CSUSB psychology professor Kenneth Shultz (far left) is congratulated by his colleagues and students.
This year, the Psychology Department enjoyed the rare honor of having the Outstanding Professor Award go to one of its faculty for the second consecutive year! One of the university's most accomplished faculty members, psychology professor Ken Shultz was named Cal State San Bernardino's 2014-2015 Outstanding Professor.
Following a university tradition, CSUSB President Tomás D. Morales walked into Dr. Shultz' classroom to make the announcement in front of his students. President Morales noted that, "[Ken] has steadily emerged as one of the university's most accomplished faculty members – a scholar, a great teacher. Students consistently observe how knowledgeable he is on the subject that he teaches."
The Outstanding Professor Selection Committee wrote in a nominating letter that Dr. Shultz was the consensus selection for the award. "His well-rounded record of achievements in teaching, professional activities, and service establishes him as an exceptional representative of CSUSB. Uniformly lauded by both colleagues and students for his research, teaching and for his tireless service to the university, the announcement of this award will undoubtedly be applauded by the campus community."
Dr. Shultz joined the Psychology Department at CSUSB in September, 1992. Across an academic career spanning 22 years, he has distinguished himself to an exceptional degree in each of the three areas of review for the Outstanding Professor Award. An Industrial-Organizational (I/O) Psychologist, Dr. Shultz has contributed vitally to the current reputation of our M.S. in I/O Psychology as one of the finest programs of its kind in the Western United States. Dr. Shultz has taught over 20 different courses at the undergraduate or graduate level. To each of his classes, he brings a truly impressive, and quite unique, combination of subject-matter expertise, research accomplishment, and field experience. His student evaluations provide ample evidence that his classes are rich learning environments where students acquire the tools to succeed in college, graduate school, and beyond. Dr. Shultz has directed the M.S. I/O Program for three terms and he has served on virtually every significant committee available at the department and college levels. His numerous years of service on the College Evaluation Committee are typical of the kinds of work-intensive, leadership roles he has regularly sought out.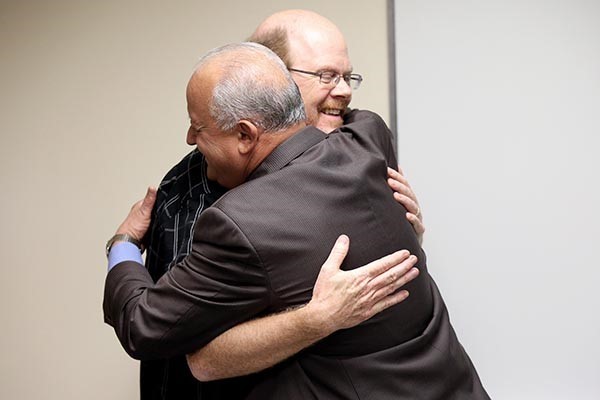 Dr. Shultz is congratulated by University President Tomás Morales.
As a researcher, Dr. Shultz has achieved international recognition for his work on aging, older workers, and retirement and he regularly collaborates with other top researchers in these areas. He has published over 50 articles in professional journals during his career at CSUSB. The vast majority of these are in top journals in his field including the Journal of Managerial Psychology, Journal of Organizational Psychology, Journal of Personality Assessment, Journal of Applied Gerontology, Journal of Applied Psychology, International Journal of Aging and Human Development, International Journal of Organizational Theory and Behavior, Current Psychology, and the Journal of Business and Psychology. He has published four academic books covering such topics as measurement theory, later career issues for workers, and the aging worker. As a mentor for undergraduate and, especially, for graduate students, Dr. Shultz has excelled. He has presented a remarkable 85 papers at professional conferences and has included students in many of these. He has chaired (or is chairing) thirty-six Master's theses. Every one of his mentees has received an extraordinary amount of direct training and supervision enabling them to go on to great success both in graduate school and job placements. Dr. Shultz has an impeccable reputation at this University as a caring, principled, and dedicated academician who approaches every aspect of his job with professionalism and integrity.
Psychology Instructor Bob Cupp named CSUSB's 2014-2015 Outstanding Lecturer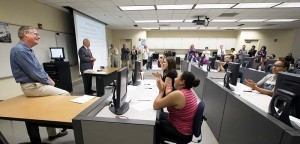 Students applaud Robert Cupp (far left) upon learning that Cupp is the university's Outstanding Lecturer of the Year.
Long time psychology instructor, Robert (Bob) Cupp, was "ambushed" by President Morales in his psychology statistics class and presented with the Outstanding Lecturer Award. "Bob has just an outstanding record of teaching," Morales told the students. "[His] SOTE (Student Opinion of Teaching Effectiveness) ratings are consistently near the top of the scale."
One student wrote that Mr. Cupp "is one of the best professors I've ever had. He takes the time to really make sure everyone understands the material and has very creative ideas to teach this subject." Another student added, "His instructions are really good and fun! He makes you want to come to class. I love his enthusiasm with his work."
The award evaluation committee wrote in their nominating letter that Mr. Cupp "is to be commended for the contributions he is making to the psychology department and the students it serves. He works tirelessly at teaching and holds his students to a demanding but appropriate academic standard. They are appreciative of his efforts, enthusiastic about his classes, and devoted to his style of teaching."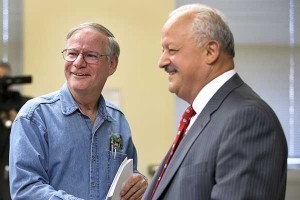 Robert Cupp (left) reacts as CSUSB President Tomás Morales announces that Cupp is the university's Outstanding Lecturer of the Year.
Mr. Cupp was also praised for his work at the university's Palm Desert Campus, where he serves as the psychology department's faculty representative and faculty adviser to psychology students, helping them make and meet their academic and career plans. Robert Ricco, chair of the psychology department said Mr. Cupp has "been a champion for first-generation college students from the desert for years, recruiting students from high schools in the area … and organizing student clubs, advising, and connecting students from PDC with faculty here on our campus, creating opportunities for them and virtually changing their lives."
Over the years, Mr. Cupp's students have regularly and effusively praised his teaching, calling him "one of the finest instructors in the psychology department," according to Dr. Yuchin Chien, Outstanding Professor and associate chair of the department. In a letter supporting Mr. Cupp's nomination, Dr. Chien wrote that he "has been consistently rated as a very passionate, knowledgeable, well-organized, responsible, and fun instructor."
Mr. Cupp earned his bachelor's degree in psychology and a master's degree in general experimental psychology from CSUSB. He joined the faculty in 1989 when he was hired as an adjunct faculty member. Since that time he has taught a wide variety of psychology and social sciences courses at both the San Bernardino and the Palm Desert campuses. In September, 2006, he was promoted to full-time lecturer. In addition to his teaching, Mr. Cupp has assumed several important service positions providing significant and valuable services to the psychology department at both campuses.
Cynthia Crawford Wins 2013-2014 Outstanding Professor Award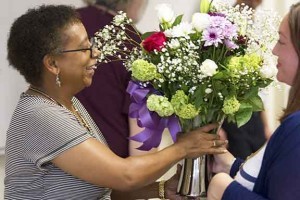 Dr. Cynthia Crawford has been selected as the 2013-2014 winner of the Outstanding Professor Award. This is the most coveted honor offered to CSU faculty. Across her 17 years of service to our University, Dr. Crawford has developed into one of the CSU's finest teachers and researchers. She is known for her consummate classroom preparation, exceptional level of expertise, and consistent dedication to student learning. Dr. Crawford's teaching prowess extends far beyond the classroom.
In fact, her most remarkable accomplishments involve the mentoring of individual undergraduate and graduate students working in her extraordinarily successful research lab. During her years with our University, student authors appear on her publications over 100 times. Students working in her lab have gone on to prestigious doctoral programs at the University of Texas, UCR, UCD, the University of Alabama, Florida State University, the University of British Columbia, UNLV, and other schools. Dr. Crawford's support for students goes even further. She has been one of the most prolific and successful grant writers on our campus and virtually all of these grants have supported the success of students.
Dr. Crawford has been the PI or Co-PI on multiple NIH grants including R01, R15, and R03 grants. She broke new ground at the University by bringing an NIH SCORE grant to campus, providing funding for multiple faculty researchers along with support for students assisting these faculty members. She secured funding from NIH for the CSUSB Diversity Drug Abuse Research Program (DIDARP) and the Minority Drug Abuse Research Program (MIDARP) and she has served as program director for each of these as well as associate director for the University's MARC (Minority Access to Research Careers) Program. Recently, Dr. Crawford secured a Research Initiative for Scientific Enhancement (RISE) Grant. The purpose of the RISE Program is to increase the number of underrepresented students from the CSUSB campus that obtain Ph.D. Degrees in biomedical and behavioral sciences.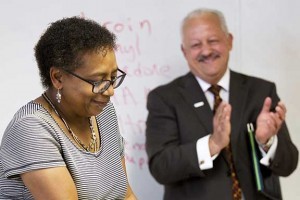 President Morales Congratulates Dr. Cynthia Crawford
Collectively, these successful grant activities have made a huge difference in the lives of undergraduate biopsychology majors and M.A experimental psychology students. Most importantly, the programs she has established have provided unique opportunities for students from underrepresented groups. As a researcher, Dr. Crawford has achieved international recognition for her work on the neurological bases of addiction.
Since joining our University, she has published over 45 papers in high impact journals in her field including Neuroscience, Behavioral Brain Research, Hippocampus, Synapse, Psychopharmacology, Brain Research, Developmental Neuroscience, and Behavioral Neuroscience. Dr. Crawford's contributions to our students, faculty, and campus community cannot be overestimated. She is a truly remarkable professional who brings great recognition to our University and seemingly limitless opportunities for our students.
Janelle Gilbert wins the 2012-2013 Golden Apple Award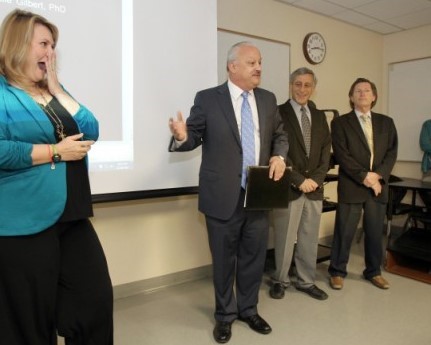 Dr. Janelle Gilbert is "ambushed" in her classroom by President Morales and Dean Nassar
Dr. Janelle Gilbert has had a stellar teaching career since joining our Department in 1995. She has been involved in a remarkably diverse set of pedagogical activities and has excelled at each of these. She has taught seven undergraduate courses and six graduate courses, along with numerous independent study and directed readings classes. Throughout her teaching career, Dr. Gilbert has generated consistently high student evaluations and other evidence of superior performance in the classroom. In addition, she has been exceptionally innovative as an educator. Dr. Gilbert contributed important curricular changes to our M.S. program in I/O Psychology and she was instrumental in re-designing our culminating experience classes (400-level course offerings) for undergraduate psychology majors. Dr. Gilbert developed what is now a pivotal course in the transition from pre-major status to major status. This is our Psychology as a Major (PSYC 101) class, which she has offered in multiple formats including televised distance learning and online. Dr. Gilbert was a Gateway instructor for all three years of the program (2007 – 2009).  Gateway was a course redesign initiative for students in remedial English. Dr. Gilbert participated in information literacy workshops to redesign freshman classes with a heavy emphasis on writing assignments and metacognitive skills. She taught Introduction to Psychology (PSYC 100) in this format for three cohorts. These sections were radically different from traditional sections of this course. In addition, she piloted the use of these techniques to a large lecture section. In recognition of these accomplishments. Dr. Gilbert was honored with the College of Social and Behavioral Sciences Outstanding Faculty Member for Teaching Award in 2009.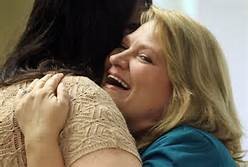 Dr. Gilbert has been one of the most innovate and successful of our psychology faculty in the area of distance learning. She developed a fully online version of Management and Organizational Behavior (PSYC 302) featuring high impact writing practices and online communities. Her innovations with this class won her the 2012 Outstanding Originator in Distance Learning Award from ODL. Dr. Gilbert also developed a new course in peer advising (PSYC 596) which supports the internship experiences of students working as peer advisors in our Peer Advising Center (PAC). In her capacity as Department Advising Coordinator, Dr. Gilbert runs the PAC, a time-intensive administrative role that involves training and supervising multiple students and developing effective advising materials. The PAC has been remarkably effective in providing key guidance to our majors and has been adopted as a model by other departments. Innovation also characterizes Dr. Gilbert's approach to classroom teaching. She has incorporated new tools into her classroom instruction, including voice threads, moodle, and clickers.
Some of Dr. Gilbert's most important and labor-intensive efforts in the area of teaching has been her mentoring and supervision of graduate students and undergraduate honor's students. This has also been an area of significant personal achievement and reward. To date, Dr. Gilbert has served as thesis chair for over 65 undergraduate honors and graduate students. This is a singular accomplishment and it has supported the successful post-graduate careers of scores of students. In recent years, Dr. Gilbert has expanded her instructional activities to include important work at the University in the area of outcomes assessment and in redesigning the University's General Education program.
Amanda Wilcox-Herzog wins the 2011-2012 Golden Apple Award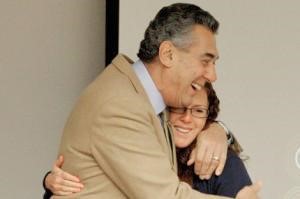 President Karnig congratulates Dr. Wilcox-Herzog
Dr. Amanda Wilcox-Herzog has established herself as one of the premier instructors on this campus. Her exceptional student evaluations, significant devotion to mentoring and guidance outside the classroom, extensive contributions to curricular development on campus, and State-wide recognition as an expert in early childhood education constitute an exceptional record of success as an educator. In reviewing her teaching records, Dr. Tapie Rohm, Chair of the selection committee, concluded that "Dr. Wilcox-Herzog is the best of the best when it comes to teaching — a real teacher's teacher". And University President Al Karnig noted that "student comments are effusive in describing her remarkable ability to explain complex issues and to skillfully ground theory in real-life situations." One faculty member who is herself an award-winning instructor commented that "if modeling is an effective source of learning, then Dr. Wilcox-Herzog's classroom provides ample opportunity for [beginning instructors] to develop an enduring appreciation of how it should be done".
Dr. Wilcox-Herzog has also been active in mentoring and one-on-one instruction outside of the classroom. She has supervised numerous undergraduate honors theses and Master's theses and projects, and she has trained future teachers at virtually every level of the educational system from preschool teaching to college instruction. Dr. Wilcox-Herzog's exceptional dedication was previously recognized through the 2006 CSBS Teaching and Instruction Award.
Psychology and Human Development Professor Amanda Wilcox-Herzog
In her capacity as a leader in the field of early childhood education, Dr. Wilcox-Herzog has made some of her most important contributions to this University and its surrounding communities. She is the principle architect of the University's Infant Toddler Lab School. The ITLS plays a key role in the education of early childhood specialists enrolled in the University's undergraduate and graduate child development programs. In addition to its educational and training roles, the School is actively involved in the generation of new knowledge and the development of innovative educational practices. The School is a truly unique resource for parents of young children in the Inland Empire. Dr. Wilcox-Herzog has also secured hundreds of thousands of dollars in subsidies to support student parents at the University through the Child Care Access Means Parents in School (CCAMPIS) Program, authorized by the Higher Education Act and administered by the U.S. Department of Education. This government program supports the participation of low-income parents in postsecondary education through the provision of campus-based childcare services. Dr. Wilcox-Herzog has also spearheaded extensive efforts to enable child care facilities in the IE to demonstrate best practices in early childhood education.