The Masters of Science degree in clinical/counseling psychology is a 63-71 semester-unit program designed to develop practical skills in counseling, through supervised training and experience, and knowledge and understanding of relevant subject matter and research methodology. The program culminates with a thesis or comprehensive examination and an internship experience. Students receive close individual mentoring as only 10 to 15 students are admitted each year. The M.S. program operates an on-campus psychology clinic for clinical training purposes. The program is designed to meet the basic educational requirements of the California Board of Behavioral Sciences, effective August 1, 2012, which specifies the educational qualifications for licensure as marriage and family therapist (MFT). Additionally, the program has a track record of preparing students who later enter doctoral programs in clinical or counseling psychology.
Clinical/Counseling Psychology Faculty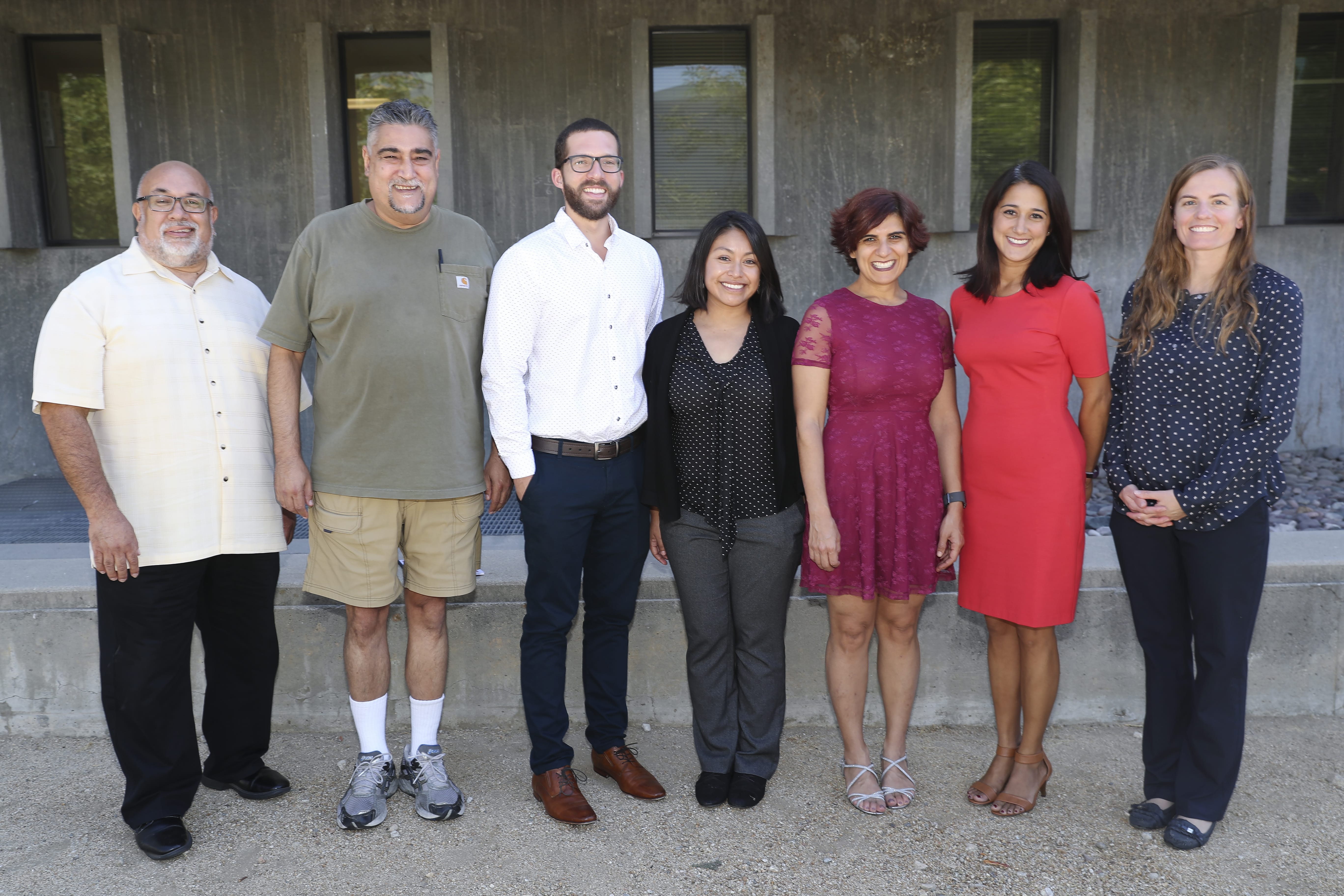 (From left to right): David Chavez (Program Director), Micheal Lewin, Jacob Jones, Maria Santos, Manijeh Badiee, Christina Hassija, and Stacy Forcino. 
Financial Assistance
Some financial aid resources are available to our graduate students. Each year a few Teaching Assistants are available in the second year of training, and a few faculty have grants to hire research assistants. Some second-year internships offer a stipend. Student loans, offered through the Guaranteed Student Loan (GSL) program, may be available if you are accepted into the program. Interested applicants are encouraged to contact the campus Financial Aid Office at (909) 537-5227 early (i.e. before March) for information about these loans and other aid possibilities.
Licensing & Credentials
Licensure as a Marriage and Family Therapist (MFT) in California enables individuals to work in clinical and community mental health settings, engage in private practice with third-party reimbursement, and, after two year of licensure, supervise MFT trainees and interns. Additionally, the high standards maintained for the California license means that other states with master's-level counseling licenses may recognize the MFT for reciprocity purposes. Please feel free to write or call any of the Clinical/Counseling faculty listed for more information about specific areas of interest to you.
Requirements
To apply to the Masters of Science degree in clinical/counseling psychology, please visit our Graduate Admissions webpage for deadlines and step-by-step instructions
Upcoming Information Sessions, 2021