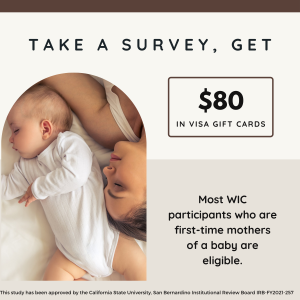 The Alaska New Mother Survey is closed.
If you already participated and have questions or concerns, please email us at newparentstudy@csusb.edu. 
FAQs:
What's involved?
Mothers complete a confidential survey about themselves and their baby. The survey can be taken on a phone, computer, or tablet, in about an hour. Mothers who complete the survey receive two $40 Visa e-gift cards ($80 total). 
Who can participate? 
Most first-time mothers of a 3-12 month old baby who live in Alaska and participate in WIC are eligible to participate. 
How do I participate? 
Call us at (907) 331-0215 for brief phone screening. You can also book a phone screening online here, or just text us and we'll set it up for you. We will ask you a few questions to make sure you are eligible. If you are eligible, we will send you a link to the survey and you will have 10 days to complete it, whenever is convenient for you. After you complete the survey we will send you two $40 Visa e-gift cards ($80 total). 
Who will know if I participate? 
The study is being run by researchers at California State University, San Bernardino. Only the researchers will know that you participated and the information you share will be kept confidential. 
How is WIC involved?
The Alaska WIC program has given the researchers approval to give WIC participants information about the study. Your decision whether or not to participate in the study will not impact your participation in the WIC program. The WIC program will never know whether you participated.
What if I have another question or concern?
Please feel free to call or text us at (907) 331-0215 or NewParentStudy@csusb.edu. 
This study has been approved by the California State University, San Bernardino's Institutional Review Board, IRB-FY2021-257.