Welcome to UEC Payroll
University Enterprises Corporation (UEC) Payroll Department at CSUSB strives to ensure all auxiliary employees are paid accurately and in a timely manner.  We provide payroll services to Auxiliaries at CSUSB and Palm Desert campus.  We process payroll for UEC, Associate Student Incorporated (ASI), Student Union and Recreational & Wellness (SMSU).  Our Payroll policies and procedures conform to federal and state laws, and CSUSB policies. 
Payroll Frequently Asked Questions
 
How do I sign up for direct deposit?
You can enter your direct deposit bank account information via your Paylocity self-service portal account. Go to HR & Payroll Tab - Employees - Employee Payroll File - Payroll Setup - Direct Deposit.
Did I get paid? How can I get a copy of my paystub?
Access your account at paylocity.com to download your paystub.  Please click below for instructions on how to obtain your paystubs.
How to set up a Paylocity account?
Register your user account at Paylocity. UEC employees use company ID N6228. Once you register with Paylocity you will be able to view your check stubs, tax forms, and have the option to set up direct deposit.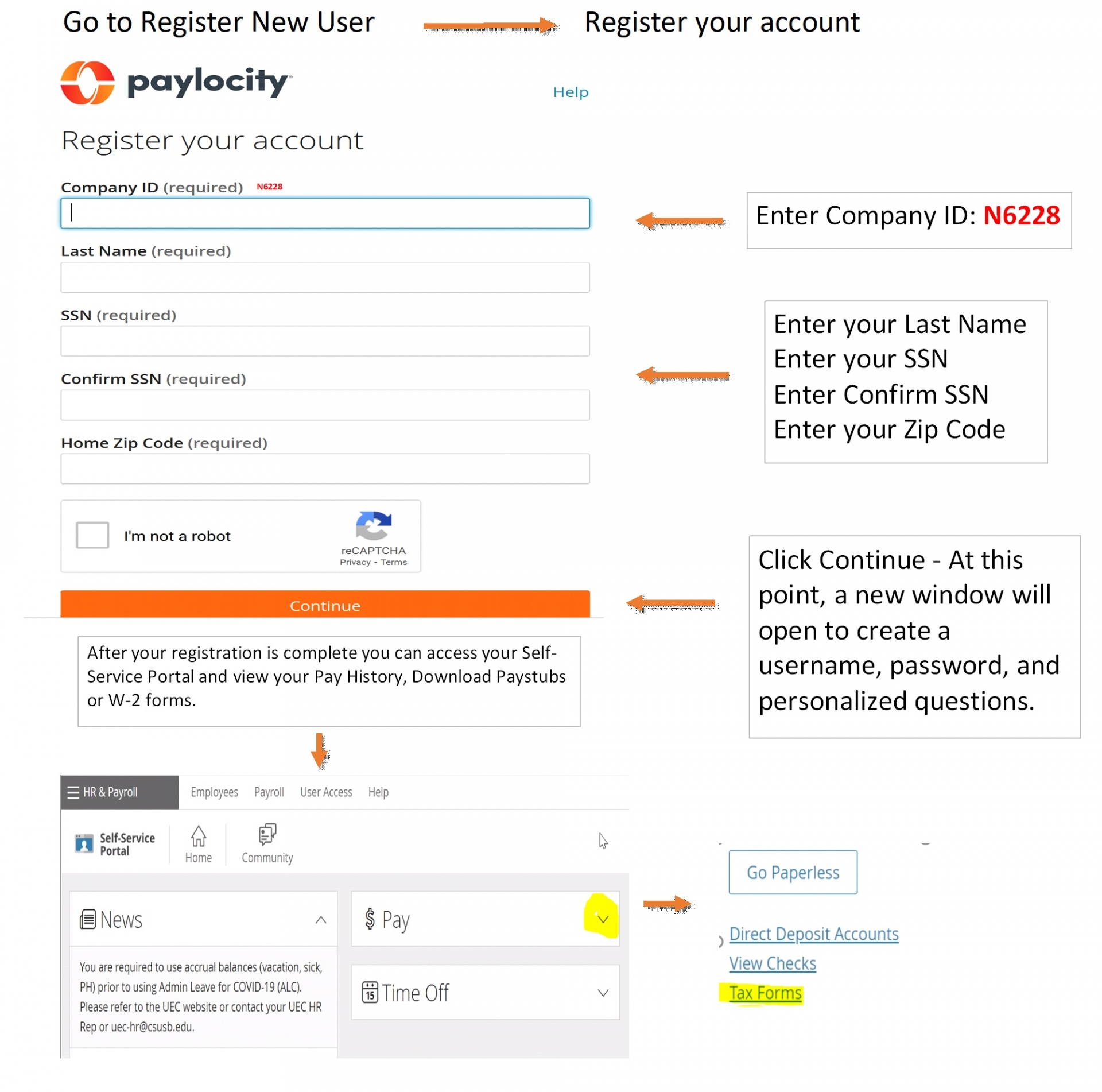 When will my W-2 be available?
You may download your W-2 via Paylocity user account self-service portal with company ID: N6228.
Select the Pay tab - Tax Forms - Select the Year and enter your Paylocity Password 

W-2's for the previous year are usually available at the end of the month of January.  Current employees can retrieve their W-2 Form by logging into their Paylocity account. Separated employees, please contact the Payroll office at (909) 537-7225 or email uec-payroll@csusb.edu.
When do I get paid?
Employees are paid semimonthly (twice a month) please refer to the Payroll calendar on our website.
How do I reset my password in Paylocity?
Clear your web history and choose forgot password. Use your email to capture security code. 
Tips for filing a new W-4.
How do I complete my time sheet in paylocity?
What is the Paylocity Company ID for UEC ?