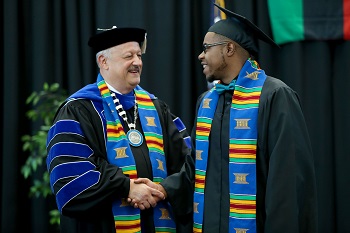 The Student Achievement Reform Act (SB 1440) establishes guidelines for California Community College students who have earned a Transfer Associate of Arts (AA-T) or Associate of Science (AS-T) degree.  These Associate Degrees for Transfer (ADT) guarantees admission to a campus of the California State University system with junior standing over all other transfer students. Earning an ADT from a California Community College allows students to satisfy most, if not all, lower division general education requirements and major requirements for transfer to California State University, San Bernardino at the same time.  Students with an ADT from a CSUSB local area community college are given priority in the application review process.
Once an ADT student has been admitted to a similar Baccalaureate (BA/BS) degree program, the ADT student will only be required to complete 60 semester/90 quarter additional prescribed units to qualify for the similar Baccalaureate (BA/BS) degree.
CSUSB Similar Degrees and Concentrations
Information on similar degrees and concentrations can be found through Cal State Apply or our CSUSB maintained ADT List.
ADT Applicant Process
Step One:
Complete and submit your Cal State Apply application online during the CSU Priority Application Period October 1 – November 30. 
Step two:
Send your Official transcript/s from all institutions attended with fall course grades posted and spring term courses listed as in-progress by February 15.
Step Three:
Work with your Community College counselor to update your status on the ADT eVerify portal with your ADT degree status.
Step Four:
Petition/apply for graduation at your community college.
Step Five:
Once you have been admitted to CSUSB accept your admission offer and pay the Enrollment Confirmation Deposit.
Step Six:
Register to attend a CSUSB orientation program to meet your advisor and register for classes.
Step Seven:
Submit your final Official transcript with all grades and your ADT degree awarded by July 15.