Special Populations
CSUSB is committed to providing Higher Education access to as many students as possible. We recognize several special populations of students in order to help better provide resources and support through the admissions process. All special population must meet regular Admissions criteria. For more information on admission, requirements please see our First-Year and Transfer Admission webpages.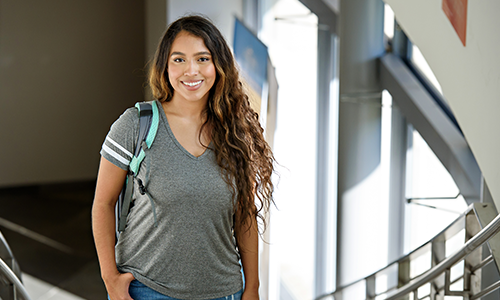 Educational Opportunity Program (EOP)
The mission of the EOP program is to provide access to higher education for historically low-income, underrepresented, disadvantaged students who have the potential to succeed at the university level. EOP recruits, retains and graduates students by providing a comprehensive program of support services which include admission, academic advisement, career and personal counseling, tutoring, financial assistance and graduate school information.
For more information on the EOP at CSUSB visit the Educational Opportunity Program website. 
Program Requirements
The Educational Opportunity Program is designed to provide academic support services to historically low-income and educationally disadvantaged, first-generation college students.
Applicants must meet the EOP criteria:
Must be a First-Time Freshman or a Transfer Student
Meet the EOP Income Guidelines
Be a first-generation college student
Demonstrate the need for academic assistance and support services
Demonstrate the academic potential and motivation to succeed
Be a California resident or qualify for an AB 540/2000 nonresident tuition exemption. For more information on Establishing Residency visit our website.
EOP applications are submitted through the Cal State Apply application during priority filling periods. Deadlines do apply. Students need to be prepared to answer several short essay questions and provide contact information for EOP Recommendation Forms. 
EOP, San Bernardino Campus
The Educational Opportunity Program is an admissions and support services program designed to assist students who meet specific income guidelines and demonstrate the potential to obtain a baccalaureate degree.
The program provides:
Admission to the University
Academic and personal counseling
Financial assistance to eligible undergraduate students. 
EOP, Palm Desert Campus
At this time the EOP program at CSUSB is only able to service students attending courses at the San Bernardino campus.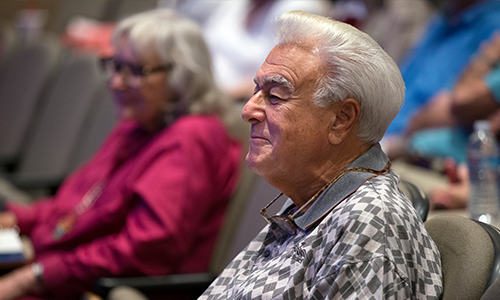 Over 60 Program
CSUSB offers a program which allows California residents, 60 years of age or older, to enroll in regular session courses without payment of certain specified fees. All regular admission requirements must be met. Official transcripts from each institution the individual has attended must be submitted to the Office of Admissions and Student Recruitment.
Program Requirements
The program is required to adhere to the following standards:
Enrollment shall be limited to persons who are California residents, are 60 years of age or older, and are eligible for admission to the university
Persons enrolling in the program will be able to register on the last day of priority registration. If someone applies after the priority period is over, they will register during the late registration period, but the $25 late fee will be waived.
Over 60 Program, San Bernardino Campus
For more information, please contact the Office of the Registrar-Registration Unit at (909) 537-7671 or registration@csusb.edu.
Over 60 Program, Palm Desert Campus
Palm Desert area residents may participate in the Over 60 Program at Cal State San Bernardino's Palm Desert Campus.
Please contact Ruth Howell at rhowell@csusb.edu for details.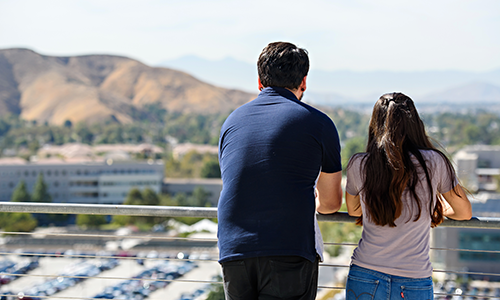 Returning CSUSB Students
Welcome back Coyotes, #Coyote4life
We are happy to welcome back former CSU, San Bernardino (CSUSB) students who successfully completed at least one semester in a degree-seeking baccalaureate program. The first step in returning to CSUSB is to determine the type of Re-Admission Category you fall under.  Readmission consideration is based on both the academic standing when they left as well as whether they have attempted units since their enrollment in CSUSB degree program. Each category has a slightly different application process to return. 
More information and resources for Returning CSUSB Students can be found on our webpage. 
Transfer Student Success Center
The Transfer Student Success Center (TSSC) serves as the heart of CSUSB's transfer student community. The TSSC supports prospective and current transfer students as they navigate the transition to and through CSUSB. The center provides programs, events, resources and support services created specifically for transfer students. We also offer peer-to-peer support through our team of Transfer Peer Mentors. The TSSC seeks to ensure that all transfer students find a sense of belonging at CSUSB and are successful in achieving their personal, professional, and educational goals. 
Visit the Transfer Student Success Center webpage for more information and to check their schedule of events.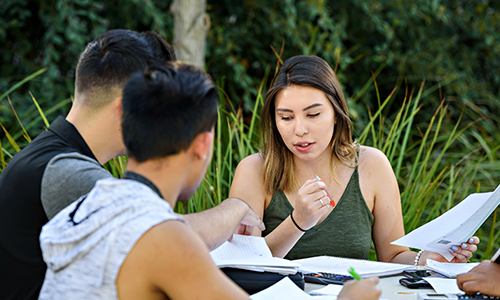 University Honors Program 
 The Honors Program supports highly-motivated students as they transition from high school into collegiate studies and provides a community of support throughout their time at CSUSB. Peers, faculty, and staff work alongside each other in classes, workshops, and experiential learning activities that include retreats, service-learning, and excursions. Together, we are the Honors Coyotes. You can see what we're all about on this site. For more information, email honors@csusb.edu or visit the University Honors Program website. 
Program Requirements
Students are invited to apply to the University Honors Program once they have been admitted to CSUSB. Admission to the Honors Program depends on meeting a combination of GPA and other factors that are combined into something called a Multifactor Admissions Score.
Transfer students and CSUSB students aspiring to apply for admission in their junior year must have a GPA of 3.5 to be admitted to the University Honors Program.

The application for admission to the program is entirely online, and qualifying students will be sent a link to complete it. It consists of a student résumé, a Tweet-length statement of purpose regarding what you hope to get out of and contribute to the program, and a short essay in response to a prompt. Applicants will also provide two letters of recommendation. The application is completed entirely online and the web-link is provided in the invitation to apply.
Presidential Academic Excellence Scholarship (PAES)
The CSUSB Academic Excellence Program is a competitive program welcoming 20 new students annually. Initiations to apply to the program will be made after students receive their CSUSB admission.
This exceptional community experience provides students with supplemental leadership, mentoring and engagement opportunities specific to the Academic Excellence Program. These opportunities are intentionally crafted to support a student's career and educational goals beyond the bachelor's degree while providing a way for students to give back to the CSUSB and Honors community.
The CSUSB Academic Excellence Program supports 4 years (8 semesters) of enrollment toward a bachelor's degree. In the current proposal for the program Participants in the program would receive:
A scholarship to support any unmet tuition and mandatory fees beyond what is covered by Federal and State grants, tuition waivers or any other tuition paying programs
An annual scholarship for additional educational expenses, including books and other needs
A one-time award to support a student's participation in an unpaid leadership, academic or career related internship
A scholarship to cover the cost of a double occupancy room and a basic meal plan for students who live in the Honors Residential Scholars community during their first year at CSUSB
For more information about the Presidential Academic Excellence Scholarship, visit their website.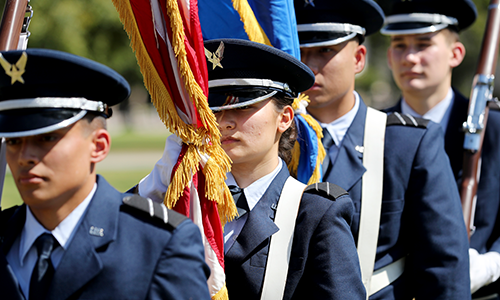 Veterans
Cal State San Bernardino is proud to provide educational opportunities for veterans of the military services and their dependents. The Office of Admissions and Student recruitment, in partnership with the entire campus community is here to support you through your journey to becoming a Coyote. 
We have collected for you important information and campus resources to help streamline your admission process. However, If you ever have any questions or concerns please reach out. We thank you for your service and can't wait to welcome you to our campus. 
More Information and resources for Veteran Student's can be found at our Military Veterans webpage. 
Credit for Military Service
The university grants lower-division undergraduate credit for completion of basic training in the armed forces of the United States. This credit is applied to the Lifelong Understanding area of General Education.
A limited amount of additional credit may be granted to students who have completed certain service schools in addition to basic training. The total amount of credit earned on the basis of externally developed tests and through recommendations of the commission, which may be applied to a baccalaureate degree, shall not exceed 45 quarter units, except that advanced placement credit is excluded from the limit.
Outreach and Special Programs