Computers
The VRC houses 10, 27-inch iMac computers. Each 27″ wide screen computers come equipped with the latest version of Adobe Creative Cloud software and all Microsoft office programs. 
iPadPros and Laptops
We have 8 iPadPros, 12, 9' with Apple pencils available for students to check out anytime during VRC open hours. Each iPad Pro has dozens of research-based apps installed and also can be used for graphic design and digital drawing with Procreate
We hope that you will explore the features and applications of the iPads and put the technology to use in teaching, creating, studying, or collaborating.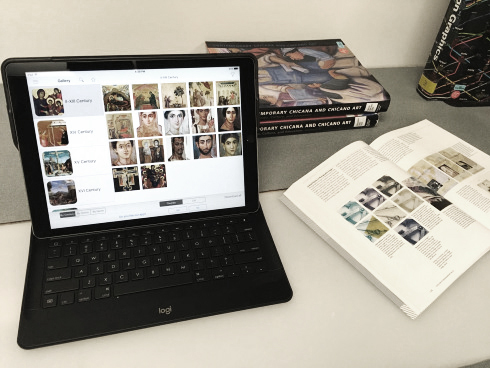 Digital Dark Room
The VRC Digital Dark Room allows us to catalogue images for our  library resources, but it is also open for faculty and students to digitize their own work. The Dark Room is equipped with 2 Apple Computers, Large Art Scanner, copy-stand with a Canon DSLR camera, and Nikon slide scanner.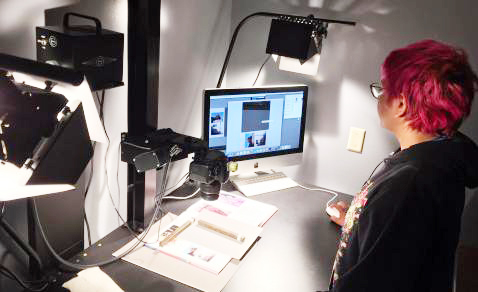 Book scanner
The Fujitsu SV-600 scanner is extremely easy-to-use for scanning books, documents, and photos. The VRC will also create PDFs of articles or book chapters for faculty members for use in courses.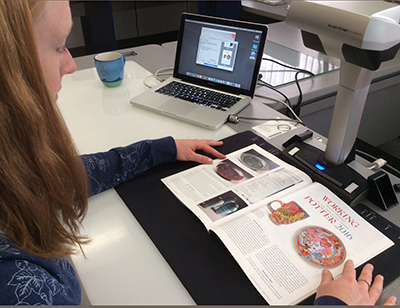 Structure Sensor Complete Bundle-mobile 3D scanner
Producing parts that reference real-world objects can be an essential element to technical workflows in art.
The Visual Resource Center is assisting our graduate students and faculty to visualize their idea using the Structure Sensor 3D scanner!
To schedule an appointment please email us at: vrc@csusb.edu
Additional Equipment
Faculty and students may use the equipment in their teaching, research, and artwork. To see what is available and to check out equipment, visit the equipment website. Patrons use their university email to login and create their own password after register as a patron at the Visual Resource Center.