Timelines
The Introduction to Graphic Design History website is created by Nancy Stock-Allen, a former Professor of Graphic Design and Illustration at Moore College of Art and Design and is covering all stages of graphic design history.  The site now serves as an archive. 

Graphic Design Artists associated with the Graphic Design History timeline.

Design is History - As a designer, it is important to understand where the design came from, how it developed, and who shaped its evolution. 

Counter Space: Typography Timeline. Learn about the anatomy, classification categories, a short listing of hotmetal (type that works in multimedia), and an interactive timeline that takes you from 15,000 BC to the present. This timeline highlights some of the important events in mark making that have changed the way we communicate with each other.
Artstor Public Collection - Artstor's ever-growing public collections offer freely accessible images, videos, documents, and audio files from library special collections, faculty research, and institutional history materials.
Calisphere- gateway to California's remarkable digital collections. Calisphere provides free access to unique and historically important artifacts for research, teaching, and curious exploration.
Research
Poster House Museum: Opening NYC 2019 -- Dedicated to presenting the impact, culture, and design of posters, both as historical documents and methods of contemporary visual communication.

Art Institute of Chicago Digital Archive - Graphic Design: Explore thousands of images in the museum's wide-ranging collection—from world-renowned icons to lesser-known gems from every corner of the globe—as well as books, writings, reference materials, and other resources.

AIGA Design Archives: AIGA Design Archives is an online resource available to those who practice, study, and appreciate great design. Dating back to 1924, it it features: packaging, corporate communications, brand and identity systems, typography, editorial design and illustration, and experience design. AIGA's best in book design *50 Books | 50 Covers* annually identifies the 50 best-designed books and book covers.
 
Books
The Visual Resource Center books could be found online,  https://vrc.libib.com/. Students and faculty may checked out books for up to two weeks. They may also be renewed once for one week as long as no one else is waiting for the book.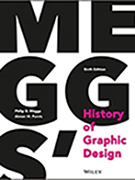 Meggs, Philip B., Philip B. Purvis, and Purvis, Alston W. Meggs' History of Graphic Design. Sixth ed. 2016.

Call #: NC997.B44 2016
Available online through the John M. Pfau library

The bestselling graphic design reference, updated for the digital age Meggs' History of Graphic Design is the industry's unparalleled, award-winning reference. With over 1,400 high-quality images throughout, this visually stunning text guides...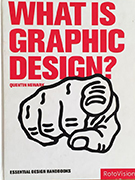 Newark, Quentin. What Is Graphic Design? Essential Design Handbooks. Mies, Switzerland ; Hove, U.K.: RotoVision, 2002.

Call #: NC997.N49.2002

The book deals with the vital issue of revisiting a contemporary definition of graphic design, and defines the breadth and scope of activity and the potential opportunities posed to a variety of readers.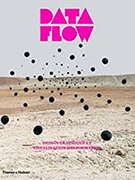 Klanten, Robert., and Ferdi. Van Heerden. Data Flow: Visualising Information in Graphic Design. Berlin: Gestalten, 2008.

Call #: NC997.D38 2008 

International interest in the sophisticated and aesthetic visualization of complex information made Data Flow a bestseller. Today, more and more graphic designers, advertising agencies, motion designers, and artists work in this area. New techniques and forms of expression are being developed.