Reference Sources
This page is intended as an introduction to the art history resources available in the Visual Resource Center, John M. Pfau and scholarly open-source materials.
Databases for Art and Art History is highly recommended and it is provided through the library.
GenderWatch-Full text access to popular and scholarly literature on topics such as gender, gender studies, women's studies, LGBT studies, sexuality, feminism, role in the workplace, healthcare, and religion.
Project MUSE Premium-Searchable collection of full text scholarly journals in the field of literature and criticism, history, the visual and performing arts, cultural studies, education, political science, and gender studies.
Scholarly images
Here is what makes an image scholarly:
You know where the image comes from
You know who owns it
You know it's original 

Where to look for scholarly images?
VRC Image Collection -The Visual Resource Center Image Collection database supports teaching and research in art, design and art history at the CSU San Bernardino.
Oxford Art Online  - Links images to related entries, covering major artists, periods, and styles.
Shared Shelf Commons- Shared Shelf Commons is a free, open-access library of images from libraries, archives, and museums around the world.
Europeana  - Images from Europe's galleries, archives, libraries and museums.
Calisphere - Gateway to digitized images from the libraries and museums of 10 University of California campuses and more than 100 cultural heritage organizations.
Searching for the artist in the ArtNet Artists A-Z list.  Artist information will often include a link to a list of dealers representing the artist. Browse over 340,000 artists
Flickr: The Commons - Images made available through Flickr's partnership with cultural institutions.

Tip for finding images in books:
When searching in OneSearch includes the phrase "pictorial works" in the subject headings for books that consist mostly of illustrations.  Use this phrase as part of a keyword search for books with illustrations of a particular subject, for example: Picasso "pictorial works"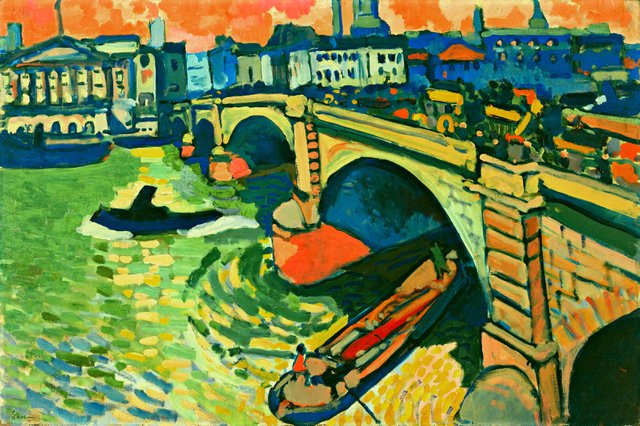 André Derain (French, born 1880-1954), London Bridge, 1906, oil paint on canvas, 1906.66 x 99 cm. The Museum of Modern Art, New York, Gift of Mr. and Mrs. Charles Zadok.
What is a Scholarly Journal and How Do I Find One?
A scholarly journal (also referred to as academic journals, scientific journals, or peer-reviewed journals) is a periodical that contains articles written by experts in a particular field of study. The articles are intended to be read by other experts or students of the field, and they are usually much more sophisticated and advanced than the articles found in general magazines. 
ART 1221, Art History Foundations
Online Instructional Images Collection
Online Instructional movies:
Vreeland, Lisa Immordino, Stanley F. Buchthal, David Koh, Dan Braun, and Steven Argila. Peggy Guggenheim : Art Addict. Widescreen. New York, New York: Submarine Deluxe, 2016.
https://vrc.libib.com/#93954086X
Marina Abramovic: The Artist is Present. Directed by Jeff Dupre and Matthew Akers. Music Box Films, 2012. https://video.alexanderstreet.com/watch/marina-abramovic-the-artist-is-present. Link
Klayman, Alison, Adam Schlesinger, Karl Katz, Julie Goldman, Andy Cohen, Weiwei Ai, Danqing Chen, et al. Ai Weiwei : Never Sorry. Orland, Park, Ill: MPI Media Group, 2012.
 Schilman, Leticia. Frida Kahlo : Portrait of an Artist. Princeton, N.J: Films for the Humanities & Sciences, 2004.
 
ART 6618, Graduate Seminar in Contemporary Art Issues and Practices