Art history and visual culture DH (Digital Humanities)
Tools
DevDH.org - Development for the Digital Humanities: "Providing the intellectual and strategic scaffolding to aid DH researchers successfully complete their research endeavors."

Scalar - Scalar is a free, open source authoring and publishing platform that's designed to make it easy for authors to write long-form, born-digital scholarship online. Scalar enables users to assemble media from multiple sources and juxtapose them with their own writing in a variety of ways, with minimal technical expertise required.

QGIS is a free, open source, desktop software package that permits sophisticated management, analysis, and visualization of geographic data. (Its commercial equivalent is ArcGIS.)

Creating an Interactive Web Map with Carto - Maps are just a particular type of data visualization. Maps are good ways to learn about patterns and tendencies in your data, and later, to present the results of your research.
 
Books
A Digital Humanities Bibliography Compiled by John Taormina, Duke University With assistance from Alexander Strecker, Katherine McCusker, and Michael O'Sullivan,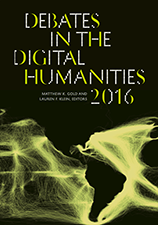 Gold, Matthew K. and Lauren F. Kleun, Debates in the Digital Humanities 2016, 2016

Call #: AZ182.D44 2016 

As digital humanities scholars and practitioners, along with their critics, continue to articulate the field, Debates in the Digital Humanities will track the issues and tensions at stake in their discussions of methods, practices, theories, controversies, projects, and politics.