The CIL Program aims to broaden its commitment to social justice by growing existing and establishing new collaborative partnerships with various units and experiences that support high impact practices (HIPS) across campus, both curricular and extra-curricular. According to the Association of American Colleges and Universities, "research suggests [HIPS] increase rates of student retention and student engagement." At both a Hispanic and Minority Serving Institution where approximately 81 percent of our student population are first-generation college students, the student success goal to ensure all undergraduate students experience at least three HIPs by the time they graduate (CSUSB 2015-2020 strategic plan) is a compelling one and aligns with the Pfau Library's core value of social justice and democracy.
Partners:
Hear from 2020-2021 student mentors about their experience as Library Ambassadors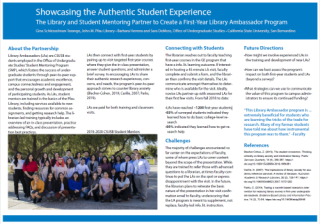 Poster describing the Library Ambassador program created for 2020 California Academic & Research Libraries conference. Schlesselman-Tarango, G., Herrera, B., & DeMoss, S. (2020, June 4-5). Showcasing the authentic student experience: The library and student mentoring partner to create a first-year Library Ambassador program [poster presentation]. CARL 2020 Conference, online.