Critical Information Literacy Leadership Institute
The Teaching Resource Center (TRC), in collaboration with Pfau Library,  launched the Critical Information Literacy (CIL)-Leadership Institute in Spring 2021.
CIL has been considered a socially responsible pedagogy, as it promotes a way of learning and teaching that addresses the social, political, and economic dimensions of information and thus, enables educators to promote critical thinking among their students. As such, CIL, especially during COVID-19 era, can serve to provide a much-needed source of addressing and developing skills in assessing validity of information, source, funding, historical timeliness, as well as the practical application to discipline.
Purpose: Establish a multidisciplinary team-approach to help CSUSB's probationary faculty become leaders in CIL. Faculty participants will learn the foundations of CIL and its use in engaging students to discuss power dynamics that play into the development and dissemination of information in any field of knowledge. Faculty participants will also gain skills in developing, implementing, and assessing CIL activities in the classroom that promote active engagement of students. By the end of the program, program participants will learn leadership skills to help promote and integrate CIL as part of the campus' curricular and co-curricular activities.
Institute Objectives:
Faculty members completing the CIL-Leadership Institute, will:
Learn the foundations of critical information literacy.
Engage students in discussing the role of power dynamics in development and dissemination of information.
Develop, implement, and assess a course-based critical information literacy activity.
Reflect how their chosen CIL activity integrates socially responsible pedagogy.
Become advocates for CIL at CSUSB and community at large.
Meet the 2020-2021 Institute Fellows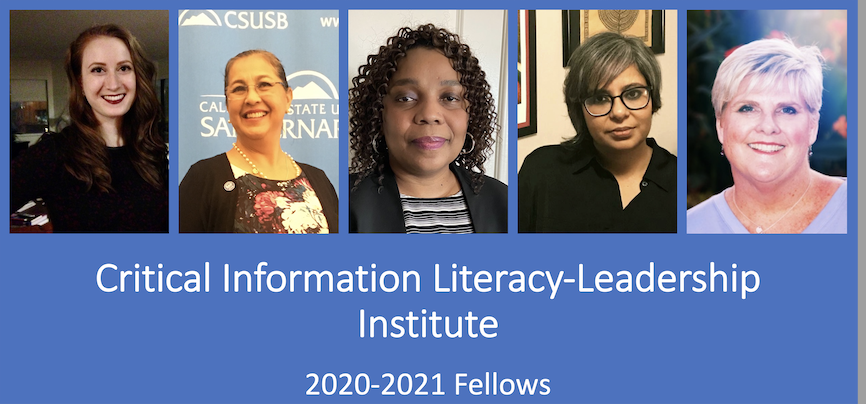 From left to right: Dr. April Karlinsky, Dr. Jacqueline Elena Romano, Dr. Salome Mshigeni, Dr. Abhilasha Srivastava, Dr. Nicole Klimow
Selection criteria for 2020-2021: Faculty must submit application by deadline and must be tenure track probationary rank. Eligible voting members of TRC's advisory board, IQC, reviewed de-identified applications and ranked all applicants to select the top 5.
Proposed Action Plans from Fellows: Coming soon.