We'd be happy to expand upon any of the concepts covered in this lab. We offer many options to support you and your students: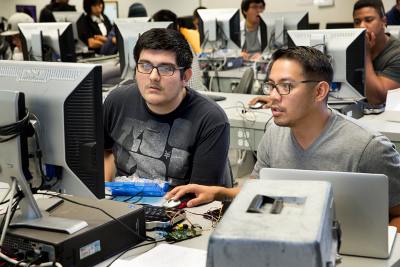 Library instruction sessions are individually customized for your class assignment(s) by the librarians who teach them. Instruction sessions taught in the library typically provide hands-on searching experience for students in addition to demonstrations, learning activities, etc. We can also come to your smart classroom.
In Fall 2020, 99% of surveyed students agreed that they expected their library instruction session to be helpful when completing their coursework.
For faculty who teach first-year GE courses with a critical information literacy outcome (Written Communication, Oral Communication, History of the United States, and First-Year (Foundation) Seminar): The Pfau Library and Undergraduate Studies' Student Mentoring offer a peer Library Ambassador program to supplement critical information literacy instruction in the classroom with the goal of centering and establishing connection amongst students, in turn decreasing library anxiety. If interested in a 45-minute Library Ambassador visit, please complete the Virtual Library Ambassador Form at least one week in advance of your requested date. For more information on the program, contact Gina Schlesselman-Tarango at gschlesselman@csusb.edu.
Library Guides are online resource pages that librarians create for you. Relevant resources such as pertinent websites, databases, tutorials, books, and articles are individually selected then collocated in one place for your students. You can use your Library Guide on its own, link it to your class website, or incorporate it into your Blackboard course.
Librarians can consult with you on the design of research assignments, recommend resources and search strategies for specific inquiries, and/or join discussion boards on Blackboard courses to anticipate/respond to students' research questions related to assignments. If you would like to add a librarian to your Blackboard course or discuss a possible collaboration with a librarian, contact Gina Schlesselman-Tarango or your liaison librarian.
In addition to those on our Video Tutorials page here in the CIL Lab, you can find more videos on our YouTube channel.
Self-guided Tour
Perfect for groups new to campus who don't necessarily have a research assignment but want to learn about what the library has to offer. For best quality, print "actual size," double-sided, and in color.
We offer a variety of workshops each quarter. Some are geared towards a specific audience (e.g. graduate students), and some are open to all students, faculty, and staff. Workshops are held in the Pfau Library, room PL-2005 or PL-5005, and some are also available online via Zoom. Check out our offerings and register on our workshop calendar.
Meet Your Instruction Librarians