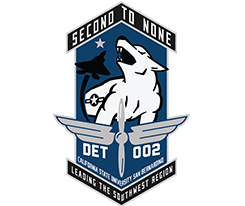 CSUSB AFROTC Detachment Logo
Air Force Reserve Officer Training Corps (AFROTC) is a nationwide program that allows students to pursue commissions (become officers) in the United States Air Force (USAF) while simultaneously attending college. AFROTC is designed to prepare students to assume positions of increasing responsibility and importance while on active duty in the Air Force. AFROTC consists of four years of Aerospace Studies classes and a corresponding Leadership Laboratory for each year (where students apply leadership skills, demonstrate command and effective communication, develop physical fitness, and practice military customs and courtesies). College students enrolled in the AFROTC program (known as "cadets") who successfully complete both AFROTC training and college degree requirements will graduate and simultaneously commission as Second Lieutenants in the Active Duty Air Force. Multi-year scholarships are available for books, tuition and fees associated with various major fields of study. Students may attend ROTC classes on campus while enrolled in any of the area's two- or four-year colleges.
View our downloadable Air Force ROTC Pamphlet.
For more information, contact the CSUSB Aerospace Studies Department at (909) 537-5440 or visit the AFROTC website.
Education Plan
AFROTC requires cadets to complete and submit an education plan (Form 48), which outlines your degree plan. Here's a PDF version of Form 48.
Follow the Preparation Instructions .
If you have any further questions please make an appointment with the Veterans Success Center, and they will guide you in properly filling out the form.