VA ENROLMENT CERTIFICATION 
NEW CERTIFICATION REQUEST
Follow the steps on this page are to submit a "new" Request for Certification to the Veterans Success Center (VSC) through the Veterans Benefits Module (VBM) using your MyCoyote portal.
Note: If there is a change in your enrollment status, including adding or withdrawing from a course, please refer to the Update Certification Request.

STEP 1 - Documents needed for Certification 
STEP 2 - Log-in to CSUSB Student Portal "MyCoyote"
STEP 3-  Tile Selection on Student Center 
Look for the student center "TILE"
CLICK ON  the Student Center " TILE"
STEP 4- Look for "hamburger" logo
Click on the symbol shown below known as the "hamburger"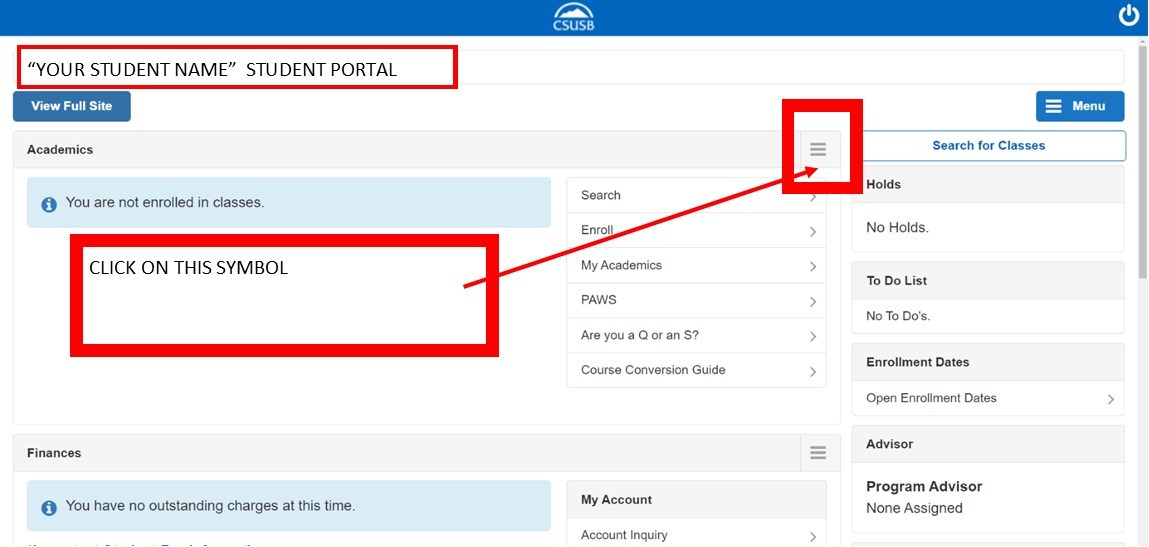 STEP 5 - Look For Veteran Benefit 
Look for "Veteran Benefits Tab" 

STEP 6 - Read content and click on "Certification Request" 
Read and Click on " Certification Request" this will allow you to start the process.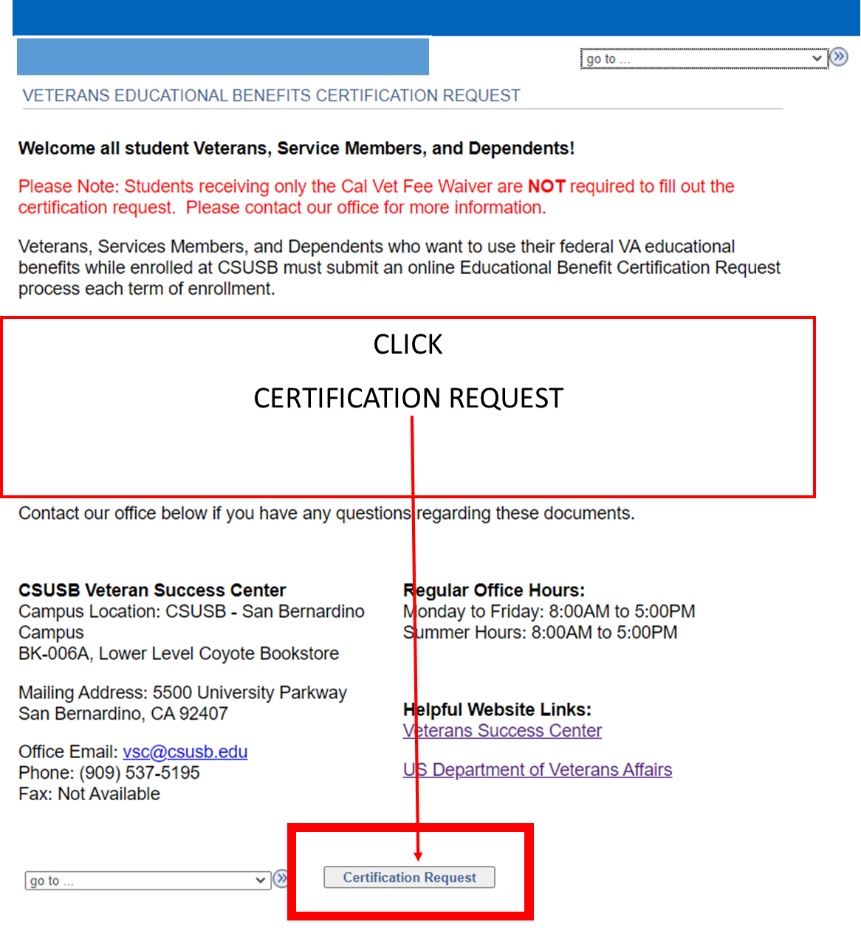 Fill out all sections: 
Term- Select the term you want to be certified for.
Select your *Veterans Service Branch"  

If you are a "Dependent"  LEAVE BLANK

Select the VA Educational Benefit you will be using for the term you have selected.

Please refer to your "COE" certificate of eligibility that you have downloaded from VA.gov. 
NOTE: If you select Chapter 35 Dependents Educational Assistance Program please make sure you add a Chapter 35 VA File Number.

Respond to "Relationship to Veteran"
Select your status under "SELECT ALL THAT APPLY" Leave blank if it does not correspond to you. 
Attached all required document " COE" Certificate of eligibility, DD214 Service/member 4, other documents. 

If this is not complete there will be a delayed in your enrollment certification. 
STEP 8-  Click on Attachments

STEP 9-  Attachment Selection
Once you have fill out all profile documentation please get ready to Attach Documents.
Documents you will need to attach are:
Certificate of release and discharge from active duty (DD214 Member 4) Veterans Only
Department of Veterans Affairs certificate of eligibility (COE) correspondence/letter
NOTE: You must attached the correct Certificate of Eligibility (COE) in order to be able to continue the certification process. You may find your COE on VA.gov.
STEP 10-  Go back to the VA Certification Page 
Once you have attached the document/s. You will see them on the section "File Attachments"
Click on the "RETURN" Section on the bottom of the page.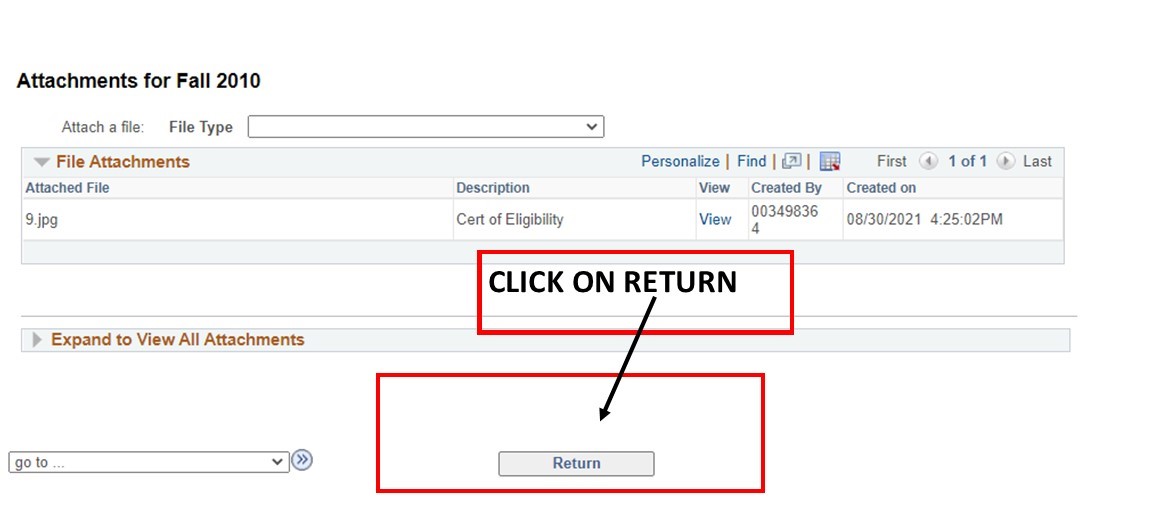 STEP 11-  Selection of Classes to Certify 
Now you will select the classes you want  the CSUSB School Certifying official to certify you for.
NOTE: Only Courses that are part of your educational plan will be certified.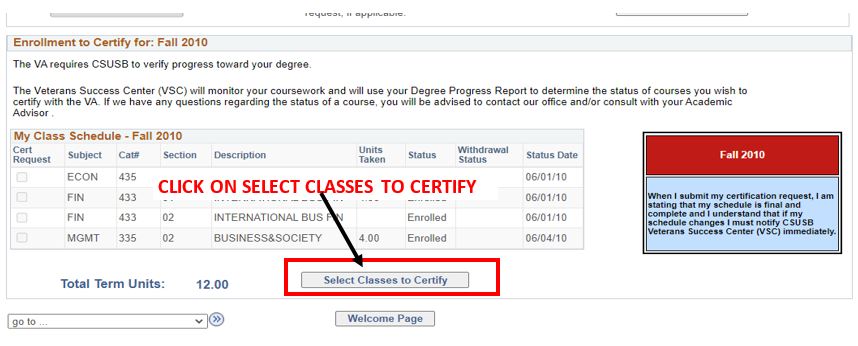 STEP 12 - Read and Acknowledge
Read and Acknowledge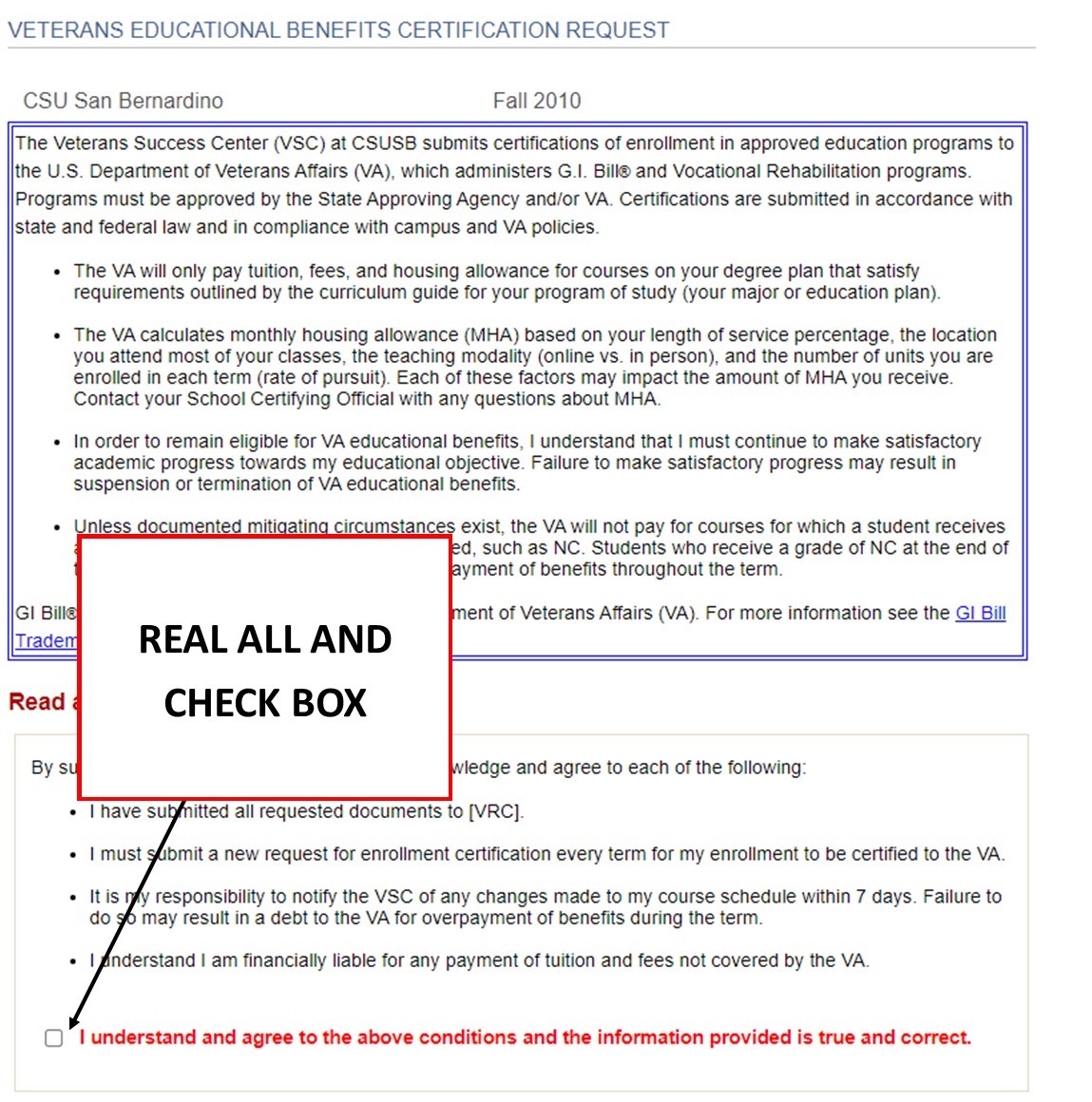 STEP 13 - Selection of Courses 
Select the courses you want to be certified for.
When you are done, you will have to "submit the request"
STEP 14 - The " RETURN" click 
Click on the Return button to go back to the profile page of Veterans Benefits page.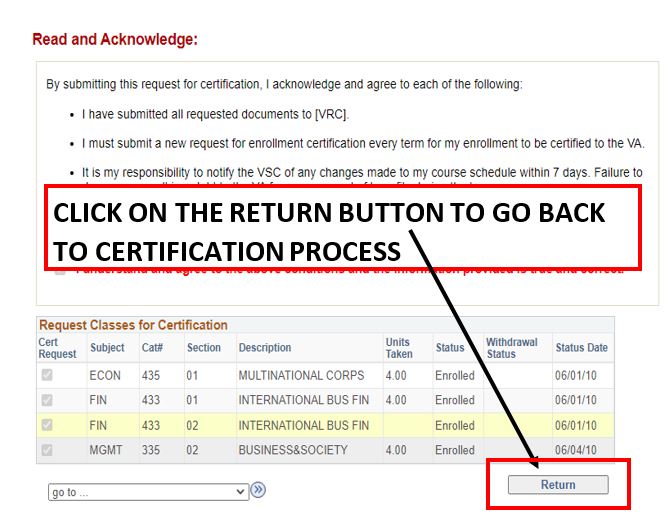 You have completed the online VA Certification Process. To make changes to this existing certification, make sure you select the term you want to make the changes to and request new courses. 
*Disclaimer: CSUSB does not award any of these educational benefits. You must apply to the correct agency to determine eligibility.
"GI Bill® is a registered trademark of the U.S. Department of Veterans Affairs (VA)."