Mobility and freedom to travel is seen as a fundamental right. What does this mean in practice? For many people in Southern California it is the ability use their personal vehicles for travel, but what about those who lack access? Transportation in these situations become an issue of equity and mobility. If those who have lower incomes or have fewer resources are unable to get to their destinations, it can leave them with few opportunities for advancement. The question then becomes, why does this occur? Where is the failure in the market to provide the needed service? In some communities, there might be a simple answer, but many communities need a fundamental rethinking of how to solve its mobility problems. One such way is to look at Mobility As A Service instead of MASS transit. Today's Dialogue will explore the issues that arise for those who have a lack of access and a few of the answers found in Maas.

Shared Mobility and transportation solutions are changing with new innovations and technologies.  This Regional Transportation Dialogue will explore this issues, current solutions and future possibilities for an affordable, sustainable transportation system in the Coachella Valley. As part of this discussion, we will be looking at solutions for the local workforce and student populations.

What is the future for a shared mobility system in the Coachella Valley? 
Results and Summary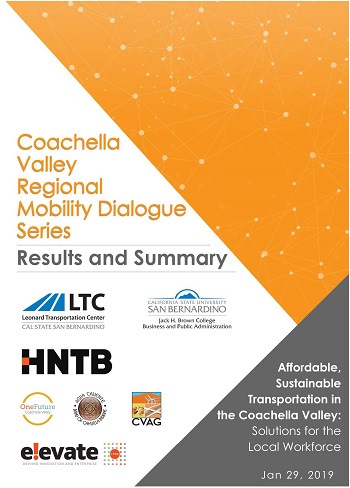 Event Highlights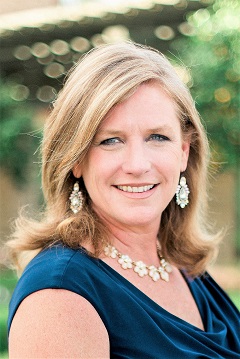 Sheila Thornton, President/CEO, One Future Coachella Valley 
As President & CEO of OneFuture Coachella Valley, Sheila Thornton is guided by its mission to assure all students succeed in college, career and life – expanding and enhancing the local workforce so that our youth and economy thrive.
 
Prior to the formation of OneFuture Coachella Valley, Sheila served as Vice President of Workforce Excellence for the Coachella Valley Economic Partnership, where she led that wing of the partnership on coalition-building, fundraising and program development. In March, 2017, she spearheaded the transition from Workforce Excellence to OneFuture Coachella Valley, a separate 501(c)(3) nonprofit organization whose purpose is to advance a regional effort to align educational attainment with economic development.
 
OneFuture Coachella Valley facilitates a coalition of education and business leaders implementing the Coachella Valley Regional Plan for College and Career Success, a community-wide strategic plan to produce an educated workforce and assure Coachella Valley students are prepared for success in college, career, and life.   During the past twelve years, the coalition has achieved significant success on common regional goals in career academy/Linked Learning expansion, FAFSA completion and financial aid capture, scholarship giving, and community and employer engagement in support of students. 
 
From 2001 to 2012, Sheila served as a health workforce and leadership development consultant providing project management and coalition building guidance to industry, education, and community organizations. She assisted organizations with strategic planning, mission advancement, cross-sector partnerships, grant writing and management and program implementation.  
 
As a consultant, she led the development of CVEP's Healthcare Industry Council, a model for aligning education and workforce strategies by sector and sub-region.  The Council expanded opportunities for low-income, disadvantaged students to succeed in Kindergarten-12th grade health career pathways programs, college health sciences programs and higher level health professions. Once piloted in Healthcare, the regional industry council model was replicated in the Advanced Technology and the Arts, Media & Entertainment sectors.
 
Sheila's early career as an analyst and project manager for an economic research and consulting firm and as Director of Community Services for a non-profit hospital has established a solid foundation for her current work – building and leading an organization that uses strong coalitions to guide the region's students and future leaders toward success.
 
Sheila serves on the board of directors for CSUSB Palm Desert Campus and Growing Inland Achievement; the California Future Health Workforce Commission; the national leadership team for the Ford Motor Company Fund Next Generation Learning (Ford NGL) Initiative and the national advisory committee for Health Career Connection.  She is a former board member of the Linked Learning Alliance in California.  Sheila received a B.S. degree in Applied Math from Loyola Marymount University.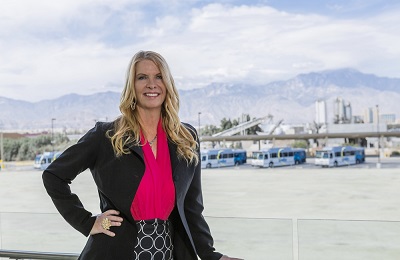 Lauren Skiver, Deputy Chief Operating Officer at MTA Maryland, and CEO at Delaware Transit Corporation

Ms. Lauren Skiver has served the transit industry for almost 20 years.  Starting as a Maintenance Clerk at HART in Tampa, Florida, she has progressed her career by serving as Director of Paratransit Services at HART, Deputy Chief Operating Officer at MTA Maryland, and CEO at Delaware Transit Corporation. 
Since 2013, she has been the CEO/General Manager of SunLine Transit Agency where she remains excited to lead the delivery of transit services to the Coachella Valley and continue the efforts of SunLine's Zero Emission Bus program.  SunLine has long been a pioneer of Hydrogen Fuel Cell and zero emission technology and continues to be a leader in innovative approaches to clean transit service delivery.

Additionally, Ms. Skiver served nine years in the U.S. Army specializing in Military Intelligence as an Imagery Analyst and served during Operations Desert Shield and Desert Storm.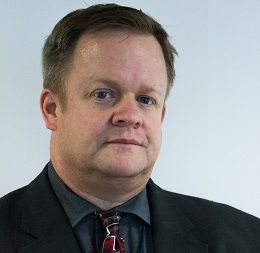 David Embrey Pickeral, JD, Strategic Advisor to Mobility Innovation and Smart Cities
David Pickeral is committed to facilitating the deployment of information and communications technology (ICT) to make transportation more effective, efficient, sustainable and safe within and between all modes from the local to the global level.   He has 30 years' operational, policy and management experience involving both government and commercial enterprises as well as public-private partnerships (PPP) across the United States, North America and internationally.

David is currently an entrepreneur, board member and  strategic advisor related to Mobility Innovation and Smart Cities working with multiple startups, VC / PE investment clients and government agencies worldwide related to mobility-as-a-service (MaaS), on-demand transportation (ODT), microtransit, connected & autonomous vehicles (CAV), electric vehicles (EV) and smart parking in the context of  big data, analytics, cloud, and the internet of things (IoT).  Advisory engagements include but are not limited to technology selection, strategy, governance, alliances, PPP / JV formation.   David also sustains longstanding industry roles including the US National Academies of Science Engineering & Medicine—Transportation Research Board and multiple academic affiliations including the Massachusetts Institute of Technology.  He publishes regularly in conventional industry media such as Thinking Highways, Move Forward, TU Automotive and is active in social media through LinkedIn blog posts and articles.

From April 2010 until June 2015 David had been IBM's Smarter Transportation Leader working with clients and partners around the world in developing and deploying next generation transportation Systems Before joining IBM, David was an executive at Booz Allen Hamilton where he co-founded the firm's Intelligent Transportation Systems (ITS) practice in September 2000.  Prior to that he was a practicing attorney, and before that started his professional career as a US Naval Officer.  He holds a Doctor of Law (JD) degree from George Mason University and a Bachelor of Arts (BA) degree from the University of Virginia.