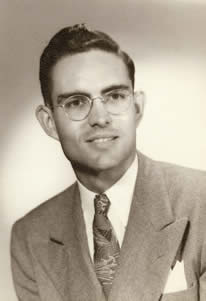 The Center has named its annual event, the Jack R. Widmeyer Transportation Research Conference, for the contributions this San Bernardino-based businessman made to the community-at-large and the University.
Jack R. Widmeyer's life epitomized entrepreneurial spirit and the American tradition of free enterprise. As a builder and developer he cared about quality and is remembered for having a way with the land.
After serving in WWII and graduating from Claremont Men's College, Jack followed in his father's footsteps and owned an insurance business in San Bernardino.
When McDonalds' restaurant was established he was one of the first businessmen to purchase plans to build franchises, including locations in Azusa, Los Angeles and Riverside. In 1958, Jack moved his insurance business to Highland Avenue in San Bernardino at the foot of Perris Hill, which he subdivided and developed to build several homes including one for his parents and one for his family. Jack also worked all over Southern California performing construction inspections.
He spent a good deal of time tending the family's Highland property that they fondly called "The Ranch" for its rural setting. His environmental instincts led him to create catch ponds and drainage systems to help preserve and maintain the land. Jack encouraged people to walk and hike on the Ranch.
Always keeping busy, Jack belonged to several community groups including the Chamber of Commerce. His fascination with horses drew him to equestrian activities and Jack became active in endurance riding throughout San Bernardino and Los Angeles counties. He was active in establishing trails in the area and serving as chair of the East Valley Trails Committee.                                       
Jack was always looking for ways to improve public and private projects. When the cross-town freeway was being designed in the San Bernardino-Highland area, the original plans included a Highway 330/Highland Avenue interchange that would have blocked east-west pedestrian and equestrian access. Jack worked with Cal Trans to incorporate hiking and riding trail features, providing access – particularly in the creek bed area at the base of the road leading to Big Bear.
Jack also saw the need for a new, safer road up Waterman Canyon to Crestline in the San Bernardino Mountains, and contemplated many other highway improvements. His overall experiences and desire to improve the effectiveness of transportation projects, and the positive experience with the Highway 330 project, motivated Jack to develop a legacy plan for the future.
Jack set up several charitable remainder trusts for his adult children and his sister that eventually will benefit the William and Barbara Leonard Transportation Center at Cal State San Bernardino. Working with his professional advisors Jack cemented his plans before his death in May 2008. It was his wish that these planned gifts provide support for faculty research and professional conferences related to transportation at CSUSB.
Jack wanted California transportation systems to take advantage of available input and expertise to improve their effectiveness. He saw this contribution as an effective way to achieve this goal.