LTC Call For 2024 Faculty Research Fellowships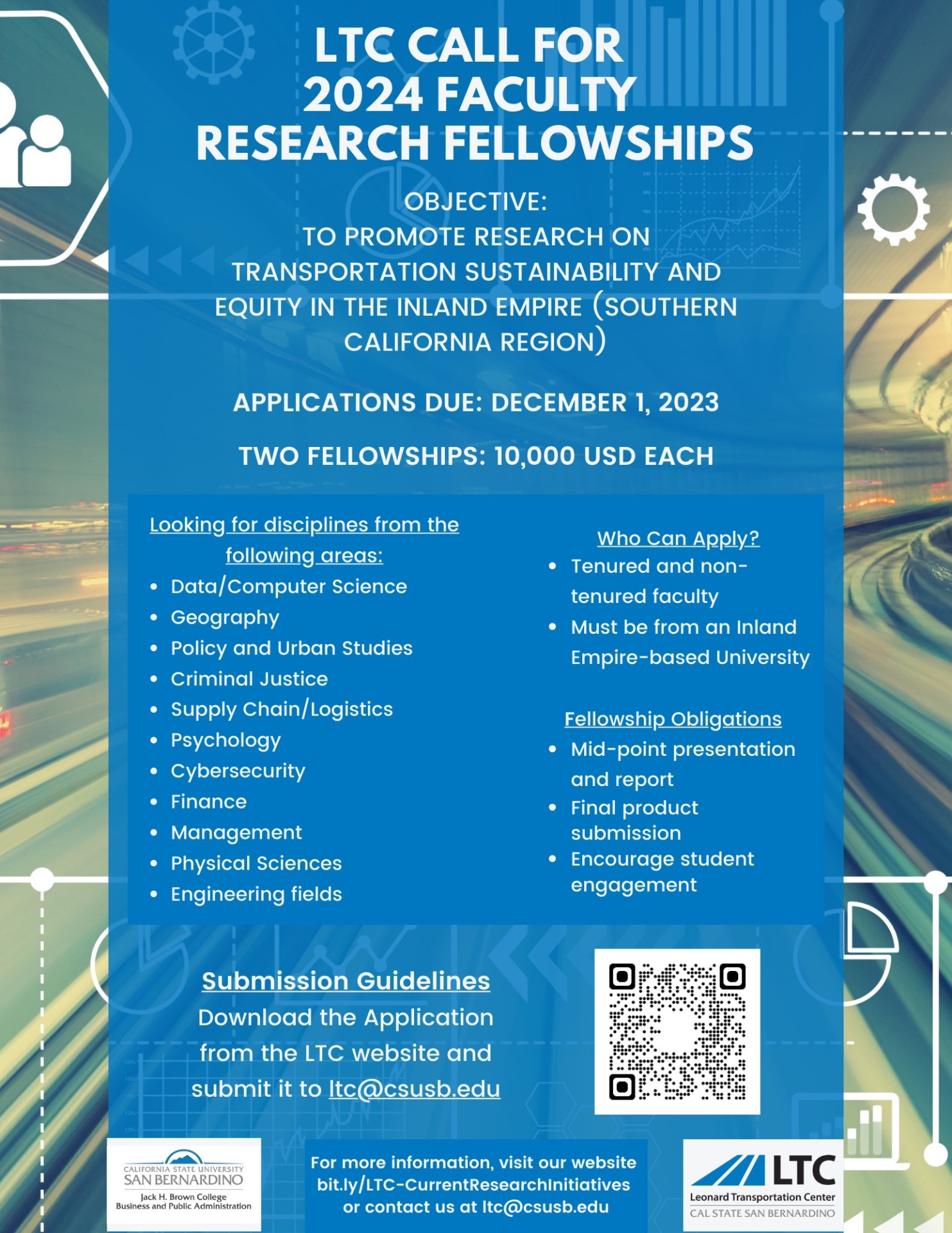 The Leonard Transportation Center Faculty Fellowship program recognizes and supports nontenured and tenured faculty in the Inland Empire (IE) region to conduct transportation-related research in the IE. The one-year fellowship provides a stipend up to $10,000 per faculty member team. Two faculty members could join together as a team and obtain $20,000 in funding to conduct a joint research project. Funds can be used for summer stipend, course release (with approval from department chair and college dean), conference travel, materials, and student support. The LTC plans to provide fellowships to two faculty members for the 2024- 25 year.
LTC Student Research Challenge
The goal of the LTC's Student Research Challenge is to find creative solutions to difficult questions surrounding the Inland Empire transportation system. Research will be conducted by multi-disciplinary teams of students from the three major public universities in the region. This project will get regional students (undergraduate and graduate) from CSUSB, Cal Poly Pomona, and UC Riverside to think innovatively, learn research techniques, and find solutions to the tough transportation related questions facing the region.
Specific Research Program Outputs:
To find innovative solutions to problems and questions surrounding the IE transportation system. Each project will address some or all of the following:
mobility;
climate change/pollution reduction/community adaptation;
new industries/entrepreneurship based in transportation technologies;
smart city technologies;
International and domestic impacts/forces on the system to understand; and
transportation cybersecurity in the public sector. 
2023-2024: Year 4 Challenge
Topic: The nexus between housing and transportation in the Inland Empire
The nexus between housing and transportation in the Inland Empire is a complex interplay of spatial, economic, and socio-demographic elements. The area's relatively lower housing costs than coastal regions have made it attractive to homebuyers; however, it also hosts a higher proportion of low-wage earners, underscoring the affordability paradox. This growing population necessitates longer commutes, often to job-rich coastal areas, increasing dependency on automobile transportation. This exacerbates traffic congestion and environmental concerns while straining transportation infrastructure. In a broader context, this relationship between housing affordability and transportation indicates a spatial mismatch, which, if not addressed, can further deepen socio-economic disparities. Hence, there is a clear imperative for integrated housing and transportation policies to mitigate these challenges, thereby contributing to the sustainability and inclusivity of the region's urban development.
The Student Research Challenge participants will investigate the intertwined relationship between housing and transportation in the Inland Empire. This investigation explores housing affordability, commuting patterns, and transportation and their socio-economic implications. They will contribute to a deeper comprehension of urban development and actively participate in the conversation to foster a sustainable, inclusive, and resilient region.
2022-2023: Year 3 Mini Challenge
Topic: Disadvantaged, Women-Owned Business and Veteran's Engagement in Transportation and Transit Sentiment
2021-2022: Year 2 Challenge
Topic: How to improve the Inland Empire's transit system using Big Data and Policy solutions.
The second Student Research Challenge group has begun researching how big data can help to improve the I.E.'s transit system. The primary question for the research group is -- to what extent can the paradigms of big data analytic be used for understanding the transit system in the Inland Empire? The goal of the LTC 2021 Student Research Challenge is to explore these opportunities, from the day-to-day operation of the transit system to the long-term strategic planning of the region's transportation system.
A rich set of data are being collected by the public transit agencies in the Inland Empire. Major data sources available for this project including: 1) automated fare collection system, which provide passenger count and timestamp at bus stops; 2) GPS trace and OBD-II readings, which record bus location, speed and diagnostic readings at second-by-second level; and 3) Battery level and charging schedule, which are available for electric buses.
The research results will be available in summer of 2022. Check back to see how this project is moving forward as we post updates throughout the year.  
2020-2021: Year 1 Challenge
Topic: The issues of sustainability and equity in the Inland Empire's transportation system.
The inaugural LTC Research Group Challenge focused on the issues of sustainability and equity in the Inland Empire's transportation system. The team was able to evaluate the areas within sustainability and equity in transportation that can be approved and what those improvements can look like. Circling back to our definitions of sustainability and equity in the vehicle context, the research and data evaluated in our subprojects emphasize that more efforts need to be made in the Inland Empire to improve the sustainability and equitability of its transportation systems. 
Overall, this research has emphasized how broad the issues of sustainability and equity within transportation are. Transcending through different disciplines, transportation plays a crucial role in our daily lives, and providing sustainable and equitable mobility options is critical to the overall success of the Inland Empire.