Transportation, Sustainability & Equity in the I.E. 
As the Inland Empire continues to expand and develop, how can government, investors, and developers plan and implement the transportation system to support the creation of jobs and other essential sites to improve the efficient mobility of goods and people in an equitable and sustainable fashion?
The inaugural LTC Research Group Challenge focused on the issues of sustainability and equity in the Inland Empire's transportation system. 
Adapting to Smart Transportation 2.0 in the I.E. 
Smart Cities Student Independent Study 
The LTC collaborated with University of California, Riverside (UCR) in an independent study course for UCR political science students. Under the guidance of Professor Ronald Loveridge (UCR) and Professor Kimberly Collins (CSUSB), the student researchers defined the key issues to smart transportation in the region. Their work included a review of the pertinent literature and interviews with regional transportation leaders. A primary goal of the work was to analyze the policy capabilities and organizational framework of local and state governments to see if the current governing bodies are ready to adapt to smart transportation 2.0 technologies. The full analysis can be found in the following website: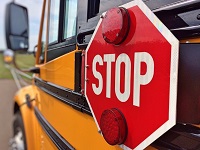 City of Rialto Safe Routes to School Project 
Parents of school children have become skeptical of letting their children walk or bike to school due to traffic safety, crime, access to transportation, pollution, health issues and other factors. 

The CSUSB Leonard Transportation Center has been working closely with the City of Rialto in providing research assistance with the development of a grant application for the Safe Routes to School (SR2S) program. The grant provides funding for infrastructure projects that aim to make walking and biking safer for students of Rialto schools. 

The Leonard Transportation Center assisted by: 
Providing recommendations on the best practices for community outreach.
Providing different funding strategies for program sustainability. 
Conducting a socioeconomic and environmental analysis of potential program barriers. 
Compiling prevalent academic literature on the topic of Safe Routes to School.