The Jack H. Brown College of Business and Public Administration offers transportation related courses from across the curriculum. From Computer Science/Engineering to Public Admnistration, students can cultivate a comprehensive knowledge base that will benefit them in future careers. 
Transportation Leadership, Planning, and Performance Institute (TLPPI)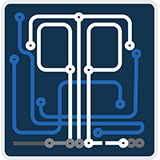 Transportation Leadership, Performance, and Planning Institute (TLPPI)
In 2016, the Leonard Transportation Center (LTC) at California State University, San Bernardino (CSUSB) received funding from the UTC program to assist with professional development opportunities for Caltrans planners. As part of this project, CSUSB and Caltrans staff developed the Transportation Leadership, Planning, and Performance Institute (TLPPI).
The TLPPI will be a fully online, 27 module certificate program. Its purpose is to provide entry-level and mid-level planners with the skills and applied information needed to work in the complex arena of California transportation planning. The main topic areas are leadership, performance management, and planning.
Each module will include four components. The first component is an introduction to the topic and specialized readings. The second is a short online lecture that is a rapid review of the basic information covered in the module. These lectures are technical and descriptive reviews that are short and concise, ranging from approximately 20-30 minutes. The third component is a mix of short interviews with key transportation leaders and experts in the field, as well as case scenarios. This component provides a higher level of knowledge on the primary issues impacting transportation planning in the state. Finally, the last component is a quiz to provide an assessment of the learning progress and reiterate the main points covered. At the very end of the Institute, participants will develop a capstone project that will bring together the various topics in a way that will be useful for participants to think about their current and future jobs.
It is estimated that a participant could do the average module in one hour, and 90 minutes at a more leisurely pace (e.g., reflecting on the scenario or retaking the quiz). Participants would be able to break up modules at their leisure. All totaled, it is estimated that those seeking the TLPPI Certificate would spend approximately 30-35 hours in the online program working at their own pace. The attendees will complete the program within a three month period.
The following is a list of the modules:
Introduction
Freight and planning for alternate futures
Climate change
Technology
Sustainability
Energy
Social demographics
Caltrans Strategic Plan
Performance-Based Planning
Goals and Objectives
Performance Measures
Trends and Targets
Identifying Strategies and Analyzing Alternatives
Developing Investment Priorities
On-Going Monitoring, Evaluation, and Performance Reporting
Introduction to the Field of Leadership
Understanding Leader Styles
An Overview of Leadership Theories Part I
An Overview of Leadership Theories Part II
Enhancing Positive Leadership Traits
Developing Strong Leadership Skills
Assessing One's Organizational Environment for Priorities and Action
Getting Tasks Done
Leading People
Leading Organization
Developing an Action Plan for your Personal Leadership Development
Capstone Project
The CSUSB team has been working closely with staff at Caltrans to create a relevant program that helps to increase the knowledge and professionalization of state planners. If there are any questions or requests for more information, please contact Kimberly Collins, PhD, Executive Director, Leonard Transportation Center, CSUSB at kimberly@csusb.edu or 909-537-5094.
See below for a sample expert video:
We hope you will join us on this interesting review of key issues to solving transportation challenges in the State of California.
The contents of the TLPPI reflect the views of the authors who are responsible for the facts and accuracy of the data presented herein. The contents do not necessarily reflect the official views or policies of the State of California or the Federal Highway Administration.  This publication does not constitute a standard, specification or regulation. This report does not constitute an endorsement by the Department of any product described herein.
Job Opportunities in Transportation
Economic disruption created by new technologies and innovation in government is creating new jobs.  The LTC staff are currently researching new jobs in transportation related fields.  Check back in the fall of 2017 to see a listing of jobs and the education required.  Currently, we have short listing of possible jobs to provide ideas on all of the possibiliites in the transportation field, please visit our Job Opportunities page for more information.
AICP Exam Assistance for Caltrans Employees
The Leonard Transportation Center and the Department of Urban and Regional Planning at CalPoly Pomona collaborated together to provide AICP exam materials and preparation assistance to Caltrans employees. A web portal was created to provide information and study content and study materials were purchased for each District's library.  If you are a Caltrans' employee and would like more information, please contact the staff of the LTC at ltc@csusb.edu.