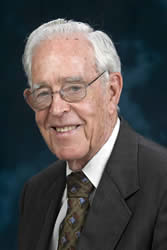 Nov. 7, 1922 - Jun. 5, 2008
The Leonard name comes from William E. and Barbara Leonard, San Bernardino residents, business owners, and philanthropists. William "Bill" E. Leonard served on several organization boards and transportation commissions. He also advocated for the establishment California State University, San Bernardino. With his wife Barbara, they managed several different businesses. To this day their accomplishments still benefit the Inland Empire, and the Leonard Transportation Center continues their commitment to education and transportation issues.
In 1962, Bill acted as lead developer and founding director of Inland Action, Inc. They prevented the closure of Norton Air Force Base, which remained open for another thirty years. Today, Inland Action, Inc. addresses the Inland Empire's broader economic issues.  
Bill and Barbara owned and operated the San Bernardino Golf Club in 1964, and in 1966 Bill served as the president of the National Orange Show, an event center and San Bernardino landmark that continues to thrive. Then, in 1973, Bill transitioned to the transportation industry after earning an appointment on the California Highway Commission. He served on this commission for five years before joining the California Transportation Commission from 1985-1989 and 1993-1997.
Bill also advocated for structuring the Interstate 215 and establishing CSUSB. He led the Land Development initiative in the Shandin Hills, North Hills, and the Del Rosa areas. This initiative preserved space for CSUSB. Bill's advocacy, along with his other accomplishments and contributions, earned him an honorary degree of Doctor of Humane Letters from CSUSB and the CSU Board of Trustees. California acknowledged his service to the state by naming the State Route 210 and Interstate 15 interchange the William E. Leonard Interchange.
In 2006, CSUSB named the new federally funded university transportation center in honor of the Leonard family. The William and Barbara Leonard Transportation Center considers how the larger aspects of globalization impact the local needs of the Inland Empire. Since the Inland Empire acts as an inland port, this Center balances transnational and local policy studies and solutions to improve life and commerce in the Inland Empire.