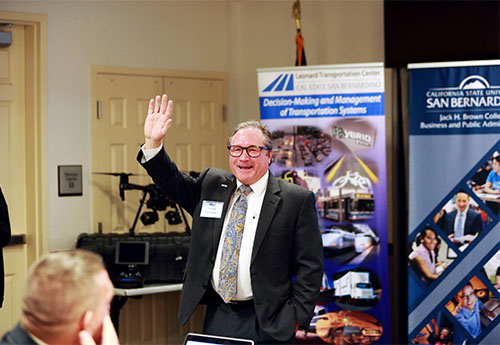 Greg Hulsizer, Vice President, HNTB (Platinum Sponsor)
Sponsorship Opportunities 
2023 Sponsorship Opportunities and Benefit
Logistics plays a major role in the Inland Empire of Southern California. The William and Barbara Leonard Transportation Center (LTC) is the voice for an integrated and sustainable transportation system in our region.

In 2023, the LTC will offer its sixth Regional Mobility Dialogue Series. The 2022 series was a wonderful success, bringing together policymakers and thought leaders from both public and private sectors as well as CSUSB faculty experts, students, and members of the public for a lively series of discussions. 
We hope you will be able to join the Dialogue Series this year as a sponsor. In 2022, we will continue to address important transportation issues facing our community. Become a sponsor now and be part of the process to decide on next year's topics.

With your help, the Leonard Transportation Center can continue to offer this engaging series at low- or no-cost to participants. If you are interested in sponsoring the LTC Regional Mobility Dialogue Series, please take a look at our sponsorship packet and the options available to you.