Electrification of Medium/Heavy Duty Vehicles: Possibilities for the Future
By 2040, California has mandated the move from petroleum based medium and heavy duty vehicles to Zero Emission bus and trucks. Electric vehicles are one of the leading new technologies in this field. But the technology brings with it questions on reliability, feasibility, financial capability, and safety. The big overriding question is how will public agencies and private companies prepare for this switch? This Regional Mobility Dialogue will explore various aspects of this topic: the regulation, new technologies, and application currently in the public and private sectors.

Additional topics for consideration include infrastructure preparedness, socio-economic impacts, governmental subsidies, environmental impacts - particularly the reduction of greenhouse gas emissions - and material science to improve overall energy efficiency, among others. Finally, given the time horizon of over 20 years before this is truly implemented, what is to say that some new technology is developed that has more benefits over electric-based vehicles.
Results and Summary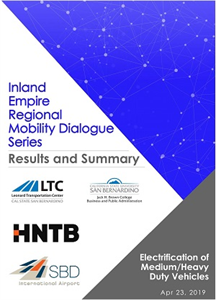 Location 
The April event will be held at the Hilton Garden Inn, 1755 S Waterman Ave, San Bernardino, CA 92408. Breakfast will be served at 7:30 AM, speakers will begin at 8:00 AM. 
Event Highlights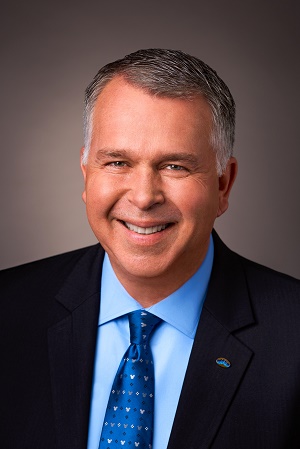 Doran Barnes, Executive Director, Foothill Transit 
Doran Barnes serves as executive director of Foothill Transit. He oversees Foothill Transit's 38-route system, manages the private contractors who operate and maintain the agency's 360 buses, and leads the delivery of service to 12 million customers annually. Doran became Foothill Transit's executive director in August 2003. Doran also serves as a member of the Board of Directors of Access Services, the regional paratransit operator for all of Los Angeles County. Previously, he served two years as chief executive officer and general manager of Tulsa Transit in Tulsa, Oklahoma. Doran was no stranger to Foothill Transit, having spent four years as the agency's deputy executive director from 1997 to 2001. Prior to that, Doran served as the planning manager at Monterey-Salinas Transit and as a private transportation consultant at Ernst & Young. Doran began his transit career as a coach operator at Unitrans, the transit system at the University of California-Davis, where he worked his way up to assistant general manager.
 
Doran earned a master's degree in public administration from the University of Southern California and a bachelor's degree in international relations from the University of California-Davis. Doran is very active in the transit industry and has previously served as Chair, Vice Chair and Secretary-Treasurer of the American Public Transportation Association (APTA) and as a member of the Executive Committee of the Board of Directors. Doran is a proud graduate of Leadership APTA. Doran serves as Vice Chair of the Transit Cooperative Research Program's Oversight and Project Selection (TOPS) Committee and he is a member of the Board of Advisors for the Eno Transportation Center. In addition, he served for ten years as a member of the Executive Committee of the California Transit Association including two years as Chair. Doran is also active in the community serving as a member of the Board of Directors of the East Valley Community Health Clinic, member of the Tennant Foundation Board of Directors, and member and Past President of the West Covina Rotary Club.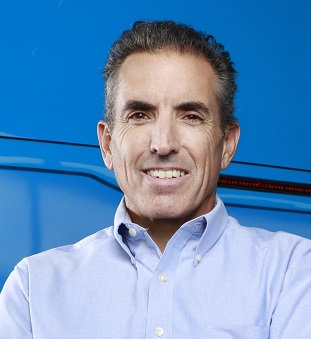 Simon Horton, Senior Project Manager, Transportation Electrification Department of Transmission & Distribution, Southern California Edison 
Simon received his Bachelor's in Marketing from California State University, San Bernardino. He is the Senior Project Manager in the Transportation Electrification department of Transmission & Distribution, Southern California Edison. He is the Lead Project Manager for the assessment, design and construction of all utility-led electric vehicle infrastructure programs. Extensive utility interconnection design and construction experience including both utility driven and customer requested project types. 

Simon is a Southern California Edison subject matter expert for infrastructure deployment at medium and heavy duty sites including transit. Construction design, permitting and implementation experience in both the public and private sectors.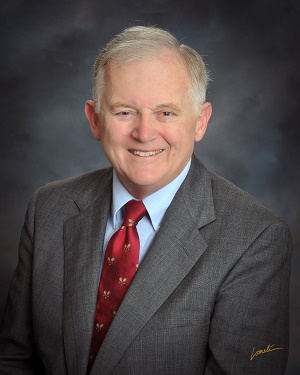 Wayne Miller, Adjunct Professor and Associate Director, College of Engineering Center of Environmental Research and Technology, U.C. Riverside
Dr. J. Wayne Miller received a BS degree from Worcester Polytechnic Institute and a Ph.D. degree from the California Institute of Technology, both in Chemical Engineering. Dr. Miller worked at UNOCAL for twenty years and then at Sunoco as VP of Technology and Development where he was responsible for product innovation and technology implementation and managed a national race fuels business. He held several national chair positions in the petroleum business.

In 2001, he joined UC-Riverside in the Department of Chemical and Environmental Engineering, where he teaches and does research related to emissions from various stationary and mobile sources. He has over 40 peer reviewed publications with many covering freight mobility, especially ships. He is an advisor on the AQMD Clean Fuels Program and the Best Available Control Technology (BACT) Group. In 2007, he was a team member that received a national EPA Climate Change Award. For about fifteen years, he has judged the Annual Department of Defense Environmental Awards.

In 2016, he was elected as Director of the Yorba Linda Water District and serves on several state water quality committees.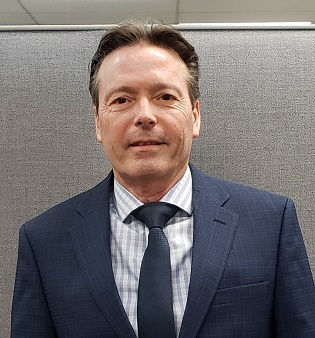 Joseph Impullitti, Planning and Rules Manager in Science and Technology Advancement, South Coast Air Quality Management District 
Joseph Impullitti works as the Manager of the Technology Demonstration Group at the South Coast Air Quality Management District's (SCAQMD) Technology Advancement Office (TAO).  This group works on Research, Development, Demonstration and Deployment of low- and zero-emission technologies, which include alternative fuels, renewable energy sources, fuel cells and hydrogen, electric and hybrid-electric vehicles, emission control technologies, and low-emission engine design.
 
Mr. Impullitti received his Bachelor of Engineering Technology Electrical/Electronic Degree from Lawrence Technological University, Southfield Michigan; Masters of Business Administration from University of Phoenix, Lake Forest California.
 
Mr. Impullitti joined the SCAQMD in 2009 and prior to coming to SCAQMD Mr. Impullitti worked for Chrysler and DaimlerChrysler as a Project Engineer, Supervisor and Manager for over 23 years. The projects and programs that he worked on include electric vehicle, hybrid vehicle and fuel cell powered vehicle design, engineering and development.