Inland Empire Cash for College is a partnership program of the California Student Aid Commission and LEAD regional partners. Our mission is to provide free, in-person help to low-income and first generation college and career bound students and families completing the Free Application for Federal Student Aid (FAFSA) and the Cal Grant GPA Verification Form.
Most workshops provide help in Spanish and other languages depending on the needs of communities, and some may provide volunteer income tax assistance for low-income parents.
FAFSA Completion Video Now Online

Univision released a new Spanish-language video that focuses completing the Federal Application for Financial Student Aid: Lienar la forma de FAFSA es facil.
The video explains how to complete the form, and gives viewers tips for accessing the form in Spanish, ordering paper copies and surfing FAFSA.gov.
CSUSB graduate's internship in D.C. leads to staff position with federal government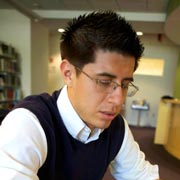 Dec. 10, 2010
SAN BERNARDINO, Calif. - Growing up in Compton, Calif., Julian Alcazar never imagined himself graduating from Cal State San Bernardino, much less getting a summer internship with the U.S. Department of Education in Washington, D.C. 
Now the Hemet, Calif., resident is not just completing the internship, but has landed a full-time position pursuing his dream of working in higher education policy. 
After receiving a bachelor's degree in sociology from CSUSB, Alcazar planned to go straight into the master's degree program at the university, which was already familiar to him and a place he considered 'home.' 
But all that changed in what seemed like a whirlwind of events between his last term of college and graduation. Through a combination of volunteerism, hard work and fate, Alcazar landed an unpaid summer internship with the White House Initiative on Educational Excellence for Hispanic Americans. 
'The constant support and encouragement that I received from professors and friends at CSUSB is what has helped me get where I am today,' Alcazar said.
Subsequently, the summer internship was extended through the end of 2010 and became a paid internship. Recently, he accepted a full-time, paid staff position in the Office of Innovation and Improvement as management and programming analyst. He assumes his new duties this month.
The road to college and D.C. has not been smooth. While Alcazar's mother was struggling to raise two children on one income, Julian offered to quit high school and work full time to help support the family. But his mother would not hear of it. Instead, she moved her family to Hemet to avoid the long commute to her employer in Riverside County. 
Until then, Alcazar says he had not considered going to college, because no one had ever mentioned nor encouraged it. When he saw how challenging it was for his mother to support a family of three, he started thinking about furthering his education with his mother's encouragement.
He graduated from West Valley High School in Hemet in 2005, attended Mt. San Jacinto Community College and received an associate of science degree in math and science. In 2008, Alcazar transferred to CSUSB to complete his undergraduate degree. 
Besides his commitment to his academic studies, Alcazar has been involved in volunteer service on campus and in his Hemet community. 
As an active member of campus student groups such as Latino Business Students Association, MEChA and Delta Sigma Chi fraternity, he has logged hundreds of hours of community service through fundraising, philanthropic activities, freeway beautification and tutoring younger students in math, science, English and Spanish in the Hemet area. 
Alcazar was also an active member of CSUSB's Association of Latino Faculty, Staff and Students and served on the planning committee for the inaugural Latino Education and Advocacy Day summit at CSUSB this past spring.
He worked tirelessly promoting and marketing the LEAD event at area educational conferences, and assisted with logistics, technology and social media. It was at the summit that he met keynote speaker Juan Sepulveda, director of the White House Initiative on Educational Excellence for Hispanic Americans. They quickly formed a bond and remained in touch. 
As graduation neared, Alcazar was busy applying for graduate school and deciding which career path to follow. He said Sepulveda's guidance was instrumental in helping him choose a career path.
By the time graduation day came, Alcazar had been offered an internship in Sepulveda's Washington, D.C., office, which would arrange housing at George Washington University - at his own expense. That presented an economic challenge since the internship was unpaid.
'But I couldn't pass up the opportunity,' said Alcazar. 'I would figure it all out when I got there.' 
During his internship, he assisted with outreach to Hispanic-serving institutions across the nation, gathering and analyzing data to determine which schools produce the most Latinos in the science, technology, engineering and math (STEM) programs.
Alcazar's new duties will entail reviewing and managing grants issued to non-profit agencies and kindergarten-through-12th grade school districts. 'Part of my job will be to ensure compliance that funds are being used properly for the purpose intended,' he said.
Although at first it was difficult to move so far away from his family, he says he's adjusted well and is amazed at all there is to discover in Washington. 
Alcazar attributes his determination for success to the mentors he encountered at CSUSB, such as EOP counselor Mario Baeza and education professor Enrique Murillo, who took him under their wing and encouraged him to stay on track.
'I owe a lot to CSUSB and will always remember that there is where I began my journey into higher education.'
Alcazar plans to pursue a master's degree in higher education with an emphasis on policy analysis, and has already applied to Georgetown University, George Washington University, George Mason University and University of Maryland.