Become a LEAD Event Sponsor
Our community is losing the battle to keep our focus on attending college and beyond. This crisis is even more evident among the Latino students in the Inland Empire region. The competitive strength of California will continue to depend to a large extent, on the positive educational outcomes of Latino students.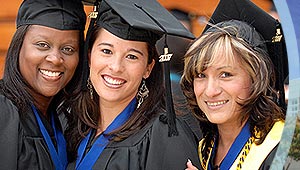 Over the past decade, Latinos have emerged as the majority in California, and will be the leaders for the future of our economy and our education programs. Yet, Latinos continue to have some of the highest dropout rates, scores among the lowest on achievements tests and have low college enrollment and graduation rates.
To address these critical issues, and to ensure a strong future for our state, California State University, San Bernardino houses several national and international projects that provide a means to maximize the promotion, outreach and relations, within the areas of primary purpose.
LEAD engages ways and means of awareness-raising, education, promotion, advocacy, activism, analysis, discussion, critique, and dissemination of educational issues that impact Latinos. One way to employ these, stay motivated, keep up the momentum for current initiatives, and build efforts to create infrastructure, community development, and strengthen support is through events.
LEAD events encourage leadership though our inspirational speakers, provide education and resources in partnership with other educators to promote respect for differences and an appreciation of diversity, encourage and provide opportunities for Latinos to attend college by sharing information regarding financial resources to help pay for college, and provide teaching resources and partners for teaching through research, educational programs and exhibits on display.
We ask for your sponsorship, and associate your group, business, institution or agency with the well-being of our community. We can work with you if you wish to provide a special service and present your products.
Sincerely,

Dr. Enrique G. Murillo, Jr. LEAD Executive Director
Sponsorship Levels
Platinum - Pyramid ($10,000 and above)

One Minute Commercial to be Webcasted
University Events / Special Invitations
Photo Opportunities (w/ Speaker)
Media Coverage
Marketing / Brand Recognition
Slide show recognition at our opening ceremony
Web site Acknowledgement
Program Brochure Acknowledgement
Conference Attendee Gifts
Framed Acknowledgement Certificate
Golden - Eagle ($5,000 - $9,999)

One Minute Commercial to be Webcasted
Photo Opportunities (w/ Speaker)
Marketing / Brand Recognition
Slide show recognition at our opening ceremony
Web site Acknowledgement
Program Brochure Acknowledgement
Conference Attendee Gifts
Framed Acknowledgement Certificate
Silver - Sun Stone ($1,000 - $4,999)

Web site Acknowledgement
Marketing / Brand Recognition
Program Brochure Acknowledgement
Conference Attendee Gifts
Bronze - Shield ($999 and under)
Web site Acknowledgement
Marketing / Brand Recognition
Program Brochure Acknowledgement
Conference Attendee Gifts