Become a LEAD Event Sponsor
Priority Placement for Sponsors:
Sponsors at the $2,000 level or higher, get complimentary and preferred placement on an Exhibitor/Vendor Space (table & 2 chairs) while supplies last. This in addition to your other sponsorship benefits.
Regular Placement:
Exhibitors/Vendors may secure an exhibit/vendor space beginning July 3rd, while supplies last, for only $200 (table & 2 chairs).  None of the sponsorship benefits are included.
* Sponsorship opportunities for program segments available.
---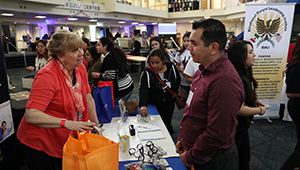 We invite you to join our family of sponsors, and associate your group, business, institution or agency with the LEAD community. 
LEAD engages ways and means of awareness-raising, education, promotion, advocacy, activism, analysis, discussion, critique, and dissemination of educational issues that impact Latinos. One way to employ these, stay motivated, keep up the momentum for current initiatives, and build efforts to create infrastructure, community development, and strengthen support is through events.
LEAD events encourage leadership though our inspirational speakers, provide education and resources in partnership with other educators to promote respect for differences and an appreciation of diversity, encourage and provide opportunities for Latinos to attend college by sharing information regarding financial resources to help pay for college, and provide teaching resources and partners for teaching through research, educational programs and exhibits on display.
Sincerely,

Dr. Enrique G. Murillo, Jr. 
LEAD Executive Director
Sponsorship Packages
Platinum - Pyramid ($10,000 and above)

Promo-video on Live Broadcasts & Replay
Website Acknowledgement & Top-tier Logo Placement
Printed Program Acknowledgement & Top-tier Logo Placement
Slide-show Recognition
Acknowledgement and Shout-Outs During Live Event
VIP Welcome Dinner
VIP Check-in, All Access Pass, and Amenities
Concierge and Hospitality Services
Meet and Greet Photo Opportunities
Gifts and Unique Give-aways
Event Coverage Across Digital, Social, Mobile, and Media Outlets
Increase Brand Recognition Across Regional, National, and International LEAD Chapters & Networks
VIP Invitation to LEAD Events Year-round
Golden - Eagle ($5,000 - $9,999)

Promo-video on Live Broadcasts & Replay
Website Acknowledgement & 2nd-tier Logo Placement
Printed Program Acknowledgement & 2nd-tier Logo Placement
Slide-show Recognition
Acknowledgement and Shout-Outs During Live Event
VIP Welcome Dinner
VIP Check-in, All Access Pass, and Amenities
Meet and Greet Photo Opportunities
Gifts and Unique Give-aways
Event Coverage Across Digital, Social, Mobile, and Media Outlets
Increase Brand Recognition Across Regional, National, and International LEAD Chapters & Networks
Silver - Sun Stone ($1,000 - $4,999)

Website Acknowledgement & Mid-tier Logo Placement
Printed Program Acknowledgement & Mid-tier Logo Placement
Slide-show Recognition
Acknowledgement and Shout-Outs During Live Event
Event Coverage Across Digital, Social, Mobile, and Media Outlets
Increase Brand Recognition Across Regional, National, and International LEAD Chapters & Networks
Bronze - Shield ($999 and under)
Website Acknowledgement & Low-tier Logo Placement
Printed Program Acknowledgement & Low-tier Logo Placement
Slide-show Recognition
Event Coverage Across Digital, Social, Mobile, and Media Outlets
Increase Brand Recognition Across Regional, National, and International LEAD Chapters & Networks