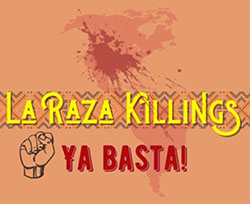 Welcome to the Raza Killings Database Project
Please click here for the advanced copy of the preliminary findings - Special Advance Fact Sheet / Spanish Version
Background
The Raza Killings Database is a collaborative project that seeks to better accurately count the list of killings of Raza by those in a law enforcement capacity in the United States. Although Congress instructed the Attorney General in 1994 to compile and publish annual statistics on police use of excessive force, this was never carried out, and the Federal Bureau of Investigation does not collect these data either. Simply, there is no good official data.
In its place are multiple and incomplete lists published by various non-governmental organizations and agencies, but most often the numbers show how many total killings per year are recorded in the lists, not the actual number of people killed by law enforcement. Although many current listings document the occurrence of a death, they make no implications regarding wrongdoing or justification on the part of the person killed or officer involved. The data is extremely flawed with respect to age, race–ethnicity, and sex. There's no standardization of how people are labeled and there's no centralization.
There is neither any law enforcement accountability nor is there any justice for the families that have experienced these horrors. This is further compounded by the fact that Raza are rarely mentioned when discussing violent police treatment.
This national coalition is made up of families of the deceased, survivors of law enforcement brutality, community leaders and social justice advocates, researchers and academics, data analysts and demographers, and multiple national-level collaborative partners - all committed to build power against systemic violence in all its forms.
Taking the LEAD!
Latino Education and Advocacy Days (LEAD) serves as a leading national-level project collaborator for this meta-analytical research on Police Shootings/Killings. LEAD has also offered to serve as host for a proposed National Forum on Raza Killings (virtual) tentatively planned for Nov 1-2, 2021. We hope that our new LEAD Media Studios can serve as the national touch-point for media programming and so forth.
We of course wish this were an actual in-person forum, but for the obvious reasons, the time is not right yet. This year, the proposal is that the forum coincide with Día de Los Muertos (Day of the Dead). We expect the strategy will absolutely put the focus on Raza deaths because the data has always been there, but most often, these killings do not ever sufficiently rise to the level of a national conversation nor command the necessary media or governmental attention. With this focus, there will be altars and ceremonies nationwide, associated with the virtual conference.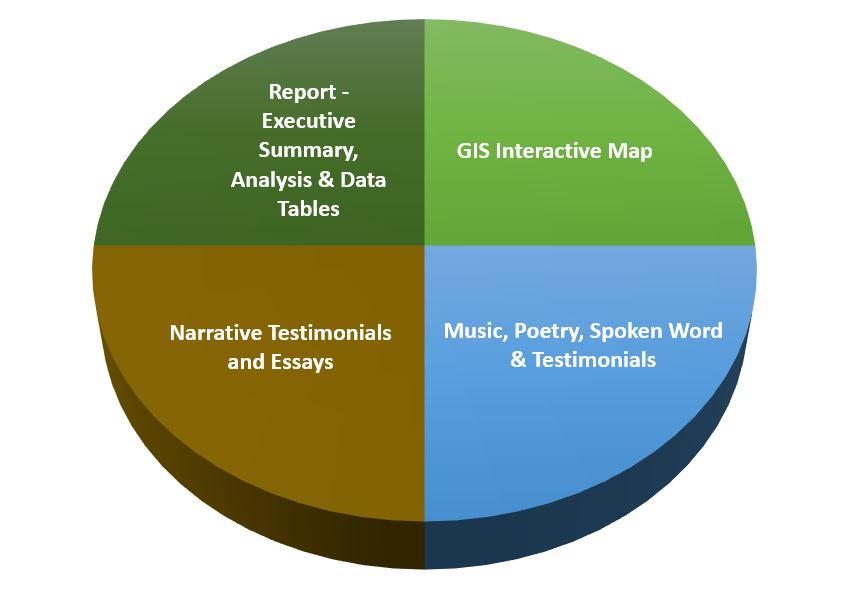 Why It Matters
Our preliminary analysis shows that People of Color killed by Law Enforcement are undercounted! The number of Latinos and Black people killed while in police custody is likely much higher than reported by the media and national lists - perhaps by more than double.
Why it matters - a year after George Floyd's death, data on Latinos killed by police or while in police custody remain scarce. We estimate that over 2,600 Latinos have died at the hands of police since 2014, more than double what had previously been known. Plus, a Latino ethnicity is not plainly visible since "Hispanics" can be of any race, and often get lumped into "other" or "unknown" categories.
This analysis permits several other conclusions.
People of color, who together constitute less than 40% of the U.S. population, comprise more than 60% of all people killed by or who died in the custody of the police. By comparison, Whites, who constitute more than 60% of the population, comprise less than 40% of all deaths over the 2014-2021 period.
We dug into the undercounting of Latino victims by also looking at a person's last name and other characteristics. Even the adjusted numbers likely understate the disparity, since significant numbers of Latinos have "European" surnames not captured by the surname match and would not be identified by this analysis.
Finally, in the absence of an official government database, additional research is required to produce a more accurate identification of Latinos and others not identified by existing datasets.
In addition - there is still some 6,000 people "unidentified", and for the final report, we still need to work out the Border Patrol & Immigration Killings and also murdered & missing indigenous, African American, and migrant women.
We need to understand that the police have near impunity and are so rarely held accountable for killings - all they have to say is that they feared for their life. The problem is that these killings are way out of proportion in relation to any other forms of death. Because of the unknown and hidden. Then after a killing, we as a society just move on to other things. But neither the victims nor the families are able to move on.
In addition, while most of those killed by law-enforcement are male, there is an equal crisis, involving the deaths and disappearances of Native, African-American and migrant women, which cases are rarely investigated, thus more impunity. Killings by immigration officers or people who die in their custody (more than 100 in the past 10 years) - are also high; the commonality with law enforcement killings is the near 100% impunity. No immigration agent has ever been convicted for the death of a migrant, many of whom are also native.
Congressional Action Now!
Because of the lack of attention to Latinos, even though our numbers and the rates are generally in the same vicinity as the Native and Black communities, We are pushing for Congressional hearings, and legislation, one of which also includes the gathering of data, what we've been doing, which is actually the job of government. UNIDOS-US is already doing work with legislation with the NAACP, Representative Karen Bass (D-CA 37th District), and Representative Jesus "Chuy" Garcia (D-IL 4th District). They had a great town hall most recently about recent reform efforts such as The George Floyd Justice in Policing Act, and as was discussed what we can do together to make police reform a reality.
In term of the big picture, the Raza killings database has so far documented over 32,000 police-related killings since 2000, 20% of them African American and 17% Latinos. The results are similar to a recent Washington Post analysis examining police shootings since 2015, which found that Latinos are killed at a rate 55% higher than white non-Hispanics and that Black Americans are killed by police at more than twice the rate of white Americans.
Again, one of the factors at play is that although the numbers of Latinos and African-Americans killed from police actions since 2000 are somewhat similar, Latinos are rarely mentioned when discussing violent police treatment.
In the US, racial conflict has largely played out in black and white. Americans tend to not know the extensive history of Mexicans, Chicanos, and Latinos in the United States and our struggle for civil rights. The national focus on Latino issues is too limited. It often revolves solely around immigration, particularly undocumented immigrants.
Whereas many of the high-profile cases of black Americans killed in police custody reached the national spotlight after sparking outrage among black media and activist groups, there tends to be a general absence in coverage by Latino groups and silencing of our voices.
The movement for black lives is doing something important, elevating all minority lives. And that's a critical part of the solution. But if our response is narrow and limited, the national response will be narrow and limited as well. That's problematic as we move toward a country that is increasingly diverse.
We Must Expose Injustice
Latinos are the largest minority group in the US, and they have a right to equal justice in their communities and equal attention to justice. As Latinos, our community already faces disproportionate health and economic impacts, then on top of that we face both a violence pandemic and an educational crisis. The ongoing COVID-19 pandemic, an economic recession, and a renewed national recognition of systemic racism have only compounded the toll of rampant educational inequity. In terms of exposure to police violence we know it leads to persistent decreases in GPA, increased incidence of emotional disturbance and lower rates of high school completion and college enrollment.
For more information, please contact:
Roberto "Dr. Cintli" Rodríguez, the Raza Killings Database Project's Director, at xcolumn@gmail.com
And/or
Ivette Xochiyotl Boyzo, Mental Health/Patient, Civil & Human Rights Advocate, at ivetteboyzo@gmail.com
Coming Soon - Raza Killings Database Project Final Report (Summer 2021)
National Forum - Día de Los Muertos - (November 2021)
Resources