LEAD invites you to participate as an Exhibitor or Vendor at the Feria Educativa - College & Career Fair. Your exhibit or products will allow you to showcase your services and products at the Feria Educativa. Do not miss this exciting opportunity as spaces are limited.
Exhibitor / Vendor Spaces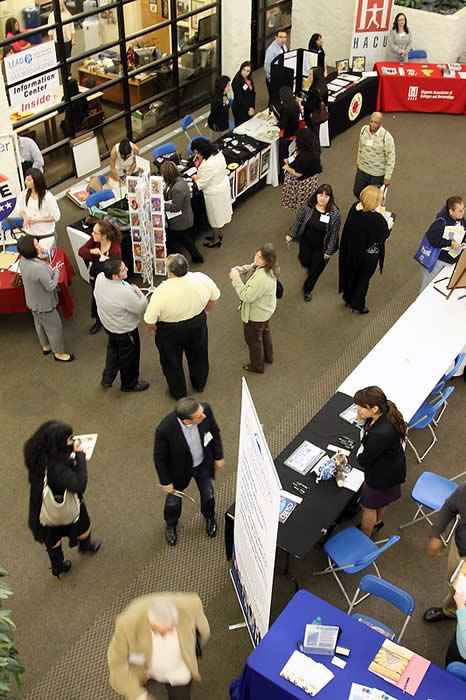 Exhibitor / Vendor spaces will be located in the Lobby, surrounding areas and the 2nd floor, of the Santos Manuel Student Union. 
Each space includes a 6 ft table and two chairs. Please note table covers will not be provided, please bring your own. Any additional equipment and/or set-up supplies can be provided at an additional fee. Additional items you may want to bring in order to be prepared are: tape, stapler, pens, pencils, paper, additional name tags.
Exhibits must be educational in nature and college/career in orientation, displaying items/services/resources/opportunities of direct educational interest and application to our target audiences.
Vendors are commercial and retail in nature, selling products or services. 
Vendors (ONLY) must adhere to the following conditions:
Vendors shall not sell counterfeit and/or stolen merchandise;
Vendors must have a written policy covering defective merchandise, returns and exchanges. A copy of the policy must accompany the vendor registration; and
Vendors shall indemnify and hold harmless the California State University, San Bernardino, Santos Manuel Student Union of California State University, San Bernardino, the Trustees of California State University, the state of California and all other departments, boards, commissions and its officers, employees, volunteers, representatives and agents from any and all losses and cost or damages of any kind in connection with the operation of the vendor, and from any and all claims and losses accruing or resulting to any person, firm, or corporation, who may be injured or damaged by the use of equipment or materials at said event, or by actions of the vendor organization, its agents, servants, or employees.
Vendors must register and be approved by the event organizing committee.
Exhibitors and vendors must register and be approved by the organizing committee.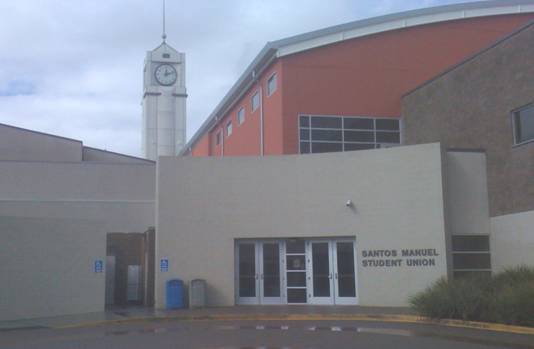 Exhibitor/Vendor hours are from 9:00 a.m. to 3:00 p.m. Set-up time is between 7:30 a.m. and 8:30 a.m. We highly encourage everyone to be ready and completely set-up by 8:30 am, there will NOT be any refunds and/or discounts for those that show up late. Break-down will be from 3:00 p.m. - 4:00 p.m., all items must be removed from the premises and will not be either stored or left overnight. Setup the night before is not permitted.
Parking & Loading / Unloading
Parking for exhibitors and vendors is available in Parking Lot C and D at no charge. The service road on the east side of the Santos Manuel Student Union may be used for unloading before 7:30 a.m. and after 3:00 p.m. only.
Exhibitors Check-In
Exhibitor/Vendor's check-in will be available at the east entrance of the Santos Manuel Student Union (SMSU), immediately as you enter the building. Exhibitors/Vendors will be shown to assigned tables.
Exhibitor / Vendor Questions
The following coordinators are available to assist you:
Exhibitor / Vendor Coordinator
Iwona-Maria Luczkiewicz Contreras 
909-537-3447/909-537-5102 or 951-333-0468
Exhibitor / Vendor Pricing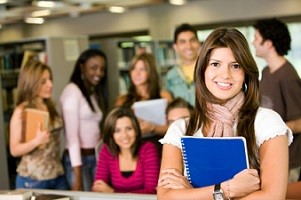 Student Union Lobby (6 ft. Table and two chairs)
$80 (Not-for-Profit educational and cultural institutions, community and student groups, governmental agencies and other non-profits may donate items equivalent to, or significant portion thereof, the value of the table toward our raffle drawing in lieu of total or partial payment.)
Payment
Make checks payable to:
CSUSB
c/o Aurora Vilchis
5500 University Parkway
Sierra Hall, Room SH-134
San Bernardino, CA 92407