CSUSB 'LEAD' team awarded for its volunteer work
Dec. 17, 2010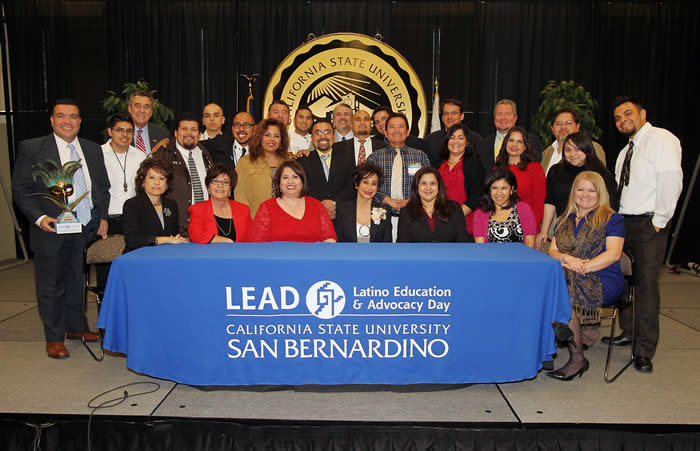 SAN BERNARDINO, Calif. -- Fifteen members of the Latino Education and Advocacy Day organizing committee at Cal State San Bernardino were recognized with the Presidential Volunteer Service Award issued by President Obama's Council on Service and Civic Participation on Dec. 13.
More than 50 guests joined the 15 honorees at the awards dinner, which opened with a surprise performance by the youth mariachi group, Aguilas del Oro of San Bernardino.
Co-hosted by Enrique Murillo Jr., professor in CSUSB's College of Education and LEAD executive director and College of Education Dean Jay Fiene, the event also featured presentations by CSUSB President Albert Karnig and Provost and Vice President for Academic Affairs Andrew Bodman.
The honorees each received a certificate, a congratulatory letter signed by President Obama and a gold-level pin for their dedication in bringing together the inaugural LEAD summit at Cal State San Bernardino last spring.
The recipients of the awards, all from Cal State San Bernardino, are:
Patricia Aguilera, Devore, financial aid department
Julian Alcazar, Hemet, alumni, now staff with U.S. Department of Education
Jesse Felix, Yucaipa, Santos Manuel Student Union
Robert Garcia, Victorville, College of Education
Miguel Lopez, La Quinta, College of Education doctoral student
Carmen Murillo-Moyeda, Redlands, Office of Public Affairs
Enrique Murillo Jr., San Bernardino, College of Education
Susan Ortega, Riverside, College of Education doctoral student
Louie Rodriguez, San Bernardino, College of Education
Yvonne Salmon, Riverside, College of Education
Nori Sogomonian-Mejia, Grand Terrace, College of Education doctoral student
Rigoberto Solorio, Perris, information, resources and technology
Sheila Torres, San Bernardino, College of Extended Learning
Valentina Watson, San Bernardino, CoyoteCareers
Henry Yzaguirre, Redlands, College of Education doctoral student
The President's Volunteer Service Award recognizes individuals, families and groups that have achieved a certain standard, measured by the number of hours of service over a 12-month period or cumulative hours earned over the course of a lifetime.
Murillo reiterated that the success of last spring's LEAD summit was largely due to the key organizers who willingly gave many hours of their time and talent.
"It's always important to pause and recognize such progress," said Louie Rodriguez, CSUSB professor of education. "However, it's also critical to recognize that there is much work ahead in our community that is going to require collaboration, persistence, and purpose."
Frances Vasquez, representative for Josie Gonzales, vice chair of the San Bernardino County Board of Supervisors, made an unexpected appearance to present certificates of recognition to each recipient from the county's Fifth District Supervisor's office. She said that the group would be invited to a special recognition at a board meeting in the near future.
"Tonight I have heard words like humbled, honored, proud, determined and, in some cases, relentless," Vasquez said with a chuckle. "We feel so proud of this group that has brought honor to the inland region and national attention to Latino education issues."
In addition, William Martinez, representative for U.S. Rep. Joe Baca (D-Rialto) also congratulated the recipients. "Congressman Baca sends his hearty congratulations to each of you for the honorable recognition you've received from President Obama's Council of Service and Civic Participation," said Martinez. "Your efforts in bringing about the LEAD summit have not gone unnoticed."
The inaugural LEAD summit held this past spring was primarily organized by this team, now referred to as the LEAD Organization. Some of these same awardees now serve on the LEAD executive advisory board.
In preparation of the second annual Latino Education and Advocacy Days summit to be held March 28, 2011, the LEAD Organization has already recruited more than 40 new volunteers from the CSUSB campus and the community. Several high-profile keynote speakers have already been scheduled for next spring's LEAD summit.