CSE Department provides computer labs in an effort to facilitate learning through technology. These computer labs are available to any CSE student, using their myCoyote ID information. The labs provide access to computing systems, with a variety of software students can utilize throughout their studies. Our labs also provide students with resources for printing papers and reports.
Technical Support Contact Information
Mr. Kevin de la Cueva
Information Technology Consultant II
Office: JB 351
Phone: (909) 537-5422
Email: Kevin.delaCueva@csusb.edu
Ms. Ching-yi Wang
Information Technology Consultant II,
College of Natural Sciences, Lead Tech
Office: BI 021
Phone: (909) 537-5335
Email: bwang@csusb.edu
Service We Provide:
For Staff and Faculty
We provide software, and hardware support to tablets, laptops, desktops and lab equipment. We provide consultation and quote on equipment for personal use or for classroom uses.
For Student
We provide support for software and hardware used in the lab room, as well as student account/access. We also provide lab equipment for checkout.
Free software:
Available Equipment for Check Out:
For more information or questions about checking out equipment please visit JB 351 or contact Pedro.LorenzanoRodriguez@csusb.edu -OR- Kevin.delaCueva@csusb.edu.
Lab Rooms:
Lab Room Information

| | | | |
| --- | --- | --- | --- |
| Room | Room Use | Operating System | Number of Systems |
| JB-356 | Equipment Lab & General Lab | (20) Windows 11 and (20) Rocky Linux | 40 |
| JB-358 | General Lab | Fedora Linux | 33 |
| JB-359 | General Lab | Fedora Linux | 32 |
| JB-360 | General Lab | Windows 10 | 33 |
| JB-361 | Research Lab | (4) MacOS and (16) Windows 11 | 20 |
The research lab can be used for studying, working on projects/assignments,  and team meetings for the following classes:
Senior Project, Internship in Computer Science and Engineering, Independent Study, and Masters Project
-For more information please visit JB 351, or contact IT Staff.
Computer Lab Schedule:
Fall & Spring Semester Hours

| | |
| --- | --- |
| Monday - Thursday* | 8:30 AM - 10:00 PM |
| Friday* | 8:30 AM - 4:30 PM |
| University Holidays | Closed |
*Labs are closed during Instructional Hours please view Lab Room Schedule below: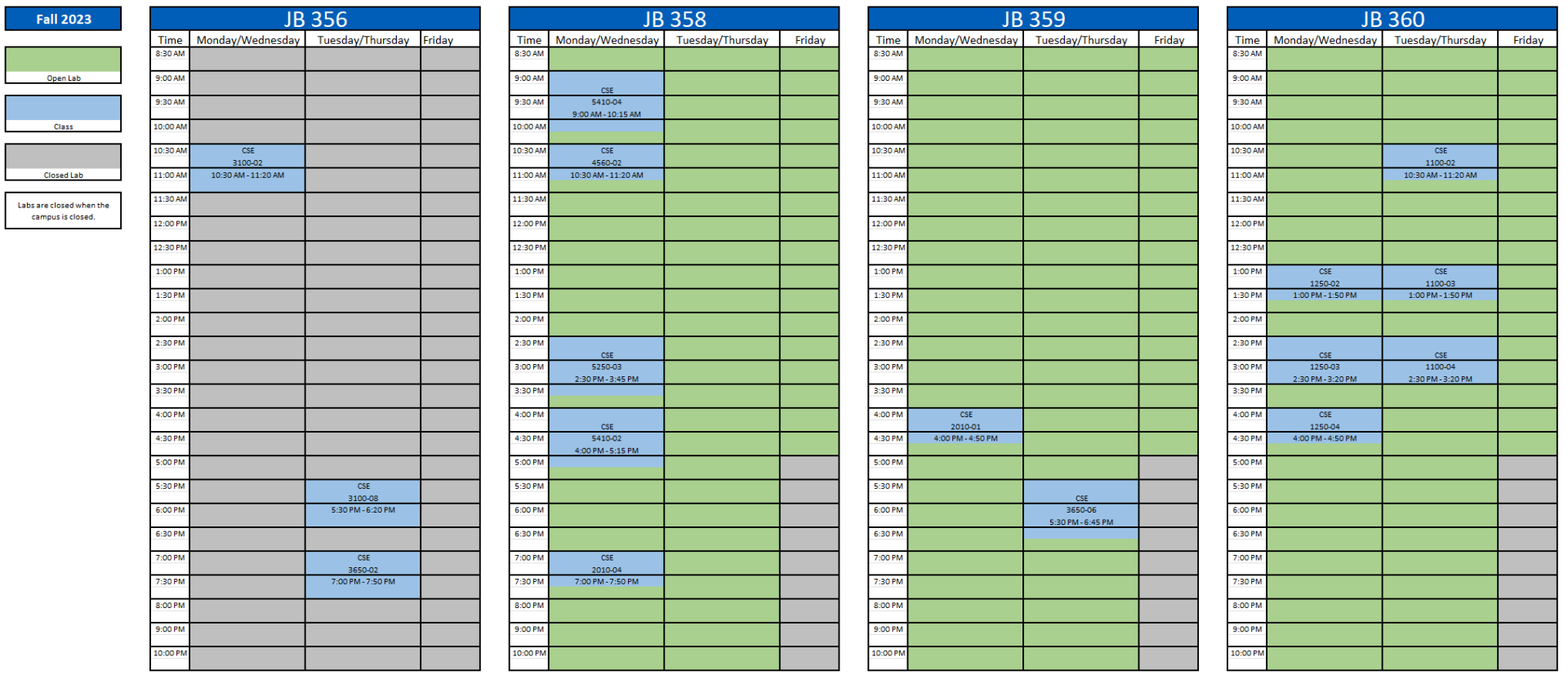 How to Access the Lab Computers Remotely:
 We also understand the requirements of these technologies outside of the classroom. To accommodate those needs, both ITS and our CSE IT provide different method to remote connect to the Computer Labs, accessible from any personal computer, even off-campus.
Forms
Free Microsoft Azure Dev Tools for Teaching:
Azure is a comprehensive set of cloud services that developers and IT professionals use to build, deploy, and manage applications through a global network of datacenters. In cooperation with Azure, CSUSB offers a variety of free resources for both students and faculty.

Imagine: Try Azure App Services, a fully-managed cloud offering that enables you to build and deploy native and web apps in minutes.
Visual Studio Dev Essentials: Everything you need all in one place, Developer tools, Cloud services, Software, Training and support.
Microsoft IT Pro Cloud Essentials: Get started with Azure and learn new skills. Azure Essentials can help you take it further. Choose a topic and use the curated set of demo videos, hands-on labs, and product trials to learn about and try Azure at your own pace.
Azure Free Account: Test and deploy enterprise apps, Create custom mobile experiences, & Gain insights from your data.
VMware Academic Programs:
If you are enrolled in a computer science course, you are eligible to obtain many VMWare development tools free of charge for academic use. These tools include VMware Fusion, VMware Workstation, VMware vSphere, VMware vCenter, etc. You can install these tools on a laptop or home computer.
Complete the Microsoft and VMware Academy Program Student Use Agreement Form and submit it at the help desk. After the help desk creates your account, you will be able to log into the CSUSB CSE Academy Software Center and download VMWwre tools.