Virtual Volunteer Service Fair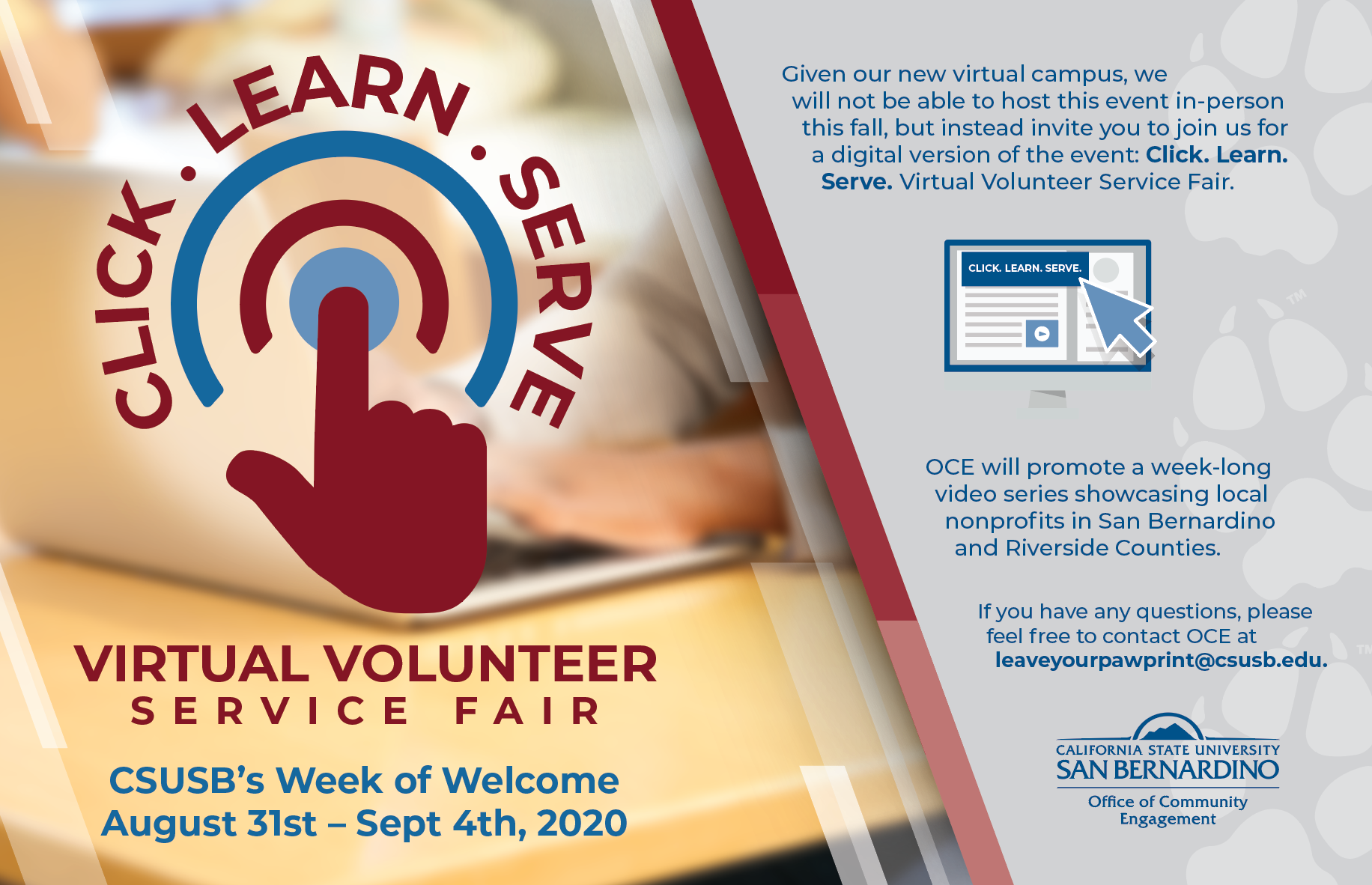 Whether you're new or returning back to campus this Fall 2020, we are excited that you're here!
Welcome Week offers a variety of resources and fun events to start the year off right.
The Office of Community Engagement is your one-stop-shop on leaving your paw prints in the community!
Do you like giving back to the local community?
Do you want to gain and/or enhance skills to prepare you for your future career?
Are you looking to gain experiences or meet people within your field of study?
We have something for everyone!

The pandemic changed our way of life, but it also sparked and ignited volunteerism. We look forward to seeing how our Yotes will continue to leave their paw prints!

During Week of Welcome, you have the opportunity to learn about local non-profits from our local communities of San Bernardino and Riverside County and learn about additional resources to stay engaged! 

And a friendly reminder, don't forget to take our surveys! We have some amazing OCE swag for you!!
Welcome to Click.Learn.Serve!
Disclaimer:
CSUSB Virtual Volunteer Service Fair is an opportunity to highlight and bring awareness to the incredible work and needs of our community partners within our local regions of San Bernardino and Riverside County. The publication of any specific volunteer opportunity does not constitute or imply any endorsement, recommendation, or favoring by the Office of Community Engagement towards the agency and volunteer opportunity. This event is intended to provide informational material to our campus community. At this time, due to the COVID-19, we ask that you adhere to local, state and federal recommendations and guidelines set by the CDC, local and national government agencies.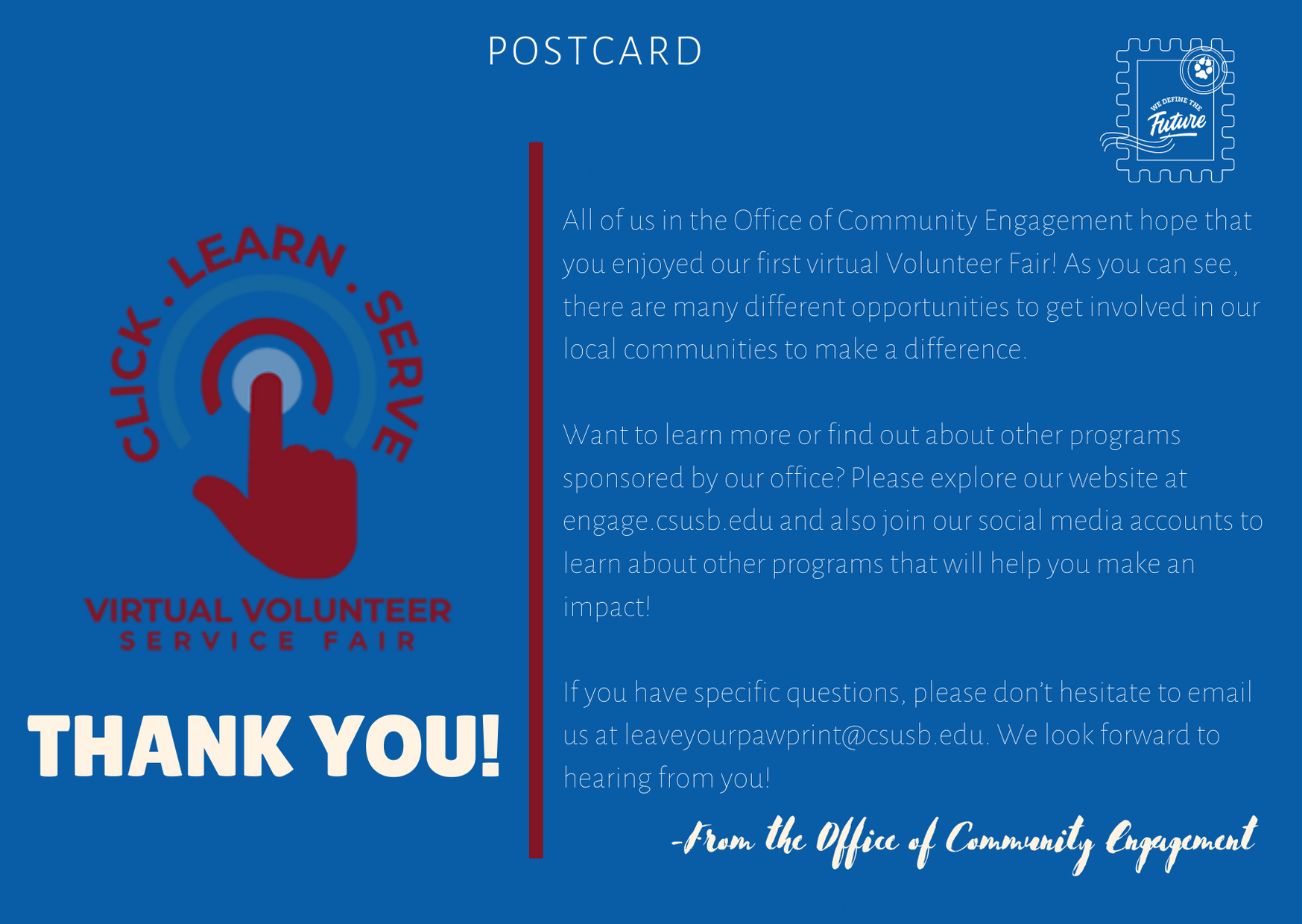 Click.Learn.Serve. Library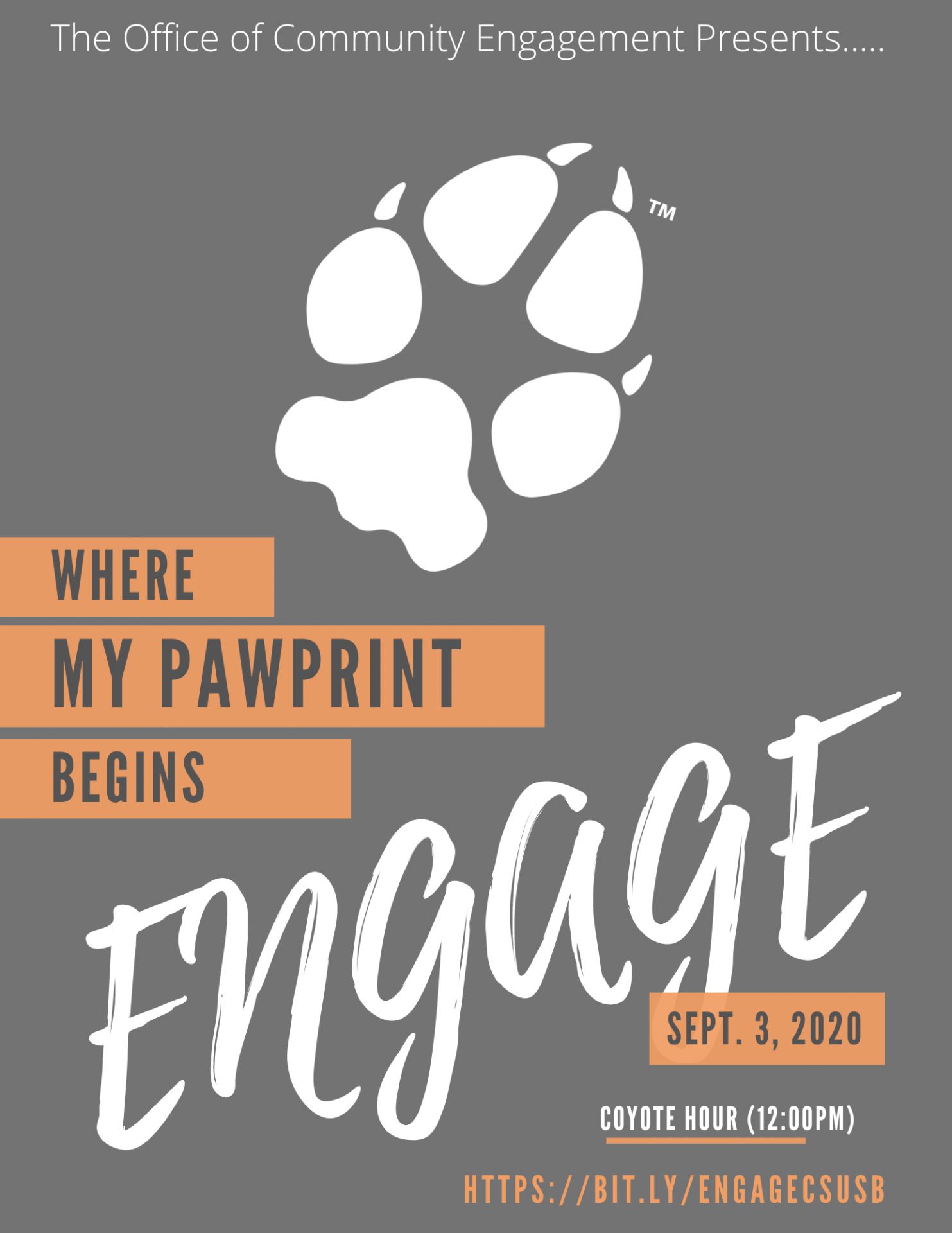 Where My Pawprint Begins
OCE hosted its first Zoom workshop "Where My Pawprint Begins" last Thursday, September 3 during Coyote Hour.  
We talked about the benefits of volunteering, how to find volunteering opportunities for yourself and your group; and also mentioned the exciting new programs at OCE! 
Watch The Recorded Zoom Wokshop Today!